Dustin Poirier has accomplished nearly everything a fighter can achieve throughout his MMA career. Only an undisputed UFC title has eluded him. That could change on Saturday, as Poirier takes on lightweight champion Charles Oliveira in the main event of UFC 269.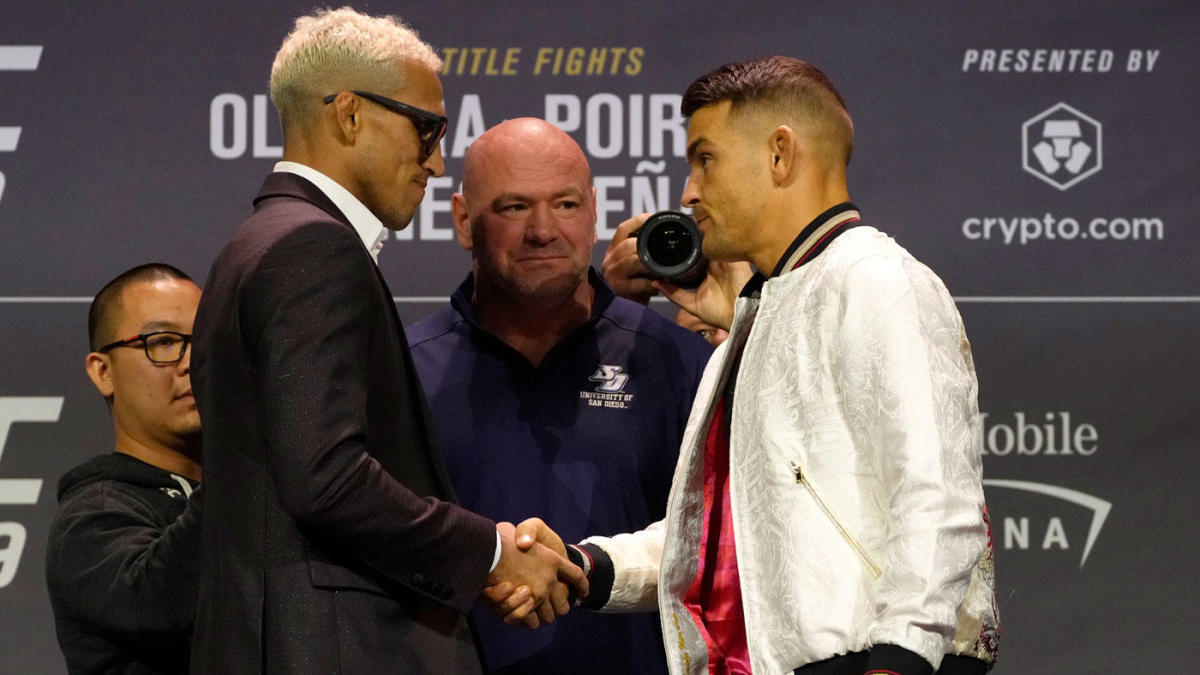 Poirier (28-6) beat Max Holloway in 2019 to win the interim UFC Lightweight Championship.
Poirier: '25 minutes for eternity'
Khabib Nurmagomedov stopped him five months later at UFC 242, submitting Poirier in the third round to hold onto the unified lightweight title.  
Since that time, Poirier has won three times, including two straight victories over Conor McGregor. That's been enough to earn him a second chance at fulfilling one of his career dreams.
"If I can become the world champion Saturday night, I've done everything I set out to do," Poirier told MMA Junkie. "I have to check that box. That's forever. I was saying 25 minutes to make life fair. This is 25 minutes for eternity, 25 until eternity. That's what this is. You don't take that away."
Much of the coverage of this fight has focused on Poirier. That's something of a disservice to Oliveira (31-8), who's won nine straight bouts heading into this contest. He won the vacant lightweight title via second-round TKO over Michael Chandler in May. Oliveira now holds the UFC records for most finishes (17) and most victories by submission (14).
Yet, most people seem to be picking Poirier to take the title on Saturday. FanDuel Sportsbook lists Poirier as a -148 pick over Oliveira (+126), and most oddsmakers rate Oliveira similarly as a slight underdog. The champion says he's not concerned with that perception.
"I don't really care about the betting odds," Oliveira told Bleacher Report. "I respect Poirier. I respect his story. But I'm the champion, and I'll show that on Saturday."
Both men capable of finishing, being finished
Oliveira says the focus on Poirier's skills has led people to overlook his own formidable skill set.
"I understand he brings a lot of things, but you have seen how much I can bring into the fights," Oliveira told reporters. "For example, I'm always very tough on the ground, but you've seen how I've evolved standing up, and that's all I care about. I care about what I bring in when I try to do my job."
This promises to be an exciting fight, as both men can finish opponents – or go down themselves. Of course, both tend to win far more than they lose, but if they each stick to their typically aggressive game plans, chances are that someone will eventually find a knockout as their opponent tires or makes a critical error.
If Poirier can take advantage of that one opportunity, he says he will accomplish something that nobody can ever take away.
"There's a list of guys when they won the belt it was very special," Poirier told reporters. "Of course, everyone is fighting against adversity, but the guys who were counted out and made it happen. I'm trying to add my name to that list."