Charles Oliveira captured his first UFC championship on Saturday, stopping Michael Chandler in the second round of the main event of UFC 262 to win the lightweight title.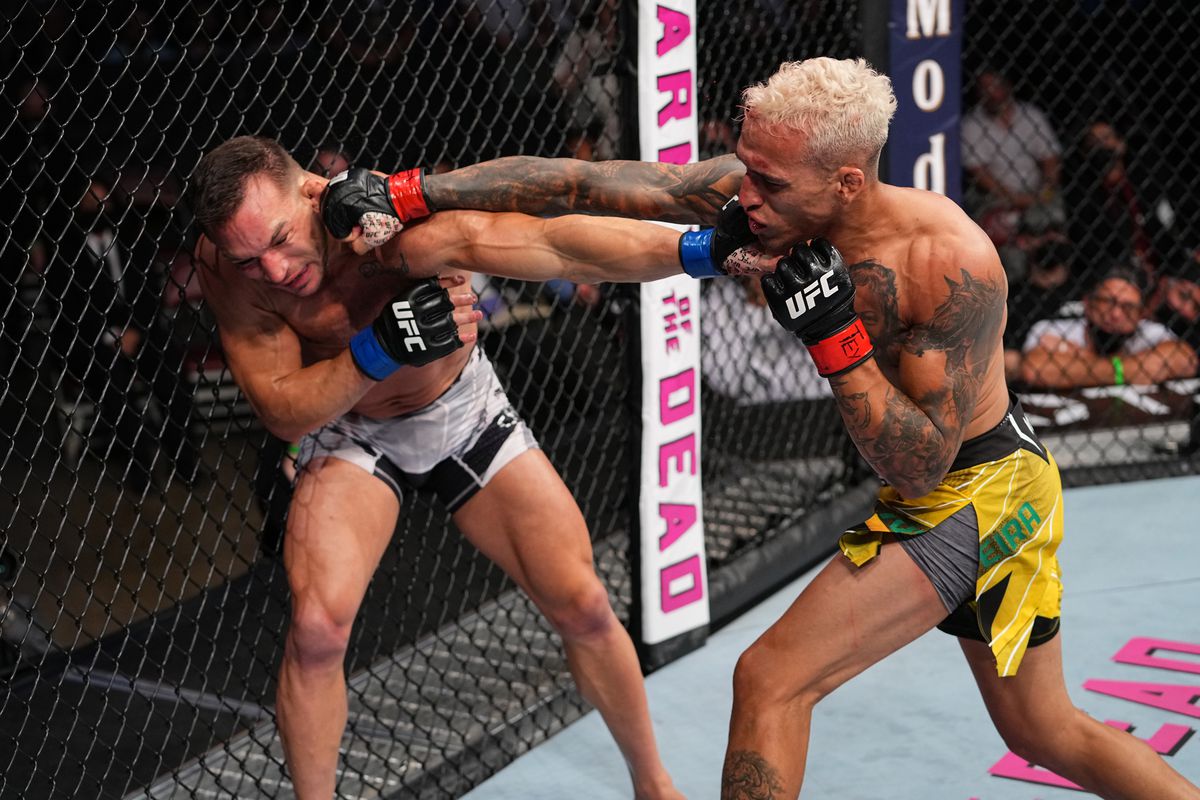 Khabib Nurmagomedov vacated the lightweight belt earlier this year. He announced his retirement after beating Justin Gaethje at UFC 254 last October.
Oliveira: 'I'm the lion of lions'
Oliveira started the second round by dropping Chandler with a left hook. As Chandler attempted to scramble away, Oliveira landed several strikes on the ground. Referee Dan Miragliotta pulled Oliveira off of Chandler at 19 seconds into the second round, declaring Oliveira the winner by TKO.
"I told you I was going to knock him out, and I came and knocked him out," Oliveira said in his postfight interview. "I proved to everybody I'm the lion of lions."
Oliveira (31-8) has now won nine straight bouts in the UFC. The 31-year-old has fought in the promotion since he was 20 years old, but this was his first title shot.
Meanwhile, Chandler (22-6) was making only his second appearance in a UFC Octagon since moving over from Bellator last year. Chandler says he won't be dissuaded by the title loss.
"We'll get this one back," Chandler said afterward.
Soon after Oliveira won, Conor McGregor hopped on Twitter and seemed to suggest that he plans on making a run at the lightweight title again. But Oliveira said the Irishman has work to do before that could happen.
Congrats to Olivera on becoming the 11th UFC lightweight champion.
Wonder who Twelve is…

— Conor McGregor (@TheNotoriousMMA) May 16, 2021
"Conor, worry about Dustin [Poirier]," Oliveira told reporters. "First he's got to get past Dustin. He's one of these guys that just talks a lot. He's got to beat Dustin first."
White mum on Ferguson's future
Tony Ferguson (25-6) lost his third straight fight on Saturday, dropping a unanimous decision to Beneil Dariush (21-4-1) in the UFC 262 co-main event. Dariush dominated the fight through his grappling, winning 30-27 on all cards.
Afterward, UFC president Dana White said he's not sure what's next for the 38-year-old Ferguson, a former interim lightweight champion.
"I haven't even thought about it," White told reporters. "He had a tough three rounds. He couldn't get up from underneath Beneil, and he had a tough night. So I don't know. We'll see what happens."
Ferguson did get one win of sorts on Saturday. On Friday, White decided to raise the performance bonuses at UFC 262 to $75,000 from the normal $50,000 awarded to fighters. Ferguson made that request in a Thursday press conference, referencing the fact the White did the same thing at UFC 166 in October 2013. At UFC 166, White raised the performance bonuses to $60,000.
Typically, four fighters earn performance bonuses each night. The two fighters in the "fight of the night" each earn a bonus, as do the fighters who score the knockout of the night and the submission of the night.
The UFC may have had extra money to splash around. Last week, White said UFC 262 had raised $4 million in ticket sales, the highest gate ever at the Toyota Center.