A decade ago, Notre Dame and Rutgers were regular basketball opponents in the Big East. Now, the two programs will meet for the first time since 2013 as they face off in the First Four of the 2022 NCAA Tournament.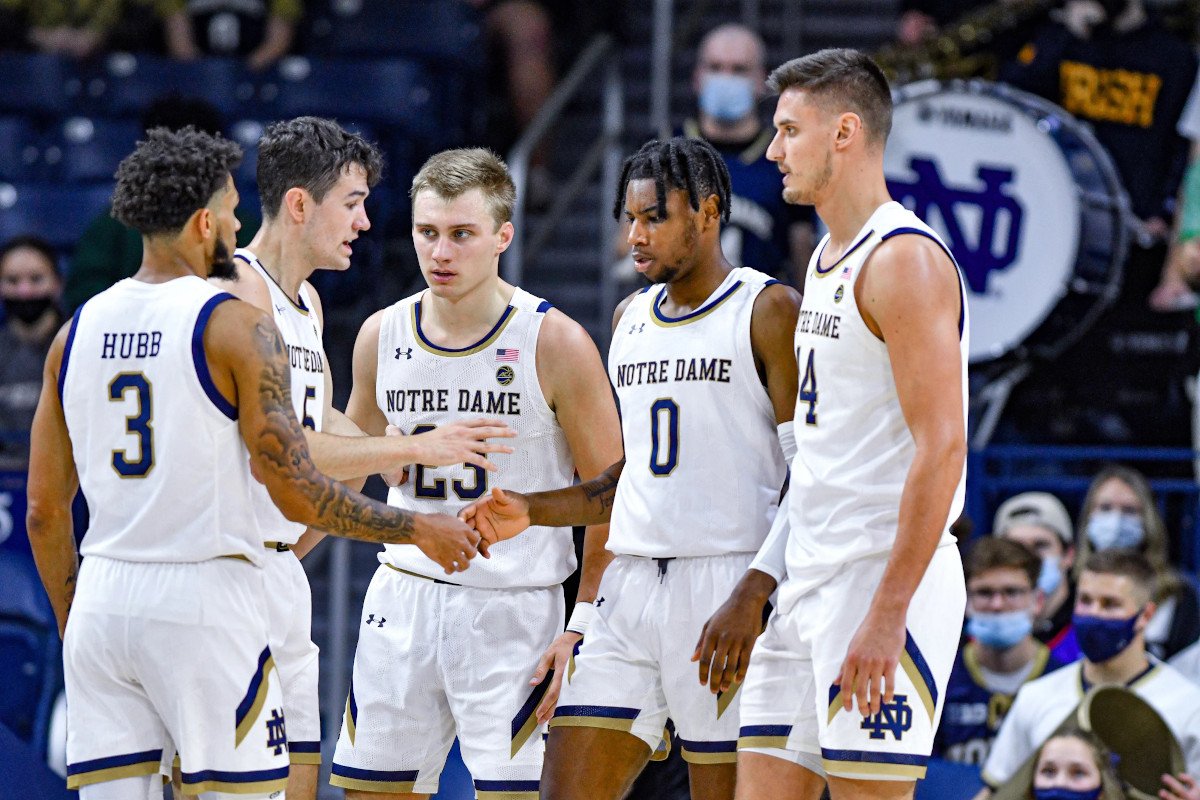 The winner will slot into the West Region as the No. 11 seed and will play No. 6 Alabama on Friday.
Outside shooting powers Fighting Irish offense
Notre Dame comes in as a slim one-point favorite over Rutgers, according to DraftKings Sportsbook.
The Fighting Irish (22-10) finished tied for second in the ACC with North Carolina, just one game behind Duke. In a down year for the traditionally powerful basketball conference, however, that was only just enough to snag one of the last at-large bids in the NCAA Tournament, particularly after losing their first game in the ACC Tournament to Virginia Tech.
That shouldn't discount Notre Dame's ability to win games in March. The Fighting Irish shoot 38% from behind the arc, the kind of number that can keep them in the game against just about anyone.
"Just watching film the last two days, they shoot a lot of threes," Rutgers center Clifford Omoruyi told reporters. "We've just got to show our length so we can deflect their shot, play good defense, and challenge every shot."
Rutgers (18-13) had a similarly rough time in the Big Ten Championship. While the Scarlet Knights earned a bye into the quarterfinals, they fell immediately to eventual champion Iowa. That left Rutgers on the bubble heading into Selection Sunday, ultimately landing in the First Four.
Rutgers features talented, balanced attack
The Rutgers attack features three players who score in double figures: Ron Harper Jr. (15.6 points per game), Geo Baker (12.4), and Omoruyi (11.8). Notre Dame is well aware of those players, especially Harper.
"He's a great story," Note Dame coach Mike Brey told reporters, speaking of Harper. "I remember him a little bit on the circuit and way typical of what [Rutgers head coach Steve Pikiell] has done and we've kind of done it a similar way. Maybe guys that aren't recruited at a super high level, you get them in your program and get him better. And his nucleus is that. And Ron is the epitome of that."
Notre Dame won its last three meetings with Rutgers. Senior Notre Dame forward Nate Laszewski says his team will have to stop Rutgers' stars in order to continue that success.
"The team that's got a lot of really talented players, especially two elite guards who can drive the ball and make plays and get to the rim," Laszewski said. "Just have to look to penetration and try to keep them off the boards."
That might be a tall order for the Fighting Irish. Notre Dame hasn't defended the rim well all year long, averaging less than two blocks per game and lacking a true center who can consistently contest shots in the paint.