Francis Ngannou handed Ciryl Gane the first loss of his MMA career on Saturday night to unify the heavyweight championship at UFC 270 in Anaheim.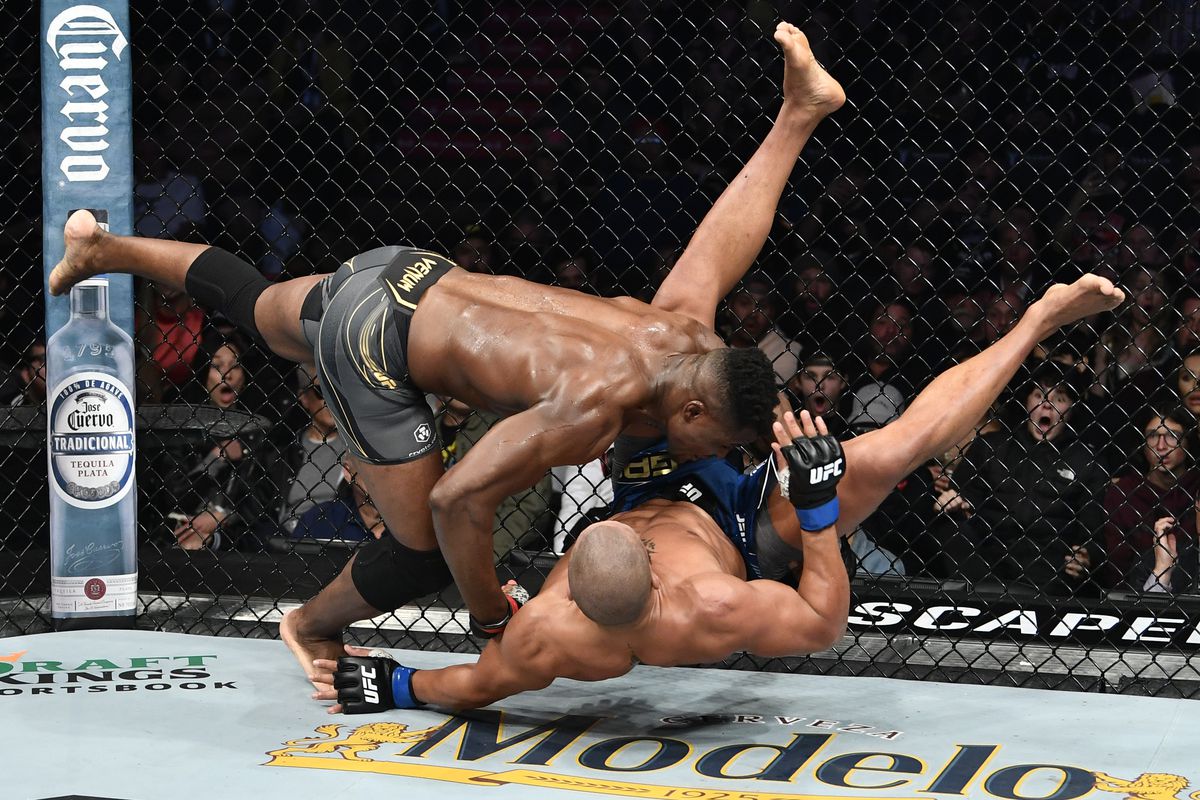 Ngannou utilized a wrestling-heavy strategy to outpoint Gane 48-47, 48-47, 49-46 and defeat the interim champion.
Ngannou finds success late with wrestling
Gane opened the fight strongly, winning the first round on two of the three judges' cards, and sweeping all three cards in the second round. After that, however, Ngannou found success on the ground, allowing him to dominate the second half of the fight on his way to an important win.
"Right away when I saw Gane's reactions to the ground control, his defensive things, I knew we had something there," Erick Nicksick, head coach for Ngannou, told MMA Junkie Radio afterwards. "It was actually funny at the end of Round 3. I was walking in the corner and I was putting the stool down and I looked at Francis and I go, 'We've got something now, don't we?' and Francis shook his head and was like, 'We sure do.'"
After the fight, Ngannou revealed that he stepped into the Octagon with potentially serious injuries. He not only had a grade 3 MCL tear, but was also dealing with damage to his ACL and MPFL.
"We got word from a second opinion doctor out here in LA that he was adamant that Francis should pull out," Nicksick said. "So we got that word last Friday…and that's kind of when I just said, 'Dude, what are we doing here? I love you, bro. You're my brother. But as your coach, I do have to tell you what I think is right, and this is what I feel is right in this situation.' But if you as the fighter say that you're going to fight, I'm going to have your back 110 percent."
Figueiredo reclaims flyweight crown from Moreno
Ngannou now faces an uncertain future with the UFC. He has said he will not fight again under his current contract, and that he might move to boxing if he can't get more money in MMA.
"I don't feel like I'm a free man," Ngannou said after his win. "I don't feel like I've been treated good. It's unfortunate I have to be in that position in order to say that."
In Saturday's other title fight, Deiveson Figueiredo scored a unanimous decision victory to reclaim his flyweight championship from Brandon Moreno. Figueiredo won 48-47 on all three cards, scoring his first win in three fights against Moreno. Their first bout ended in a draw, while Moreno won the rematch by submission.
The back-and-forth fight produced plenty of disagreement from fans and pundits. According to MMADecisions.com, 17 media members scored the bout for Figueiredo, with eight seeing Moreno as the winner. Over 60 percent of fans submitted scorecards in favor of Figueiredo as well.
"For this moment, for Brandon, for us to give you the gift of a fight of the night, for everyone who was here," Figueiredo said after the bout. "I've been away from my family for four months. I'm ready for a fourth fight against Brandon in Mexico.
Moreno acknowledged the fight was close, but still disputed the result.
"I felt like I threw the better combinations with more speed, maybe he connected a little bit more power," Moreno said afterwards. "Obviously, I thought I won, but it is what it is right now."