Kyrie Irving from the Brooklyn Nets lit up the Charlotte Hornets for a season-high 50 points and led the Nets to a 132-121 shootout victory in a hotly-contested Eastern Conference bubble fight.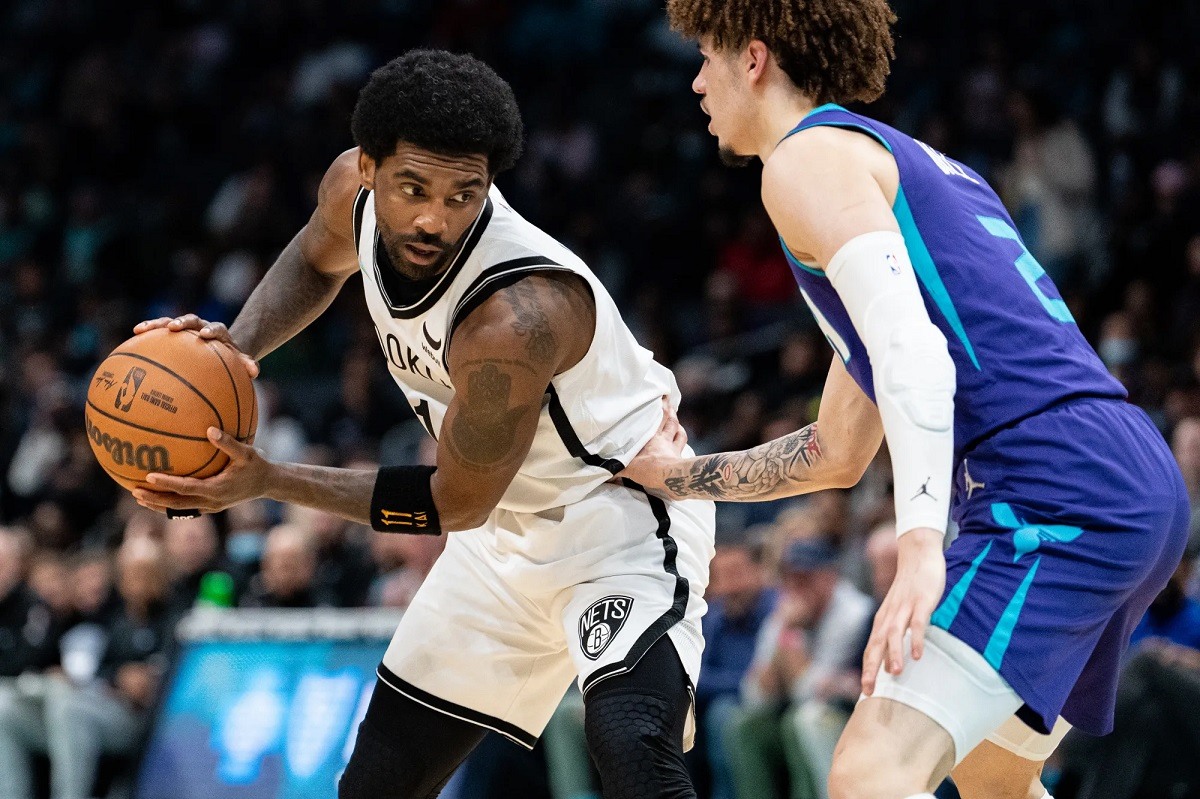 The Nets ended a four-game losing streak and improved to 33-33 on the season. If the season were to end today, the Nets would occupy the #8 seed in the Eastern Conference playoffs. The Hornets (32-34) slipped to #9.
"It felt like a must-win night," said Irving. "I'm not saying the other nights didn't feel like that, but you have to go into that deep place where you aren't distracted by anything that is going on."
"He's incredible," said head coach Steve Nash. "He's a career highlight reel every time, every night."
The Nets now hold a 2.5-game lead over the Washington Wizards on the bubble in the #11 hole.
Efficient 50 Points for Kyrie
Irving put on a proverbial shooting clinic with a highly-efficient 15-for-19 from the field, including a sizzling 9-for-12 from 3-point range. He also knocked down 11-for-13 from the free-throw line.
"Younger players should watch this game and learn what it takes to score at that level," said Kevin Durant.
When the final buzzer sounded, Irving tallied 50 points, six assists, three rebounds, one steal, and one blocked shot.
"That was a Master Class," added Durant.
Durant didn't have to break much of a sweat and he scored only 14 points because Irving did all the heavy lifting.
Irving scored 20 points in the first half with the Nets amassing a 26-point lead. The Hornets rallied in the fourth quarter, but Irving was ready with 30 more points in the second half, including 16 points in the fourth quarter.
"He was unbelievably efficient and difficult to defend," added Nash. "Those were really big shots he made in the second half, but overall he's just an incredible player, shot maker."
"It was special," said newly-added teammate Seth Curry. "He made great plays all over the floor. He didn't force it. Catch and shoot, off the dribble and got to the rim, too. We needed that Kyrie."
Irving fell short of a career-high of 57 points, but his sensational night against the Hornets marked his first instance of 50 points this season.
Kyrie and MJ: 50/75 Club
Irving reached a rare milestone by scoring 50 points while shooting over 75% from the floor. It was the second time he did that in his career.
Irving became only the second player in NBA history to achieve that feat more than once. The other player with multiple games with 50 points on 75% shooting was Michael Jordan. Any time you're mentioned in the same breath as Air Jordan, it's a huge deal.
"He's one of those scorers that his shots are not like super-explosive, it's just that he's steady throughout the whole game and then you look up and he has a big scoring night," said Durant. "So that shows you how truly gifted and talented and special and hardworking Kyrie is."
Guards in NBA history with multiple 50-point games on 75% shooting:

1. Michael Jordan
2. Kyrie Irving

End of list. pic.twitter.com/Z2aLTKPSdt

— StatMuse (@statmuse) March 9, 2022
Check out more installments of NBA High Guys.