As the NBA regular season heads into its final week, the leading two MVP candidates — Joel Embiid from the Philadelphia 76ers and reigning winner Nikola Jokic — were the league's top two scorers on Sunday.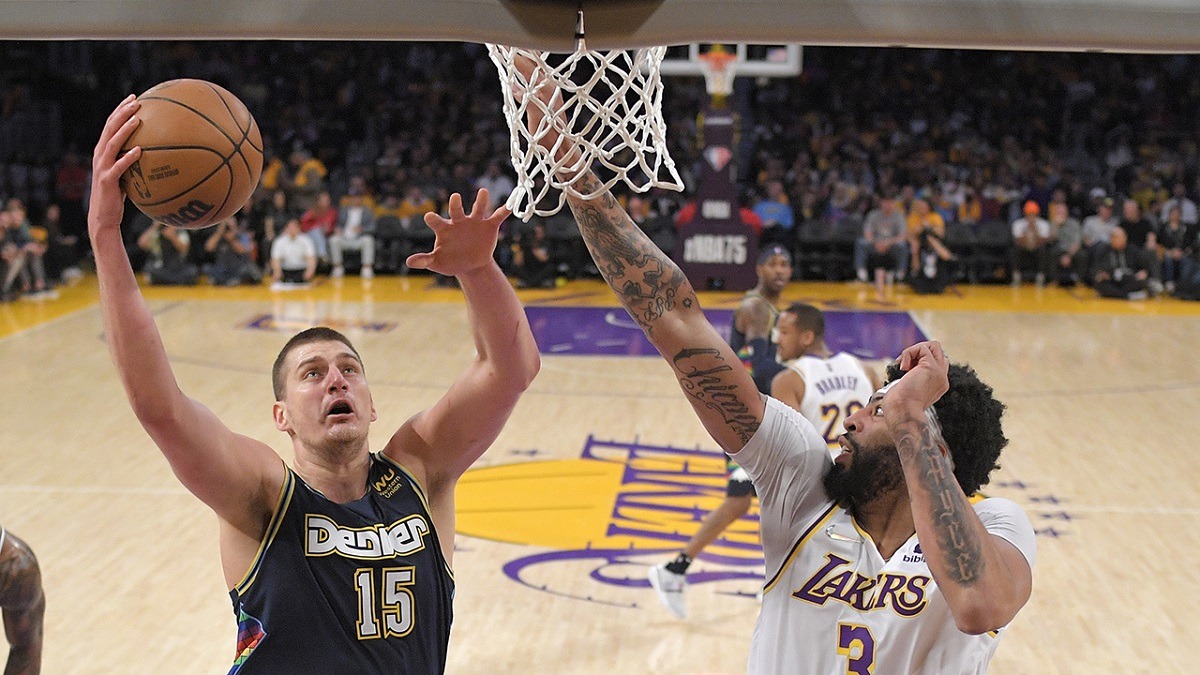 Embiid posted a monstrous game in a victory over the Cleveland Cavaliers with 44 points, 17 rebounds, five blocks, three assists, and one steal.
Jokic scored 38 points and hauled down 18 rebounds against the Los Angeles Lakers. He also added six assists, three steals, and two blocks in front of a star-studded crowd in downtown LA.
---
Tale of the Tape: Jokic vs. Embiid
| | | | | | |
| --- | --- | --- | --- | --- | --- |
| | Points | Rebounds | Assists | Blocks | PER |
| Nikola Jokic | 26.8 | 13.7 | 8.1 | 0.9 | 32.98 |
| Joel Embiid | 30.2 | 11.6 | 4.2 | 1.5 | 31.26 |
---
Despite the huge game, Jokic widened his edge in the NBA MVP race. Last week, DraftKings listed Jokic as a slight betting favorite to win back-to-back MVP awards after ESPN released the results of its MVP straw poll where Jokic won. On Monday morning, DraftKings adjusted its NBA MVP odds, with Jokic the favorite at -260 odds while Embiid slipped to +210 odds.
Jokic 38/18
Jokic has the edge over Embiid because the Denver Nuggets are missing two key starters — Jamal Murray and Michael Porter, Jr — and the Nugs occupy the #5 seed in the Western Conference with a 47-32 record. Both Murray and MPJ are max-contract players, which is even crazier when you think about the fact that it's essentially Jokic and a bunch of role players holding the line.
Jokic led the Nuggets to a huge road win over the LA Lakers on Sunday. The Lakers extended their losing streak to six games in a row and their postseason hopes are very close to getting flushed down the drain.
"It's a really important win for us," said Jokic. "I'm just glad that we're winning. It was really collective play that we did together, but hopefully we can keep it up to separate further and be even better."
The Lakers sit in 11th place and two full games behind the San Antonio Spurs in 10th. At this point, it will take a miracle for the Lakers to secure a spot in the play-in game after the Nuggets denied them a chance for a last-gasp effort.
The Nuggets are two games behind the #4 seed Dallas Mavericks and could catch the Mavs in the final week with three games remaining for both teams.
Embiid 44/17
Embiid posted MVP numbers this season for sure, but he's only ranked #3 with a 31.26 PER rating. Jokic leads the NBA with 32.98 PER rating.
"If it happens, great, but if it doesn't, I don't know what I have to do," said Embiid. "I'll feel like they hate me. I feel like the standard for guys in Philly or for me is different than everyone else."
The 76ers just have a stronger supporting cast around Embiid in Philly versus the situation in Denver. The 76ers added James Harden at the trade deadline after the team finally moved disgruntled Ben Simmons. But not having Simmons all season is the reason why head coach Doc Rivers thinks Embiid should win the MVP.
"Ben was our second-best player at the time and was out, and at the All-Star break when we made the trade, we were a game out of first place in the East," explained Rivers. "There's a lot to be said about that."
Rivers has a valid point that the 76ers were one of the top two teams in the Eastern Conference without Simmons thanks to Embiid.
"I witness his greatness every night," added Harden after Sunday's win. "Obviously, his offensive numbers tonight are self-explanatory. Defensively, he was very active blocking shots, changing shots, and clogging the paint up was key."
Embiid scored 44 points and snagged 17 rebounds, which marked the 11th time this season he notched a 40/10 game. Only Moses Malone and Russ Westbrook tallied more games — with 12 each — recording at least 40 points and 10 rebounds in a game in a single season.
Check out more video highlights and other installments of NBA High Guys.