Game 4 of the 2021 NBA Finals is crucial because, if the Milwaukee Bucks win, they'll pull even at 2-2 against the Phoenix Suns. If the Suns prevail in Game 4, they'll take a 3-1 series lead back home to Arizona and put themselves just one win away from a championship.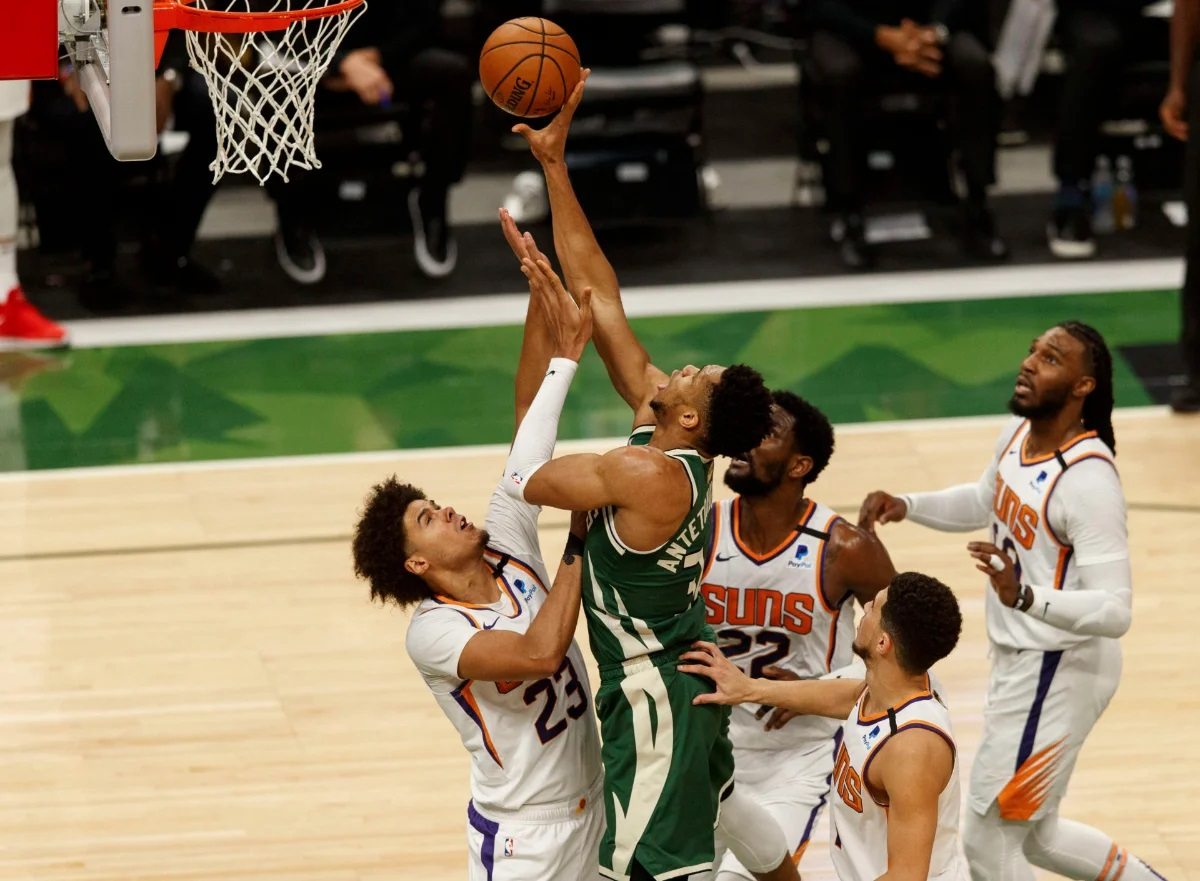 As a result, a Suns win in Game 4 comes down to them throwing up a defensive wall in an attempt to slow down Giannis "Greek Freak" Antetokounmpo, who lit them up for 42 and 41 points in the last two games.
So far, the home team won every game in the NBA Finals. The Suns won the first two games on their home court in Phoenix. When the series shifted to Milwaukee for Game 3, the Bucks finally got on the board with a crucial 120-100 win to trim the overall deficit to 2-1.
---
Game 4: Phoenix Suns (2-1) vs. Milwaukee Bucks (2-1)
Tip-off: 5:10 pm PT
Location: Fiserv Forum, Milwaukee, WI
Point Spread: MIL -5
Total: 221 o/u
Money Line: PHX +175 / MIL -210
Series Line: MIL +200 / PHX -250
---
The Bucks are -5 favorites heading into Game 4. They were favorites in Game 3 and easily covered the spread after a 20-point blowout. The Suns are -250 odds to win the championship and the Bucks are +200 dogs, according to the Westgate SuperBook in Las Vegas.
Suns: Build a Freak-proof wall
After he torched them for 83 points in the last two games, the Suns have to figure out how to slow Antetokounmpo down in Game 4. "He's coming full speed every play, like a running back coming downhill," said Chris Paul. "We're going to build a wall."
"I'm not going to lie," said Antetokounmpo. "I hate it, but it's funny that there's a defense out there called the Giannis Wall."
Much like Hack-a-Shack or the Jordan Rules, opposing teams have employed the Giannis Wall to slow Antetokounmpo down.
If the zebras swallow their whistles and let both teams play, then the Suns will prevail. If the refs provide the Bucks with more home cooking, especially zapping Deandre Ayton with ticky-tack fouls against Antetokounmpo, then it's going to be a long night for the Suns. In Game 3, Antetokounmpo took 17 free throws — one more than all of the Suns combined.
"They had one player with 17 free throws, we had 16," said head coach Monty Williams said. "That's not complaining. That's stating facts."
Devin Booker wants to quickly forget about his horrible play in Game 3 by bouncing back with a big performance for the Suns in Game 4. He averaged 29 ppg in the first two games of the NBA Finals before scoring just 10 points in Game 3. It's been feast or famine for Booker from 3-point range. He struggled with 1-for-8 in Game 1 and 1-for-7 in Game 3, but he couldn't miss in Game 2 with a 7-for-12 clip.
Check out OG's playoff bracket and dive into more coverage of the 2021 NBA Playoffs.