Some of the biggest names in basketball, such as Chris Paul (Oklahoma City Thunder), could become huge NBA fantasy busts by joining new teams. Other possibles on the NBA fantasy busts list include Russell Westbrook (Houston Rockets), and Mike Conley (Utah Jazz). A pair of Detroit Pistons, Derrick Rose and Blake Griffin, are excellent players, but they're too unreliable over a duration of a season due to their propensity for injuries.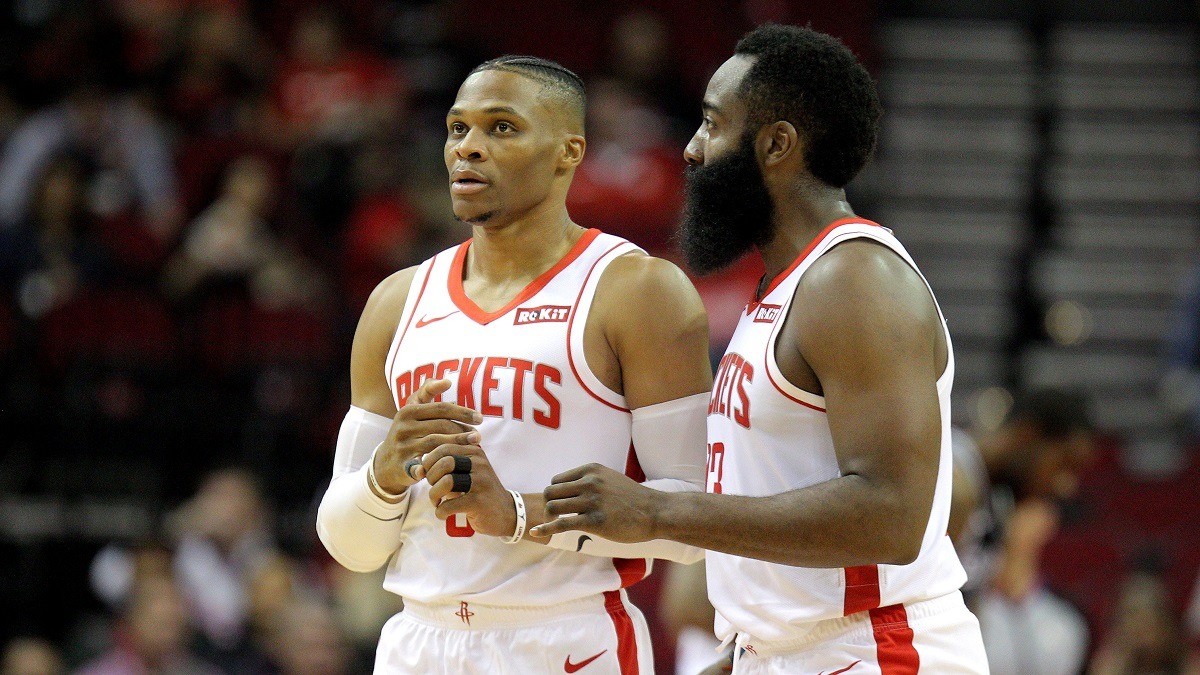 Westbrook and Paul swapped teams in the offseason after the Oklahoma City Thunder decided it was time to blow up the team. It's almost as though CP3 found himself banished with an OKC Thunder squad deep in rebuilding mode. Playing for a potential last-place team like the Thunder will thrust CP3 to the top of the probably NBA fantasy busts list.
Meanwhile, Westbrook is back with his old running mate, James Harden, in a quest with the Houston Rockets to finally win the Western Conference and move on to the NBA Finals. Both will struggle to adjust to their new teams and new roles.
NBA FANTASY BUSTS:
Chris Paul (PG, Oklahoma City)
Russell Westbrook (PG, Houston)
Mike Conley (PG, Utah)
Derrick Rose (PG, Detroit)
Blake Griffin (C, Detroit)
Injuries are tough to fade once you reach 30-plus. From a fantasy basketball standpoint, nothing tilts an NBA fantasy team owners more than a high-round bust due to nagging and lingering injuries, like those suffered by CP3.
CP3 and RWB Swap
Westbrook became a triple-double machine last year (22.9 ppg, 11.1 rebounds, 10.7 assists), even though you sometimes knew his Thunder teammates would help him juke the stats. Who knows if Westbrook and Harden can come to the same agreement in Houston while he pursues a fourth-consecutive season averaging double digits in points, rebounds, and assists?
Houston's run-and-gun, trey happy offense might mean not as many easy rebounds for RWB in the new Harden and Westbrook show. He'll have plenty of chances to dish assists with Harden, but I doubt those two Alphas can handle one basketball.
"There's one thing I care about," said Westbrook. And that's a championship. I don't give a s–t about a triple-double."
Paul is a former shell of himself due to his injuries, which makes CP3 a primary fantasy bust candidate. He missed 24 games in each of the last two seasons in Houston. He missed 21 games in his final year in LA with the Clippers. The NBA is getting younger every season. Those 34-year old point guards have a tough time keeping up with teenagers like RJ Barrett on the Knicks. Paul played 74-plus games only three times in the last decade. He's missed 30 plus games five times in the previous eight seasons, and that adds up to a potential fantasy bust..
You also have to take into consideration the possibility of a trade might disrupt whatever harmony CP3 tries to bring in OKC. The Thunder haven't traded Paul yet because they didn't find any buyers for CP3. But who knows what will happen after the season begins with teams trying to overcome injuries or bubble teams making a playoff run? The uncertainty of stability also makes CP3 a prime bust.
Obi Wan Conley
The Utah Jazz brought in Mike Conley to mentor Donovan Mitchell. Their budding superstar had two breakout seasons. Now they're ready to get to the next level, and Conley's the veteran point guard to help lead them to a deep run in the Western Conference Finals.
However, it's a long season, and the 32-year-old Conley has had his share of injuries over the years. He was healthy for the first time in a long time last season, which is one of the primary reasons he posted career numbers averaging 21.1 points per game in 70 games. You should expect him to have more modest numbers with his new squad, but it's his Achilles that is the big elephant in the room.
Blake and D-Rose in the Big D
Blake Griffin and Derrick Rose are definitely not as exciting as Westbrook and Harden, but they will succeed if the can fade injuries in Detroit. Griffin is fun to watch, but his durability is a risk. In his first season with the Pistons, Griffin played 75 games — the most he's played since the 2013-14 season when he logged 80 games. Griffin missed at least 15 games five times in his career. He missed 20 or more games three times in the last four seasons.
Griffin, 30, averaged a career high 24.5 points per game last season. He's not getting any younger, and he's due to miss time with an injury. Time to play spin the wheel, "What will Blake Griffin injure next?"
At one point during the pinnacle of his career, Rose was considered the best player in the NBA. After he blew out his knees, he lost a step and his edge. D-Rose, 31, missed 31 games last season, and played just 23 games in 2017-18. Since 2011, he logged 64-plus games only twice. In his first full season with the Timberwolves, D-Rose looked like his old self, averaging 18 points per game in 51 games. If you want to gamble on non-achey knees this season, then roll the dice with Rose.