Two weeks into the NBA season and it's time to bolster your fantasy basketball team with waiver wire pickups such as Seth Curry (76ers), RJ Barret (Knicks), Bobby Portis (Bucks), Cole Anthony (Magic), De'Andre Hunter (Hawks), Coby White (Bulls), or Tyrese Haliburton (Kings).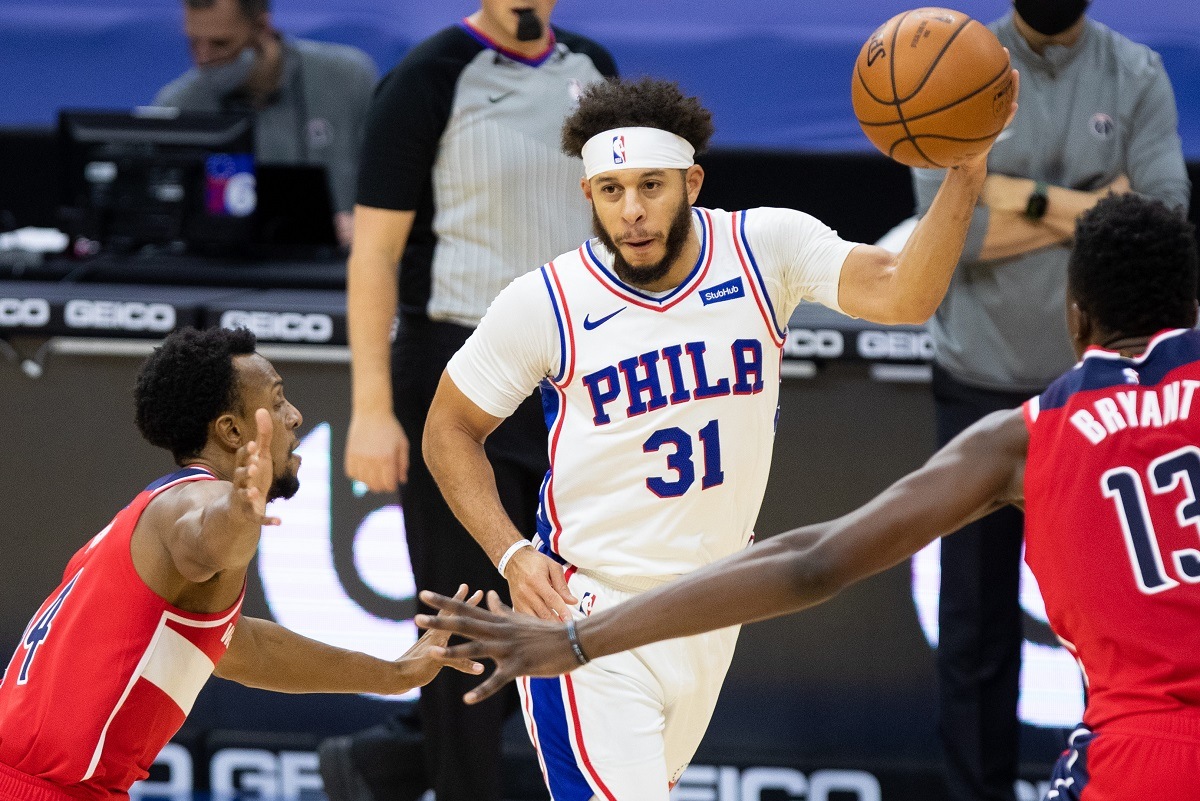 Cole Anthony and Tyrese Haliburton were both top-15 picks in the most recent NBA Draft. Haliburton went #12 to Sacramento, while Orlando drafted Anthony with the #15 pic. Anthony will see increased playing time after starting point guard Markelle Fultz suffered a season-ending injury.
Halliburton is coming off the bench as a backup point guard for the Kings, but ESPN's fantasy basketball leagues also listed him as a point guard.
---
NBA FANTASY WAIVER WIRE ADDITIONS
Seth Curry (Philadelphia 76ers) PG, SG
RJ Barrett (New York Knicks) SG, SF
Bobby Portis (Milwaukee Bucks) PF, C
De'Andre Hunter (Atlanta Hawks) SF, PF
Cole Anthony (Orlando Magic) PG
Coby White (Chicago Bulls) PG
Tyrese Haliburton (Sacramento Kings) PG, SG
---
Houston Rockets disgruntled All-Star James Harden indicated he wants a trade to the Philadelphia 76ers. The Sixers are in no rush to pull the trigger on a lopsided trade, however, because Seth Curry is doing a bang-up job as the starting shooting guard.
Waiver Wire Veterans: Seth Curry or Bobby Portis
Bobby Portis, playing with his fourth team in four seasons, might've finally found a home with the Milwaukee Bucks. The Greek Freak's supermax contract extension and the Jrue Holiday trade made all the headlines, but the acquisition of Portis flew under the radar. He started his career as a valuable bench player with the Chicago Bulls before they traded him to the Washington Wizards. Last year, Portis came off the bench for the New York Knicks during a lackluster season in which he only averaged 10.1 ppg. The Bucks added Portis as a role player to bolster their bench. He's become a key player in Milwaukee's second unit, averaging 11.4 ppg and eight rebounds. Portis adds value because you can play him at center or power forward.
Seth Curry spent most of his career as "Steph Curry's brother" or "Dell Curry's other kid." Seth paid his dues as an NBA journeyman, playing for seven different teams, including the Dallas Mavericks twice. As a starter for the  Philadelphia 76ers, Curry averages 17 points, 3.6 assists, and 2.3 rebounds per game. He's playing stellar ball on both ends of the court. Curry dropped 21-plus points in three of his last four games. He recently scored a season-high 28 points in a run-and-gun win over Bradley Beal and the Washington Wizards.
Sophomores: Coby White, RJ Barret, or De'Andre Hunter?
The Knicks started off the season on a good note, thanks to RJ Barrett. The Knicks selected Barrett with the #3 pick in the 2019 NBA Draft, and he had a strong rookie season despite the fact the Knicks were a terrible team in disarray. Barrett is now thriving under new head coach Tom Thibodeau. Swing players always add extra value on fantasy basketball teams, so it's surprising that Barrett is available in some leagues. You can chalk that up to anti-Knicks bias. Grab Barrett now before the rest of the league jumps on the Knicks bandwagon.
While Trae Young gets all the attention with the Atlanta Hawks, it's easy to overlook De'Andre Hunter. He started as a rookie last season, averaging 12.3 points and 4.1 rebounds per game. Hunter avoided a sophomore slump (16 ppg and 6.6 rebounds) while knocking down 43% from 3-point range. In his last four games, Hunter averaged 20 points. Against the Nets, Hunter shot a highly efficient 9-for-10 from the field with 23 points.
Coby White came off the bench for the Bulls last year. In his second season, White earned a promotion to starting point guard. His numbers increased significantly in every category, and he's currently averaging 18.6 ppg, 5.6 assists, and 5.1 rebounds. White recently exploded for a new career-high when he torched the Sacramento Kings for 36 points.
Waiver Wire Rookies: Cole Anthony or Tyrese Haliburton
The Orlando Magic (6-2) took a bad beat on Thursday night when they lost starting point guard Markelle Fultz to a blown-out ACL. Fultz will miss the remainder of the season while recovering from surgery. Cole Anthony began his rookie season as a backup, averaging 8.6 points, 4.9 rebounds, and 3.4 assists per game. Now, he's the next man up in the rotation in Orlando. The Magic selected Anthony, the son of ex-NBA player and Knicks star Greg Anthony, with the #15 pick in the NBA Draft.
In a few years, we'll look back and think Tyrese Haliburton might be the steal of the 2020 NBA Draft. And then, 10 teams will kick themselves for passing over the dynamic playmaker from Iowa State and letting him slip to #12, where the Sacramento Kings picked him. Haliburton averages 11.7 points, 4.7 assists, 2.8 rebounds, and 1.3 steals in 28 minutes off the bench. He's shooting 48.1% from 3-point range. He also notched double digits in all but one game (2 points).
Tyrese Haliburton was a steal

— NBA Central (@TheNBACentral) January 7, 2021