YouTuber Jake Paul has once again taken down a big-name mixed martial artist in the boxing ring, but he had to work a bit harder this time to defeat Tyron Woodley in their Sunday night bout.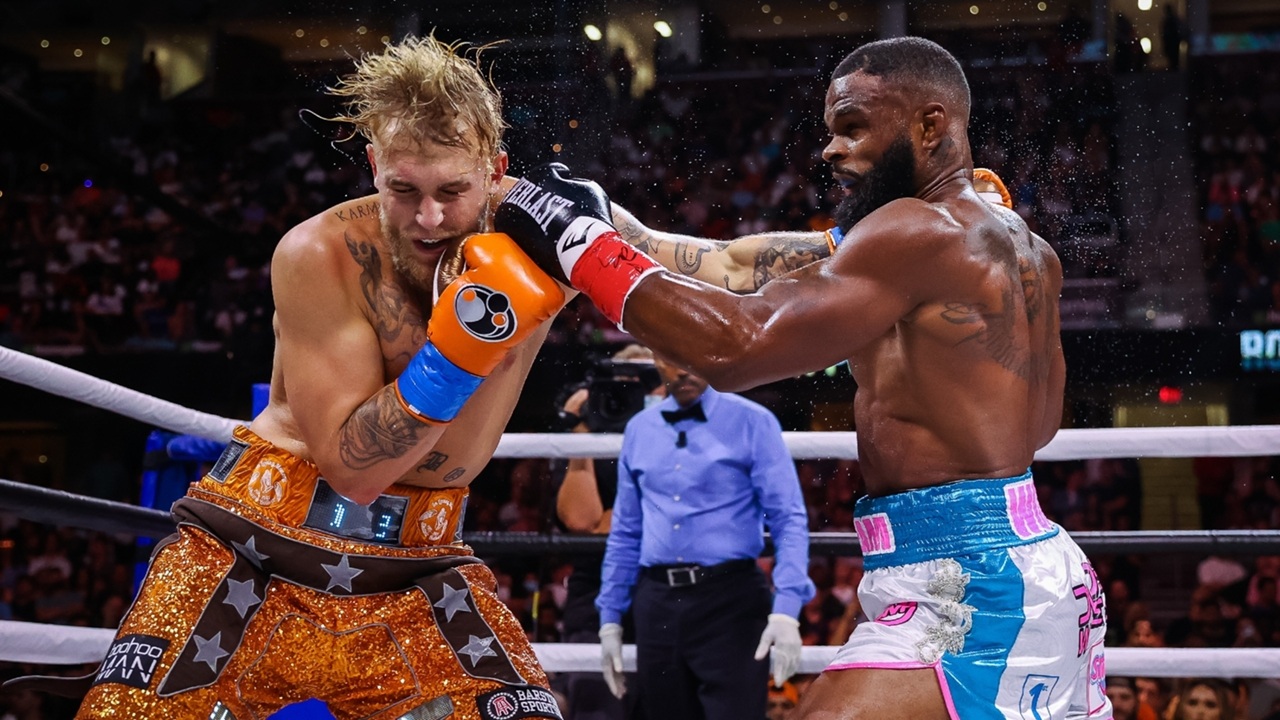 Paul defeated Woodley via a split decision, with the judges scoring the eight-round fight 77-75, 75-77, 78-74 in the 24-year-old's favor.
Paul survives scare to stay undefeated
Most observers believed Paul (4-0, 3 KOs) had won the fight relatively easily, deserving a unanimous decision for his efforts. Paul was the more active and more accurate fighter, and showed some determination as he tired in the later rounds.
But Woodley (0-1) had his moments. In the fourth round, the former UFC welterweight champion rocked Paul with a right hand, raising the specter of a knockout finish. But Paul recovered, and other than in a few dangerous moments, he controlled the fight from start to finish.
"I learned a lot tonight," Paul said afterwards. "We're gonna go back to the drawing board. I think I proved a lot tonight and proved a lot of people wrong."
Woodley came in as the much older and much smaller fighter. That might explain why he chose to fight cautiously in the early going. In the end, however, many believed he lost the fight because he didn't throw his hands nearly enough.
"I had a couple big shots I landed, a couple opportunities, and I think I had him hurt and I had him tired a couple times, and I didn't press him," Woodley said afterward. "I should have pressed him a little more."
Woodley called for a rematch after the fight. Paul said he will grant him one – if Woodley gets an "I love Jake Paul" tattoo.
Chikadze continues rise up featherweight ranks
In more conventional MMA fare, Giga Chikadze ran his record to 14-2 with a third-round knockout of Edson Barboza on UFC Fight Night in Las Vegas on Saturday. Chikadze is now a perfect 7-0 since joining the UFC.
Chikadze kneed Barboza to the midsection, then followed up when Barboza retreated. He landed several right hands to Barboza's head, then continued the assault until Jason Herzog stopped the fight.
After the fight, Chikadze called out former featherweight champion Max Holloway, and said he'd also like a title shot against Alexander Volkanovski.
PFL semifinals conclude, six finals in October
The Professional Fighters League wrapped up its semifinal matchups on Friday, as Marthin Hamlet and Antonio Carlos Junior reached the light heavyweight final, while Chris Wade and Movlid Khaybulaev advanced to the featherweight championship.
Those four will join eight other fighters competing in the PFL finals on Oct. 27 at the Seminole Hard Rock Hotel and Casino in Hollywood, Florida. A complete list of finals matchups can be found below.
---
PFL Finals Matchups
Heavyweights
Lightweights
Bruno Cappelozza vs. Ante Delija
Loik Radzhabov vs. Raush Manfio
Light Heavyweights
Featherweights
Antonio Carlos Junior vs. Marthin Hamlet
Movlid Khaybulaev vs. Chris Wade
Welterweights
Women's Lightweights
Magomed Magomedkerimov vs. Ray Cooper III
Taylor Guardado vs. Kayla Harrison
---
The winner in each weight class will earn a $1 million prize as PFL champion for the 2021 season.