Manchester City came from behind to clinch a 2-1 win over Paris Saint Germain in the first leg of the Champions League semifinals.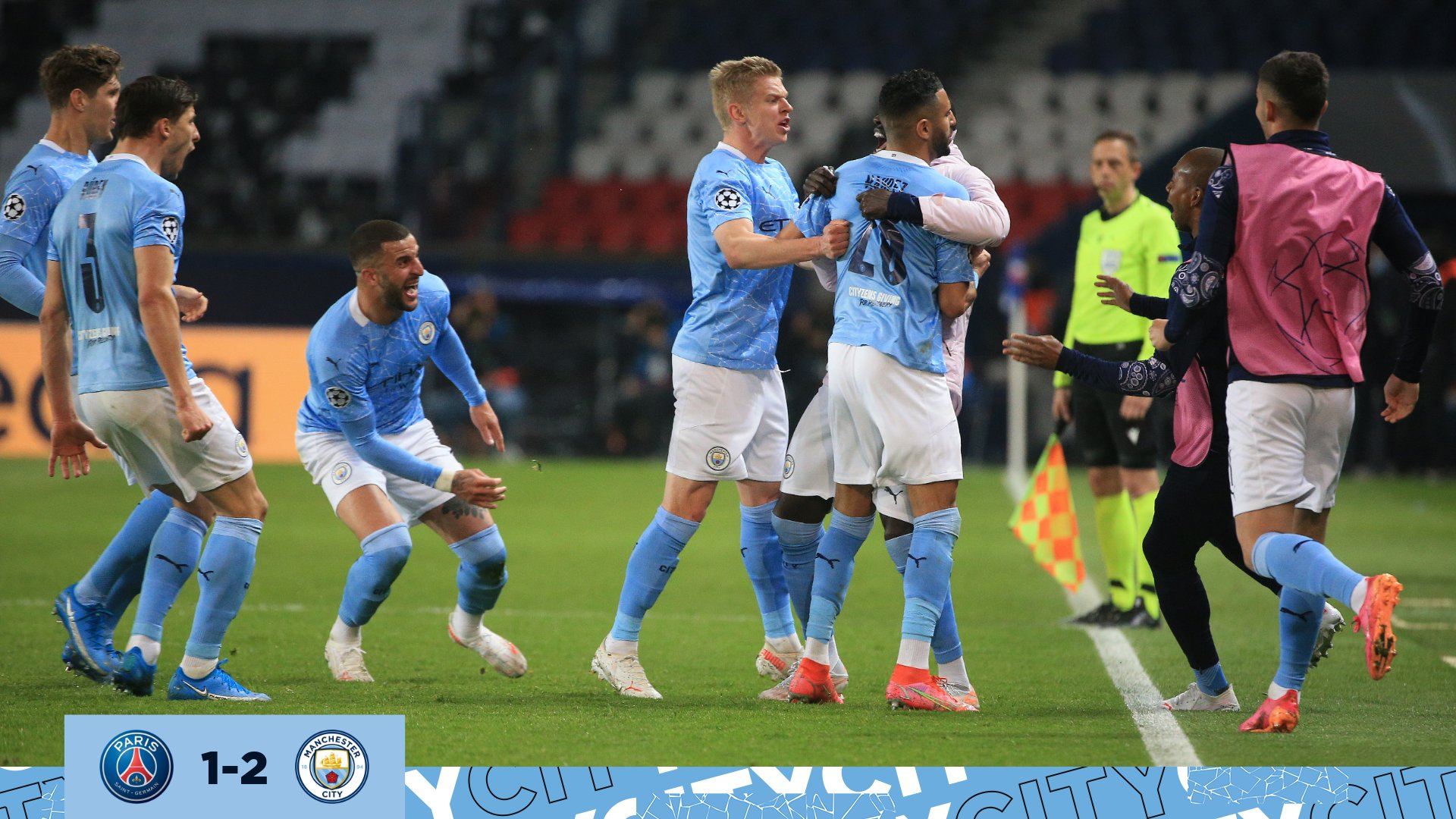 City went down 1-0 after 15 minutes of play. PSG captain Marquinhos headed the ball into the net following a perfect cross from Angel Di Maria. City kept moving the ball with obsession, but couldn't create big chances in the first half. Pep Guardiola's side finally found the key to unlock PSG's defense following two bizarre moments.
First, De Bruyne ('64) sent a tricky ball into the PSG box from 30 meters out. It resulted in a highly unexpected goal. Nobody touched the ball, to Keylor Navas' surprise. The PSG goalkeeper realized at the last moment the disaster in front of him, but couldn't do anything to stop it.
Seven minutes later, City scored again, this time from a free-kick. Mahrez took advantage of a breach in the PSG wall and sent the ball past Navas, who once again couldn't see what was coming his way before it was too late.
The two goals weren't the only bad news for PSG manager Mauricio Pochettino. Midfielder Idrissa Gueye saw a red card after 77 minutes for a brutal foul on Man City's in-form man, Ilkay Gundogan. Despite the fears surrounding Gundogan after the horrible challenge, the German continued playing.
City is 90 minutes away from the final
The multibillionaire sheiks behind Manchester City's rise brought in Guardiola in 2016 to help the club become a global superpower. Their goal was to win the Champions League as soon as possible. In his four attempts so far, Guardiola couldn't do it. First, he was stopped in the round of 16 in 2017, then in the quarterfinals on three occasions in 2018, 2019, and 2020.
But now, City is closer than ever to reaching the final. The last time they were this close was in 2016 when Manuel Pellegrini was their manager, and Real Madrid blocked their way. City held Madrid to a 0-0 draw in Manchester, but was beaten 1-0 at the Bernabeu. Real went on to win the Champions League on penalties against Madrid rivals Atletico. Guardiola's Bayern Munich was eliminated by Atletico in the semifinals.
"It's just the first 90 minutes and there is hard work to do," Guardiola said following the 2-1 win over PSG in Paris. "When a team has Neymar, 10 minutes left, 10 against 11, and he provokes fouls and actions with Mbappe – that shows the personality of this club."
He added, "This club wins the French league every year, they were in the final of the Champions League last year. They know exactly what they have to do to handle these types of games. Hopefully, we can be ourselves in the second leg."
Man City won their last six games in the Champions League. A seventh consecutive triumph is at -140. In all six wins, City scored at least two goals. City is listed at -175 to score at least two goals in the return leg. There have been at least three goals scored in Man City's last three Champions League games. City is also listed at -710 to qualify, while PSG sits at +450 to play in its second consecutive final.
Last season, PSG lost the final to Bayern Munich, 0-1.
Only halfway! pic.twitter.com/6DYu1mWmvL

— Kevin De Bruyne (@DeBruyneKev) April 28, 2021
Chelsea hopes for 100% English final
In the other semifinal, Chelsea got a draw away at Real Madrid, 1-1. The English side is now a slight favorite to play the final in Istanbul on May 29. Chelsea is undefeated in 10 of their previous 11 Champions League games. Chelsea to win or draw at Stamford Bridge next Wednesday is at -278. Real Madrid is a rock as well. The Spanish giants haven't lost any of their last six games in Europe's biggest club competition. Real to win or draw against Chelsea in London is at -175. Real to go through is at +120, whereas Chelsea stands at -164.