Some of your all-time favorite players, including LeBron James, Shaquille O'Neal, Magic Johnson, Patrick Ewing, and Lew Alcindor (before he changed his name to Kareem Abdul-Jabbar) were selected #1 in the NBA Draft. With the 2020 NBA Draft approaching, we've compiled a complete list of every #1 pick since its inception in 1947.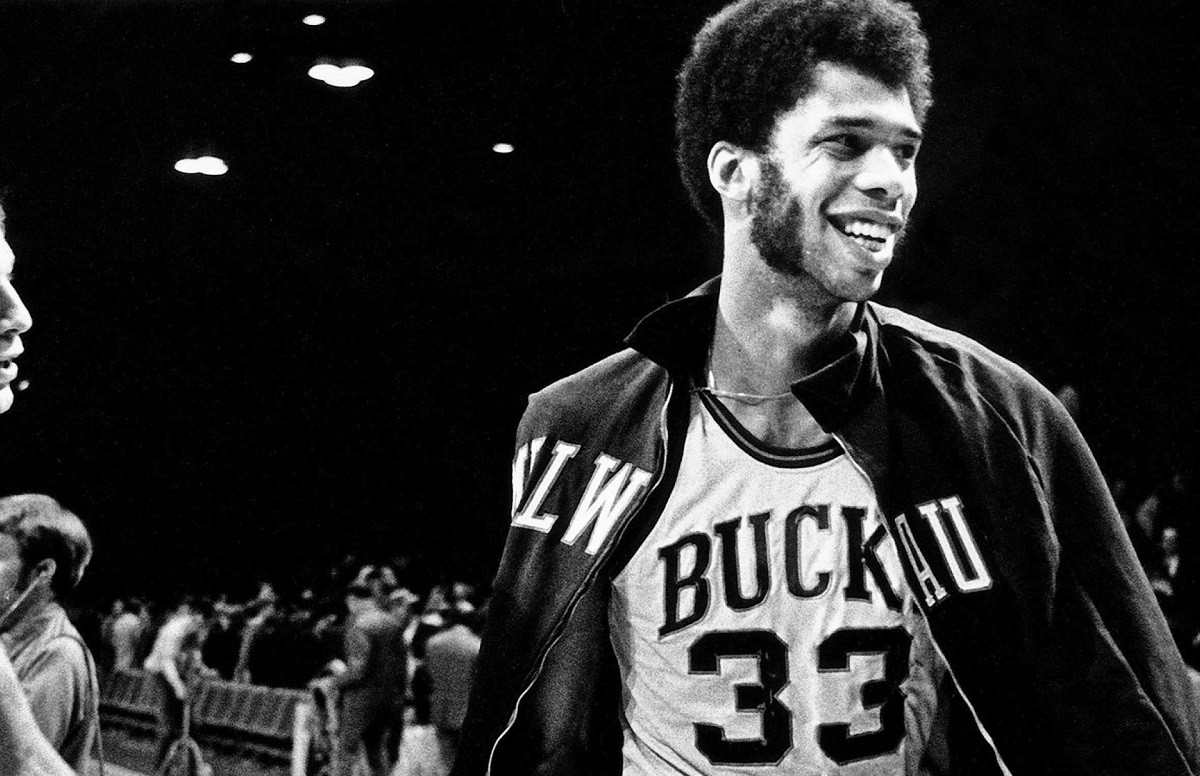 The NBA Draft is fast approaching, and there's no clear-cut #1 pick during a wide-open draft that left many questions unanswered during the pandemic that cut short the NCAA season and March Madness tournament.
Anthony Edwards, a scoring guard from Georgia, is projected as the #1 pick by the Minnesota Timberwolves. However, there are plenty of scenarios, including trades, in which other players, such as James Wiseman and LaMelo Ball, are selected first.
Of course, we could generate an entire list of the greatest NBA players who weren't drafted #1, and Michael Jordan would top that list, along with Bill Russell, Kobe Bryant, and Larry Bird.
We broke down the #1 draft pick into four different eras of the NBA, starting with the league's origins in the 1940s and leading up to a tall, unstoppable, skinny kid from UCLA named Lew Alcindor.
We also compiled all the #1 picks in the NBA Draft during the one-and-done era when prospects could no longer go directly from high school to the NBA. As a result, the top prospects in the country spent one season in the NCAA before going pro. Most of those talented players went to Kentucky for their solo season before getting drafted #1, including John Wall, Anthony Davis, and Karl-Anthony Towns.
Post-War to 1969: McNeely to Alcindor
The NBA began in 1949 with the merger of the Basketball Association of America (BAA) and the National Basketball League (NBL). The BAA's inaugural season ran in 1946-47. The Pittsburgh Ironmen finished in last place, and were rewarded with the #1 pick in the 1947 BAA draft.
The Ironmen selected Clifton McNeely out of Texas Wesleyan. He was nicknamed the "Man of a Million Shots" because of his ability to knock down a multitude of shots compared to the traditional two-hand set shot or single-handed jumper.
---
NBA DRAFT #1 PICK LIST 1947 to 1969
1947 Clifton McNeely (Pittsburgh Ironmen)
1948 Andy Tonkovich (Providence Steamrollers)
1949 Howie Shannon (Providence Steamrollers)
1950 Charlie Share (Boston Celtics)
1951 Gene Melchiorre (Baltimore Bullets)
1952 Mark Workman (Milwaukee Hawks)
1953 Ray Felix (Baltimore Bullets)
1954 Frank Selvy (Baltimore Bullets)
1955 Dick Ricketts (Milwaukee Hawks)
1956 Sihugo Green (Rochester Royals)
1957 Rod Hundley (Cincinnati Royals)
1958 Elgin Baylor (Minneapolis Lakers)
1959 Bob Boozer (Cincinnati Royals
1960 Oscar Robertson (Cincinnati Royals)
1961 Walt Bellamy (Chicago Packers)
1962 Bill McGill (Chicago Zephyrs)
1963 Art Heyman (New York Knicks)
1964 Jim Barnes (New York Knicks)
1965 Fred Hetzel (San Francisco Warriors)
1966 Cazzie Russell (New York Knicks)
1967 Jimmy Walker (Detroit Pistons)
1968 Elvin Hayes (San Diego Rockets)
1969 Lew Alcindor (Milwaukee Bucks)
---
Notable players who went #1 in the NBA Draft in the league's first two decades include Hall of Famer Elgin Baylor with the Minneapolis Lakers, and Oscar Robertson with the Cincinnati Royals.
Before he changed his name to Kareem Abdul-Jabbar, The Milwaukee Bucks drafted Lew Alcindor out of UCLA in 1969.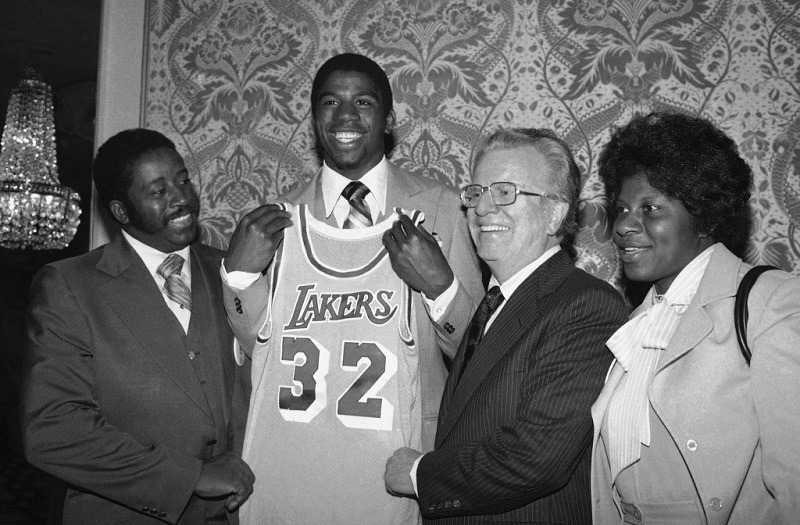 1970s and 80s: Magic to Ewing
The 1970s began with the Detroit Pistons selecting future Hall of Famer Bob Lanier out of St. Bonaventure. The Portland Trail Blazers selected Bill Walton out of UCLA with the #1 pick in the 1974 NBA Draft.
The LA Lakers took their first step toward championship glory by selecting Magic Johnson, a point guard from Michigan State, with the #1 pick in the 1979 NBA Draft. In 1982, they added James Worthy out of North Carolina.
---
NBA #1 DRAFT PICK LIST 1970 to 1989
1970 Bob Lanier (Detroit Pistons)
1971 Austin Carr (Cleveland Cavaliers)
1972 LaRue Martin (Portland Trail Blazers)
1973 Doug Collins (Philadelphia 76ers)
1974 Bill Walton (Portland Trail Blazers)
1975 David Thompson (Atlanta Hawks)
1976 John Lucas (Houston Rockets)
1977 Kent Benson (Milwaukee Bucks)
1978 Mychal Thompson (Portland Trail Blazers)
1979 Magic Johnson (Los Angeles Lakers)
1980 Joe Barry Carroll (Golden State Warriors)
1981 Mark Aguirre (Dallas Mavericks)
1982 James Worthy (Los Angeles Lakers)
1983 Ralph Sampson (Houston Rockets)
1984 Akeem Olajuwon (Houston Rockets)
1985 Patrick Ewing (New York Knicks)
1986 Brad Daugherty (Cleveland Cavaliers)
1987 David Robinson (San Antonio Spurs)
1988 Danny Manning (Los Angeles Clippers)
1989 Pervis Ellison (Sacramento Kings)
---
The Houston Rockets earned the top pick in the draft in back-to-back seasons, which is how they were able to assemble the "Twin Towers" with Ralph Sampson (1983) and Hakeem 'The Dream' Olajuwon (1984).
In 1985, the NBA created the first "Draft Lottery" to prevent teams from tanking. In one of the largest conspiracy theories in NBA history, the New York Knicks were awarded the #1 pick in the NBA Draft and proceeded to pick Patrick Ewing out of Georgetown.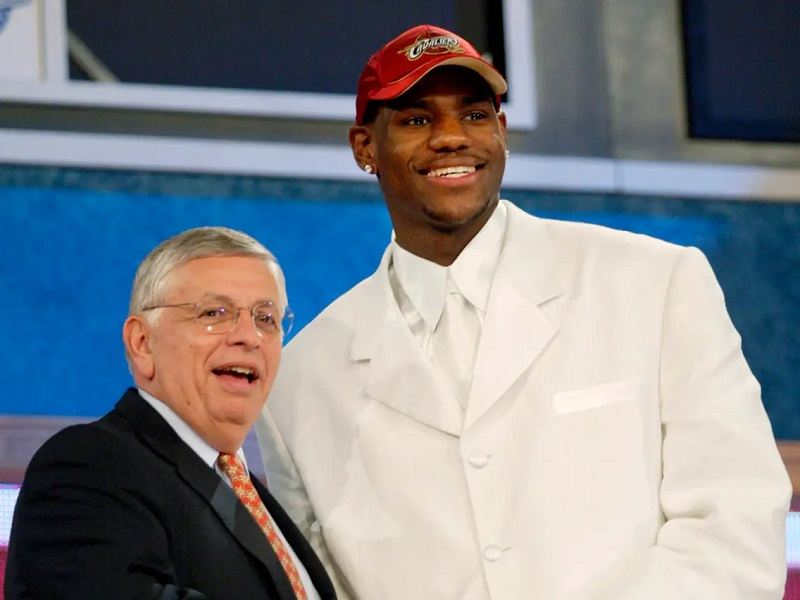 1990s to 2004: Shaq to LeBron
The NBA's fetish with big men continued at the start of the 1990s. The New Jersey Nets tipped-off the decade by drafting Derrick Coleman out of Syracuse with the #1 pick. In 1992, the Orlando Magic drafted Shaquille O'Neal with the #1 pick out of LSU. The San Antonio Spurs selected Tim Duncan from Wake Forest as their top pick in the 1997 draft.
In 1996, Allen Iverson from Georgetown was the #1 pick by the Philadelphia 76ers. Iverson became the first guard selected #1 since Magic Johnson in 1979.
---
NBA DRAFT #1 PICK LIST 1990 to 2004
1990 Derrick Coleman (New Jersey Nets)
1991 Larry Johnson (Charlotte Hornets)
1992 Shaquille O'Neal (Orlando Magic)
1993 Chris Webber (Orlando Magic)
1994 Glenn Robinson (Milwaukee Bucks)
1995 Joe Smith (Golden State Warriors)
1996 Allen Iverson (Philadelphia 76ers)
1997 Tim Duncan (San Antonio Spurs)
1998 Michael Olowokandi (Los Angeles Clippers)
1999 Elton Brand (Chicago Bulls)
2000 Kenyon Martin (New Jersey Nets)
2001 Kwame Brown (Washington Wizards)
2002 Yao Ming (Houston Rockets)
2003 LeBron James (Cleveland Cavaliers)
2004 Dwight Howard (Orlando Magic)
---
Three high school players were drafted with the #1 pick in the NBA Draft between 2001 and 2004, with the exception of Yao Ming in 2002. Ming became the first and only Chinese player picked with the top selection.
In 2003, the Cleveland Cavaliers selected LeBron James fresh out of St. Vincent–St. Mary High School in Akron, Ohio.
Dwight Howard made history as the last high school player to get drafted as the #1 pick. The next season, the NBA instituted the one-and-done rule.
21st Century One-and-Done: AD to Zion
During the peak of the one-and-done era, Kentucky became a popular school for the top high school players in the country who wanted to play for a single season before spring-boarding to the NBA.
In 2010, John Wall became the first one-and-done player from Kentucky to get picked #1. In 2012, the New Orleans Hornets selected Anthony Davis out of UK with the top pick. Two years later, the Minnesota Timberwolves selected Kentucky's Karl-Anthony Towns with the #1 pick.
---
NBA DRAFT #1 PICK LIST 2005 to 2020
2005 Andrew Bogut (Milwaukee Bucks)
2006 Andrea Bargnani (Toronto Raptors)
2007 Greg Oden (Portland Trail Blazers)
2008 Derrick Rose (Chicago Bulls)
2009 Blake Griffin (Los Angeles Clippers)
2010 John Wall (Washington Wizards)
2011 Kyrie Irving (Cleveland Cavaliers)
2012 Anthony Davis (New Orleans Hornets)
2013 Anthony Bennett (Cleveland Cavaliers)
2014 Andrew Wiggins (Cleveland Cavaliers)
2015 Karl-Anthony Towns (Minnesota Timberwolves)
2016 Ben Simmons (Philadelphia 76ers)
2017 Markelle Fultz (Philadelphia 76ers)
2018 Deandre Ayton (Phoenix Suns)
2019 Zion Williamson (New Orleans Pelicans)
2020 Anthony Edwards (Minnesota Timberwolves)
2021 Cade Cunningham (Detroit Pistons)
2022 ????? (Orlando Magic)
---
Kyrie Irving is the only #1 pick between 2005 and 2019 to win an NBA championship with the team that drafted him. Irving also had the benefit of LeBron James returning to the Cleveland Cavs to help him win a title in 2016.
Who will the Orlando Magic select in the 2022 NBA Draft? We will find out soon enough.