LeBron James set another scoring record when he began the oldest player in NBA history to score 50 or more points in back-to-back home games, when LeBron lit up the Washington Wizards for 50 points in a 122-109 victory for the LA Lakers.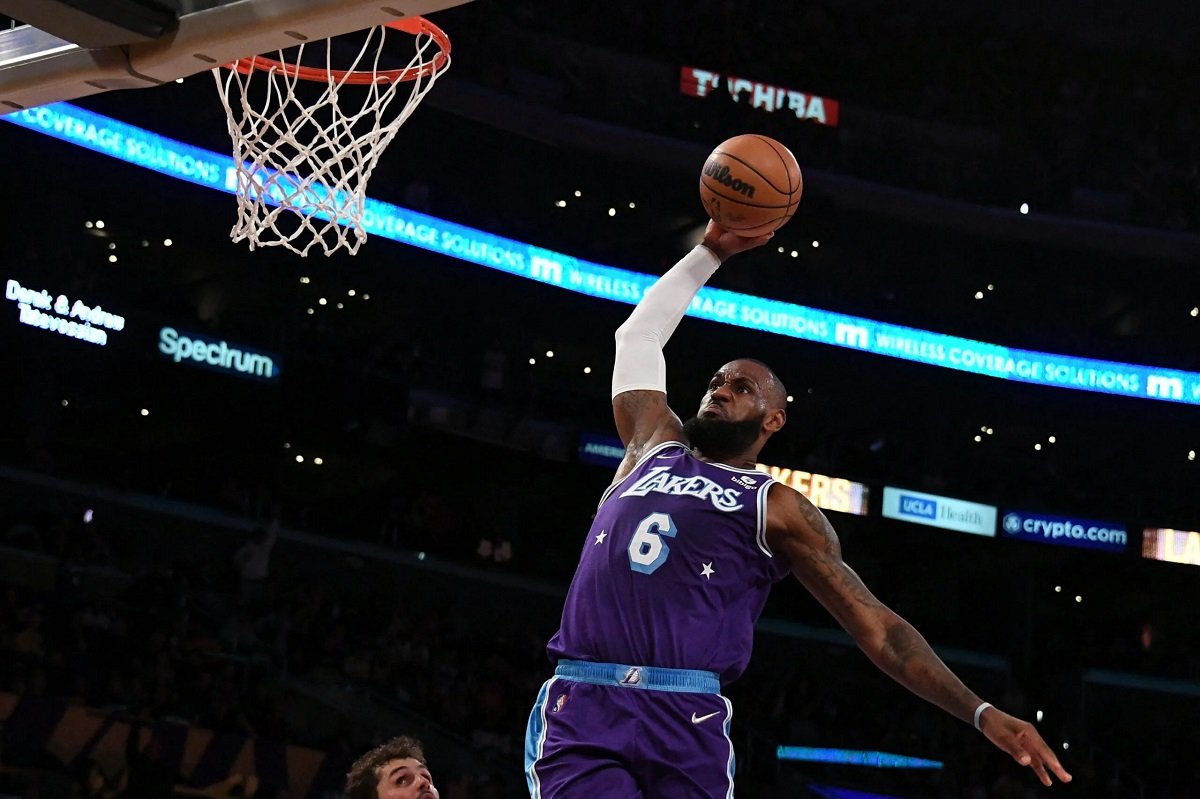 The way LeBron played the last couple of weeks, which included 56 points against the Golden State Warriors last Saturday night in Hollywood, he's been in full-blown playoff mode averaging 36.2 ppg in March. After last night's 50-point eruption, LeBron is now the NBA's leading scorer with 29.7 ppg.
"Just an incredible, unbelievable, epic performance by LJ," said head coach Frank Vogel.
The Lakers are flirting with missing the postseason and skating near the edge of the Western Conference playoff bubble. With the victory, the Lakers with the #9 seed improved to 29-37 on the season and they opened a 2.5-game edge over the New Orleans Pelicans in the #10 seed. The Lakers took a huge step forward and added a 3.5-game lead over the San Antonio Spurs (26-41) and Portland Trail Blazers (25-40) on the bubble.
LeBron: 50 Points… Again
Without Anthony Davis in the lineup, LeBron started at center for the Lakers and scored 50 points with seven rebounds and six assists in another must-win game for the Lakers. He played just 36 minutes and shot 18-for-25 from the floor for a 72% clip. He knocked down 6-for-9 from 3-point range and shot a perfect 8-for-8 from the free-throw line.
The Lakers were down by nine points late in the third quarter when LeBron heated up and led the comeback charge against the Wizards.
Despite a losing record and a game against the lowly Wizards, the Lakers had a sellout crowd at Crypto.com Arena. The crowd responded to the sensational scoring performance with chants of "M-V-P! M-V-P! M-V-P!"
"Listen, the Laker faithful knows when bad basketball is being played and they know when good basketball is being played," said LeBron. "They have the right to have any response they want. They've seen so many great teams, so many great individuals. So for me, being a part of this franchise, I just try to give them an opportunity to have memorable nights as well."
Up until last week, the Lakers were 0-6 in games in which LeBron scored 50 or more points in a game. However, since last Saturday, the Lakers went 2-0 in games where LeBron dropped 50 or more points. In his last two home games at home in Tinsel Town, LeBron gave the fans their money's worth when he exploded for 106 points including 56 points against the Warriors.
"Try to give them something to cheer for," said LeBron. "Something to feel good about on a nightly basis. It hasn't been as great as they would like for it to be this year, but you take the small wins when they come."
Old Man LeBron
Michael Jordan was 35-years old when he secured his last scoring title during the Last Dance season with the Chicago Bulls in 1997-98. LeBron is on pace to set a new record.
It's amazing that LeBron has been tearing up the league as 37-year old. Most guys his age are in the twilight of their NBA careers and became the beta on a team, or the third wheel of a Big 3. However, with the current-day Lakers, LeBron is as alpha as he's ever been during his 19th season in the NBA. Let's not forget, LeBron was one of the last batch of high school players that were able to enter the NBA directly without playing one season in the NCAA or a gap year overseas.
In comparison, Kareem Abdul-Jabbar averaged 22.0 ppg at age 37 with the Lakers during the height of the Showtime Era in the 1984-85 season. However, in his 19th season as a pro as a 40-year-old, Abdul-Jabbar averaged just 14.6 ppg.
LeBron holds down third place in the NBA all-time scoring list with 36,793 points. He's only 1,594 points away from breaking the record set by Abdul-Jabbar when he retired in 1989. If LeBron plays until he's 40-years old, he'll catch Abdul-Jabbar. At this rate, LeBron is just 135 points away from passing Karl Malone, who is second on the all-time scoring list with 36,928 points.
Most PPG in 19th season:

29.7 — LeBron James
29
28
27
26
25
24
23
22
21
20
19
18
17
16
15
14.6 — Kareem-Abdul Jabbar

That gap is bigger than Kareem and 0. LeBron has lapped the field. pic.twitter.com/q5ZhUpJvJ0

— StatMuse (@statmuse) March 12, 2022
Check out more installments of NBA High Guys.