Klay Thompson broke an NBA record previously held by teammate Steph Curry on Monday night by hitting 14 three-pointers in a single game during the Golden State Warriors' 149-124 victory over the Chicago Bulls.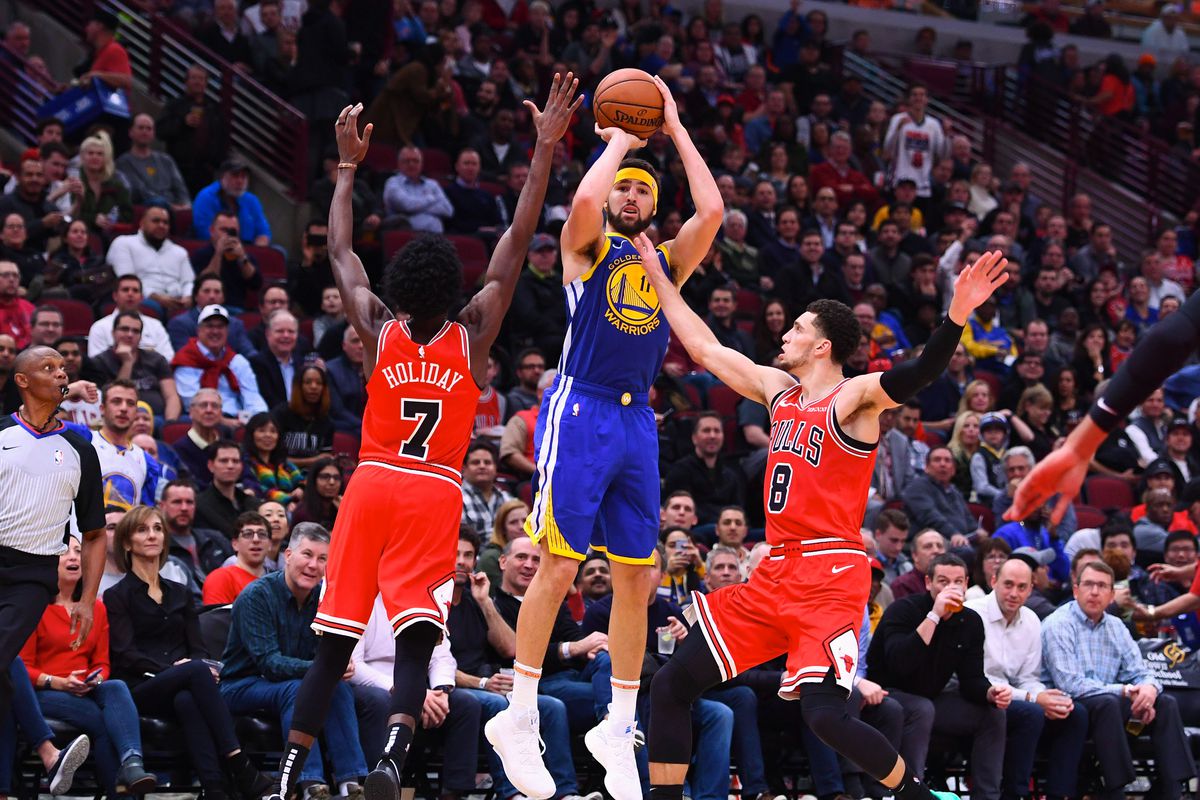 Thompson went 14-for-24 from long range on his way to scoring 52 points in just 27 minutes of action.
Thompson Breaks Out of Slump in Style
The barrage broke Curry's previous record of 13 threes in a single game. Thompson also hit 10 three-pointers in the first half, tying a record set by Chandler Parsons in 2014.
For Thompson, the explosion allowed him to break out of the early season struggles that had plagued him through the team's first seven games.
"It's the best feeling," Thompson told reporters. "To snap out of a slump with the record, I couldn't ask for a better way to do it. And I'm just going to continue this momentum on Wednesday, and it's one of the best feelings in basketball when you touch the ball and feel like it's going in every time."
Teammates Help Thompson to Record Haul
As the game went on, it was evident that the Warriors were rooting for Thompson to break the record, feeding him for threes whenever possible. That even extended to Curry, who held the record until last night.
"This is what it's been like," Warriors coach Steve Kerr said after the game. "I can't even tell you how lucky I am and how I feel every night watching these guys, how unselfish they are."
Thompson broke the record with just under five minutes left in the third quarter. After that, he was pulled from the game.
His Warriors teammates said afterwards that they knew Thompson was in for a special night after his red hot first half, though they didn't say anything for fear of getting in his head.
"It was like a pitcher throwing a no-hitter," Curry told reporters. "Like, you don't really mention anything to him. It's kind of just everybody else figuring out ways we're going to keep feeding him the ball and running our offense to obviously cater to him to knock down shots."
Kevin Durant said it felt special to see the record broken not once, but twice during his time with Golden State.
"To great moments…to see Steph break the record first two years ago and to see Klay break it," Durant said. "It's only fitting that those two hold the records, hold the most 3-point shots in a game. The best shooters to ever walk the earth, and probably nobody will ever shoot like those two ever again."
Thompson has been one of the premier three-point shooters in the league since his debut in the 2011-12 NBA season, shooting over 40 percent from beyond the arc every year. However, his early season slump saw him struggling from deep to start the year: even with his breakout game, Thompson is only shooting .317 on threes thus far, well below his career average.
Thompson's outburst was yet another display of the sheer number of weapons the Warriors have on their roster. That depth and talent level has made them an overwhelming favorite to win another NBA championship this year, with William Hill listing Golden State as an 8/15 favorite to win the title.