UFC lightweight champion Khabib Nurmagomedov will defend his title against interim champion Justin Gaethje on Oct. 24, UFC president Dana White told CNN on Tuesday.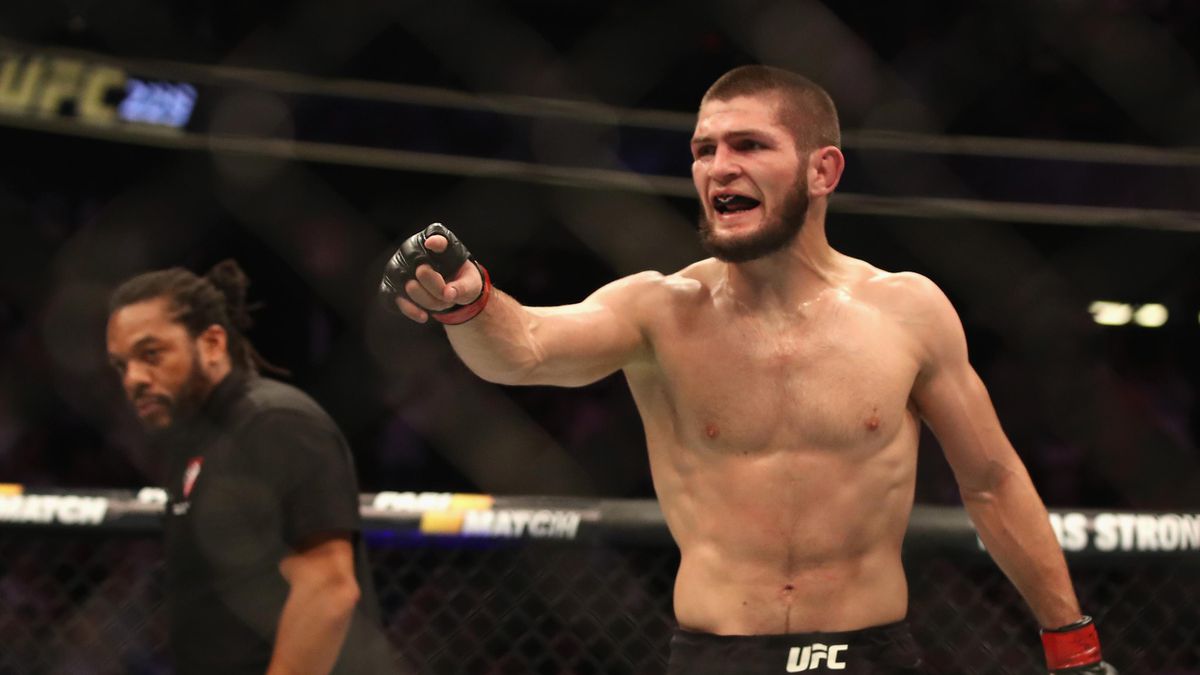 Fans and pundits have long expected the UFC to hold a title unification bout ever since Gaethje (22-2) defeated Tony Ferguson via fifth-round TKO on May 9.
Travel Restrictions, Father's Death Halted Nurmagomedov Title Fights
The UFC originally planned to have Nurmagomedov (28-0) defend his title against Ferguson on that night. But Nurmagomedov traveled back to Russia during the start of the COVID-19 pandemic, and is unable to return to the United States due to travel restrictions.
Since that time, Nurmagomedov has remained in Russia. His father, Abdulmanap, underwent heart surgery in May due to a pre-existing condition that was complicated by the coronavirus. Abdulmanap Nurmagomedov died on July 3.
"It's been very rough on him," White told CNN, speaking of Nurmagomedov. "Everybody is close to their parents and everything, but his father was a hero to him. He loved his father. They had a very close relationship, and it was very hard on him."
Some sportsbooks had already posted odds for the lightweight title matchup, given the high likelihood that the UFC would book the fight in the near future. PointsBet sees Nurmagomedov as a solid -350 favorite over Gaethje (+250).
The UFC has yet to announce a location for the bout.
A Nurmagomedov win will bump his record up to 29-0. In 2019, his father suggested that Nurmagomedov might retire after finishing his career at a perfect 30-0 record. Manager Ali Abdelaziz recently made similar comments to UFC Arabia.
St-Pierre Could Come Back to Fight Khabib
If that's the case, White says that he would support that plan, and would even allow Nurmagomedov to choose his final opponent. One likely name: former welterweight and middleweight champion Georges St-Pierre.
"At the end of the day, the Conor McGregor [rematch], I know Conor has wanted that fight since the last one," White told ESPN on Monday. "We'll see how this plays out. Sure, [I would be open to St-Pierre] if it's his last fight. This guy's been great to the company, great to the sport. I like Khabib a lot. I would do anything Khabib wanted to do."
St-Pierre (26-2) ranks among the all-time legends of MMA. In 2008, the Canadian won the UFC welterweight title for a second time, avenging an earlier loss to Matt Serra. St-Pierre went on to defend that title nine times before vacating the title at the end of 2013. He then came back to the Octagon for one fight in November 2017, defeating Michael Bisping to win the UFC middleweight championship.
St-Pierre vacated that title while battling ulcerative colitis. He announced his retirement in February 2019. He has also said that he has completely recovered from ulcerative colitis. At age 39, it's possible he could still credibly compete in the UFC, if he decides to do so.
Nurmagomedov attempted to book a fight with St-Pierre prior to his retirement, but those plans fell through.
"We tried to organize the fight," St-Pierre said at the time of his retirement. "I know Khabib wanted it and I wanted it, but the UFC has other plans."