College basketball is the major sport in the Bluegrass state, but the undefeated University of Kentucky football team is turning heads this season in the SEC. Kentucky is 5-0 and off to their best start in the conference since 1977 after upset victories over ranked Florida and Mississippi State. The Wildcats were double-digit underdogs in both games, yet still pulled out wins thanks to their sensational running back, Benny Snell.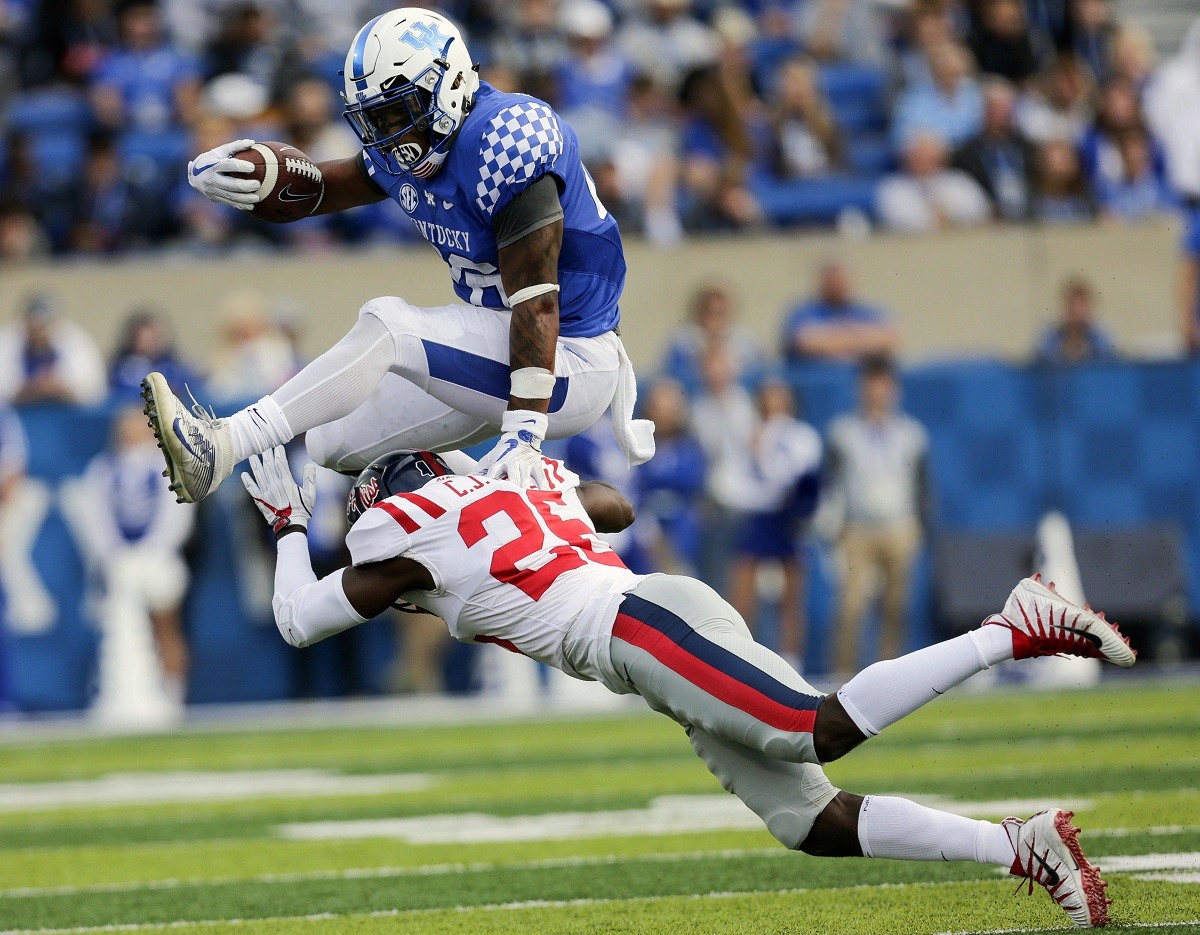 Kentucky improved to 3-0 in SEC conference games and they're in a tie for first place in the SEC East. A showdown with Georgia four weeks from now is the only thing standing in the way of a spot an undefeated season, and SEC Championship and BCS berth.
Kentucky's Remaining Schedule

Oct 6 @ Texas A&M
Oct 19 vs. Vanderbilt
Oct 26 @ Missouri
Nov 2 vs. Georgia
Nov 9 @ Tennessee
Nov 16 vs. Middle Tennessee
Nov 23 @ Louisville
No Respect for UK
Kentucky is most known for its horse racing and excellent college basketball teams. The University of Kentucky is not known as a football school and they struggled year after year in the bottom half of the SEC standings.That's why it's surprising to see Kentucky ranked on various Top 25 polls.
Kentucky is ranked #13 in the AP Poll, yet the Wildcats are still the Rodney Dangerfield of college football. Case in point: unranked Texas A&M (3-2) is a consensus 6-point favorite at home in College Station, Texas against Kentucky.
Kentucky shocked the sporting world during the second week of the season. Kentucky ended a 31-year losing streak against the #25 Florida Gators with a 27-16 victory in Gainesville, Florida.
"We knew the streak wouldn't last forever," said one die-hard alumni. "But to actually beat the Gators in their home stadium was something we never thought could be possible."
Kentucky is making the impossible look probable. In Week 4, Kentucky faced another ranked conference opponent with the #14 Mississippi State Bulldogs. Kentucky prevailed 28-7. Benny Snell rushed for 4 touchdowns and Kentucky's defense shutdown Miss State, holding them to a mere 7 points.
Heisman Hopeful
Enter Benny Snell, Jr. Everyone in Kentucky already knew they had a star running back with Benny Snell. However, the rest of the country is finally getting a glimpse of Snell's awesomeness. Snell, a 5-11 junior, rushed for 19 TD last season and 13 TDs two seasons ago. Through five games, Snell rushed for 639 yards with 8 TD.
Now that Kentucky is ranked in the Top 20, the team is getting more exposure. With more nationally televised games comes an avalanche of exposure. It's no coincidence that Snell's stock is rising among Heisman voters.
The Westgate SuperBook in Las Vegas listed Snell as 80-1 odds to win the Heisman Trophy. The fact that any Kentucky player is in consideration for the best player in college football is an achievement in itself.
Bleeding Blue for Basketball
The University of Kentucky won 8 NCAA college basketball championships (1948, 1949, 1951, 1958, 1978, 1996, 1998, 2012). Furthermore, the Kentucky Wildcats were the runner up four times. When Kentuckians argue about their favorite basketball team, they're really argue about which Kentucky championship team was their favorite.
The current football team is mentioned in the same breath as the 1977 squad, regarded as one of the best teams in the history of UK football.
According to the Westgate, Kentucky is listed as a 150-1 favorite to win the college football championship.
Let's not get too ahead of ourselves. The rest of Kentucky's schedule is no easy road with a looming game against Georgia on November 2.
The final game of the year against Louisville is always a fierce match up against their intrastate rival.