JJ is staying in Westwood, much to the delight of college basketball fans at UCLA. Johnny Juzang, the breakout star guard for UCLA, will return to school for his junior season after skipping the 2021 NBA Draft.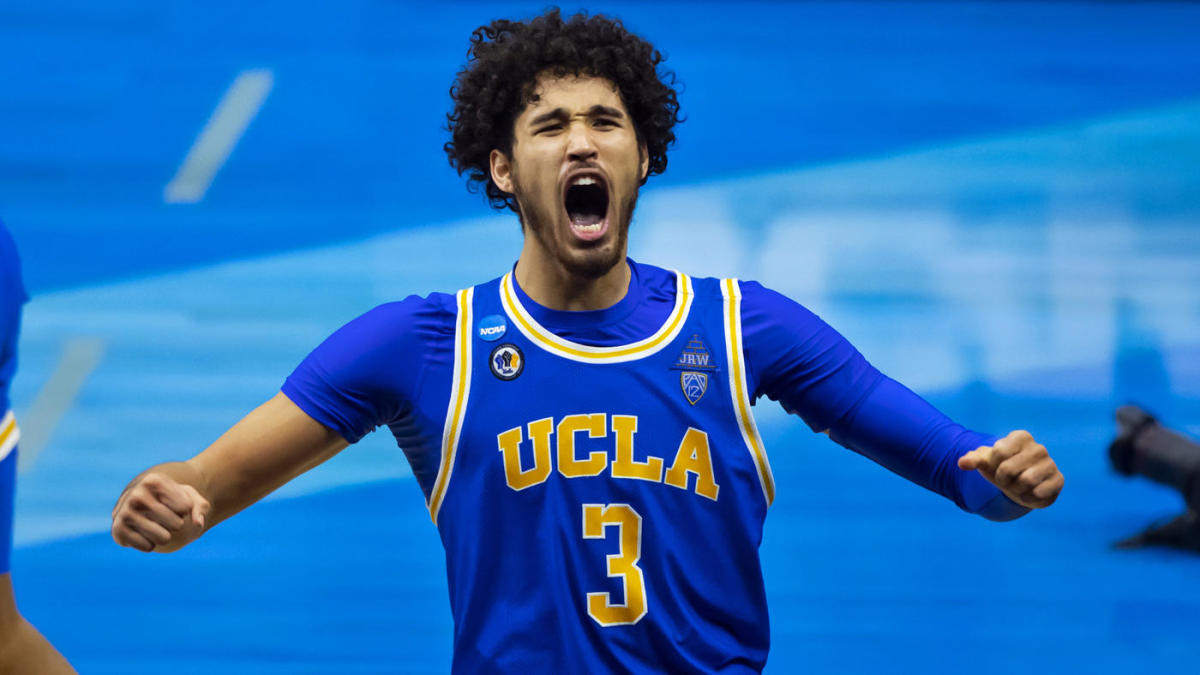 Juzang led Cinderella UCLA to a berth in the Final Fout, where they lost to Gonzaga on a heartbreaking half-court, buzzer-beater in overtime. As a result, he saw his NBA Draft stock rise skyrocket the deeper that UCLA went into March Madness.
By the time he guided UCLA to a spot in the Final Four, he was projected as a late first-rounder in the upcoming NBA Draft.
"Westwood, I can't wait to go to war!" said Juzang via social media. "We've got a team full of warriors and there's nobody I'd rather fight beside. With Coach Cronin and our staff, I'm very excited for this season. Let's do something special!"
Juzang, a 6-foot-6 shooting guard originally from the Valley (Tarzana), averaged 16 ppg during the regular season, but he was a beast in March Madness, averaging 22.8 ppg while shooting a blistering 50.9% from the floor. He notched 137 points in the tournament, which thrust him to second place on UCLA's all-time NCAA tournament points total.
💙💛 !!! @UCLAMBB pic.twitter.com/GGh8Ke5ZvQ

— Johnny Juzang (@JohnnyJuzang) July 8, 2021
Juzang: Back to school
Juzang didn't hire an agent at the end of last season, which hinted that he could bypass the NBA Draft. After some careful consideration and long talks with teammates and coaches, including head coach Mick Cronin, Juzang made the decision to return to UCLA for his junior season.
"Going through the draft process has been an amazing experience," said Juzang via Instagram. "I was blessed to connect with great people, learn and grow, and get a feel for life at the next level. I want to thank everybody who has helped me in this process, including my family, trainers, school, and especially my Dad, who helped for countless hours!"
"We are very excited Johnny Juzang will be returning to UCLA," said Cronin. "Johnny was an important addition to our team last year. He is a great player and an excellent teammate. Obviously, we had a special run in March and Johnny, playing on a sprained ankle, was magnificent along with his teammates. We are all excited to get back to work and build on our success."
With Juzang back in the starting five, UCLA automatically becomes a preseason favorite to win 2022 March Madness. UCLA was +1600 odds to win the title in early April. Right now, you can back UCLA at +850 odds (via DraftKings) to win championship #12 and their first title since 2005.
UCLA's Cinderella story
UCLA nearly missed the March Madness tournament as a bubble team after they made an early exit from the Pac-12 conference tournament. The NCAA selection committee hooked up the Bruins, who were awarded a generous spot in the play-in game as the #11 seed.
UCLA didn't squander its gift berth, and marched all the way to the Final Four. UCLA made history as the first First Four team to advance to a Final Four.
During their magical run to the semifinals, UCLA won a pair of overtime thrillers against Michigan State and Alabama to lock up a spot in the Final Four. In the semifinals, UCLA edged out #1 seed Michigan 51-48, and Juzang scored 29 points in the win.
Juzang scored a team-high 29 points for UCLA  in the semifinals against Gonzaga. However, the Bruins lost on a Jalen Suggs buzzer-beater.