The rambling wreck of Georgia Tech just got some horrible news after learning that Moses Wright, the ACC Player of the Year and Tech's top scorer, will miss the first round of March Madness after testing positive for COVID-19.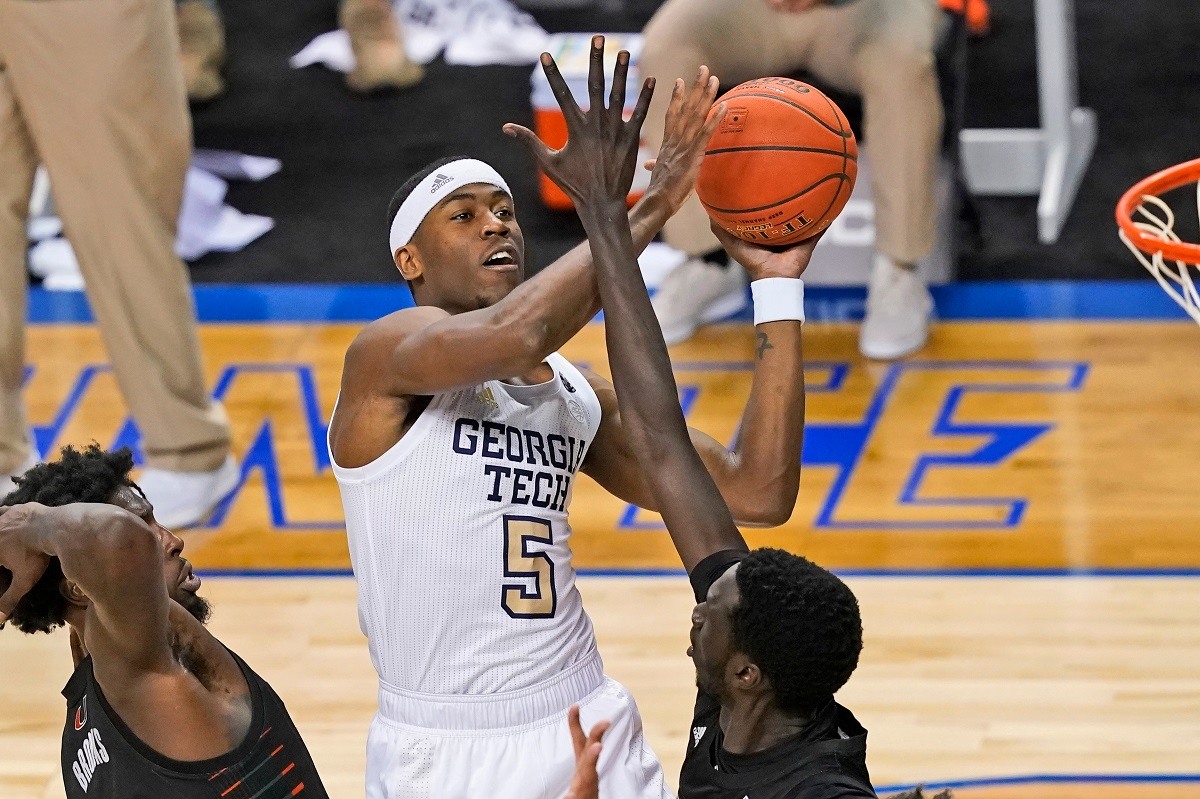 Georgia Tech qualified for March Madness for the first time since 2010. They won the ACC tournament for the first time since 1993 when Bobby Cremins roamed the sidelines.
Wright, a 6-foot-9 senior, averages 17.4 points and 8.1 rebounds per game for Georgia Tech. He also shot 53.2% from the floor and 41.4% from 3-point range. He was peaking at the right time too. In three of his last regular-season games, Wright averaged 28.6 ppg.
Wright is the one member of Georgia Tech's travel party who tested positive for COVID-19 on Monday. Sources said he is asymptomatic. The team traveled directly from Greensboro, North Carolina, where they played the ACC tournament. During the ACC conference tournament, Duke and Virginia both withdrew after one player on each team tested positive for COVID-19.
"It's a range of emotions, obviously, because you're sick for that individual because that individual hasn't done anything wrong," said head coach Josh Pastner. "It's just, unfortunately, this is a serious, serious virus."
Wright will miss the opening-round game for #9 Georgia Tech (17-8) against #8 Loyola Chicago (24-4). Georgia Tech would've been hard-pressed to defeat #1 Illinois in the Round of 32 with Wright. But without Wright, the future looks grim for the Yellow Jackets.
No Moses Wright, Line Jump
Tech will miss Wright on both ends of the court. He's Tech's top defender and was eager to shut down Loyola Chicago's Cameron Kurtwig.
Michael Devoe, a junior guard, will shoulder the scoring burden. He was second on the team in scoring, averaging 15.1 points per game. Devoe scored a team-high 20 points in the ACC championship game over #15 FSU.
Rodney Harris, a 6-foot-10 sophomore, will most likely start at forward to replace Wright. He averaged only 1.6 points and 1.4 rebounds per game this season for Georgia Tech.
If Georgia Tech defeats #9 Loyola Chicago, then pulls off a major upset over #1 Illinois in the second round, there's a chance Wright could rejoin the team in the Sweet 16. But, that's a long shot.
How important was Wright? According to bookmakers, he's worth roughly three points. Georgia Tech came into their first-round matchup against Loyola Chicago as a +2.5 underdog, even though they had a better seed. When news broke late on Wednesday evening, the line jumped two points. By Thursday morning, the Georgia Tech line moved to +5.5
"It's a gut punch," added Paster. "It stinks."
You can now back Georgia Tech on the money line at +195, which jumped from +130 yesterday. If you want to bet Loyola Chicago on the money line, you must lay -230.
The total in the Georgia Tech/Loyola Chicago game also moved from 124 o/u to 125.5 o/u.
Georgia Tech saw their futures tumble as well, and the Yellow Jackets are now +10000 odds to win March Madness.
Wright Almost Out of Nowhere
Wright was a late bloomer who didn't dazzle scouts and recruiters in high school.
"It's like, night and day, honestly, coming this far and getting ACC player of the year," said Wright after winning the ACC tournament. "This is an amazing feeling. I feel like I accomplished so much and there's just so much more out there for me to accomplish, too."
Wright made a minimal impact in his two seasons in Atlanta. He averaged 3.6 ppg as a freshman and 6.7 ppg as a sophomore. He settled into a starting role as a junior, averaging 13.0 points, 7.1 rebounds, and 1.1 blocks per game.
By his senior season, he was the top player in the ACC and a member of the ACC defensive team. His scoring average jumped to 17.4 ppg. He also vastly improved his perimeter shooting. He doesn't chuck a lot of treys, but he improved from 24.1% to 41.4% from 3-point range.
Wright came into this postseason as one of the key players to watch during March Madness.
Check out March Madness bracket tips for noobs and busy people.