If you're a first-time participant in a March Madness pool or a college basketball fan who hasn't been paying attention this year because of the pandemic, then you're in a bit of luck because we have bracket tips and advice for noobs and busy people.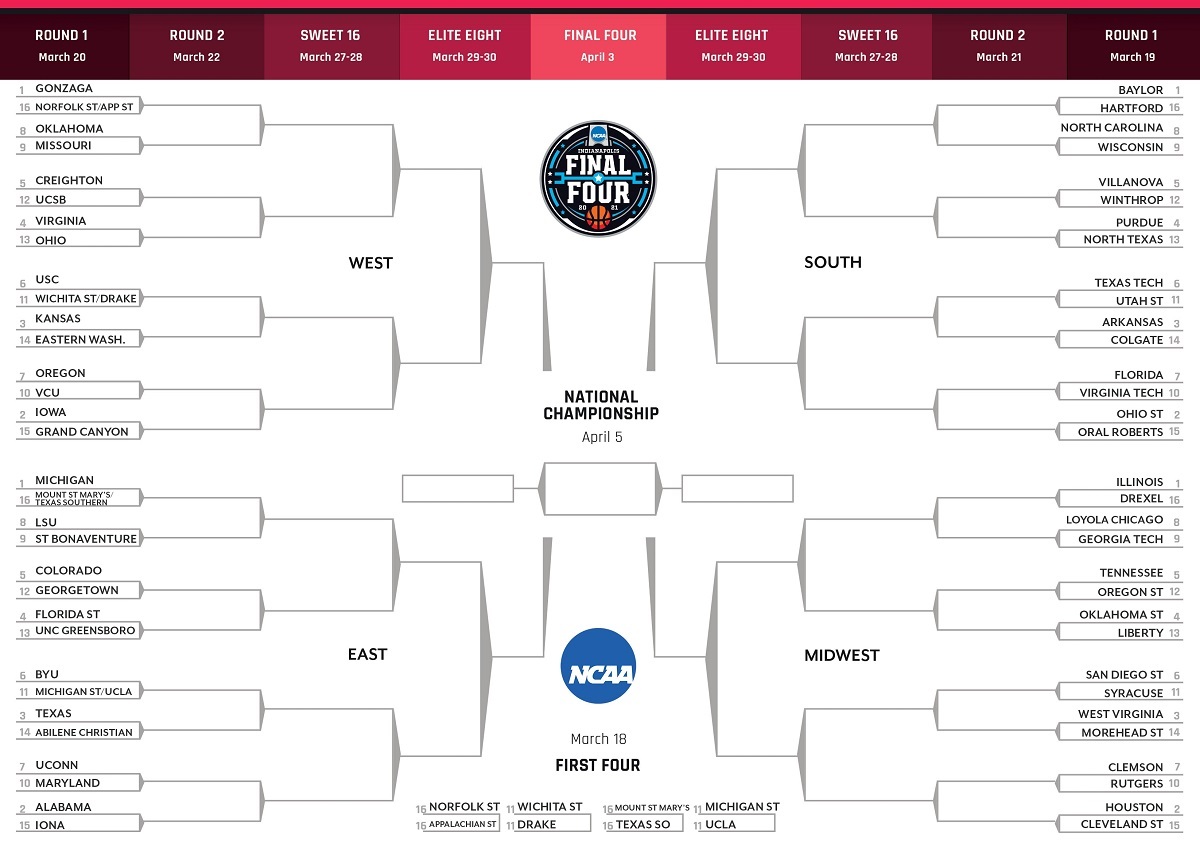 The best and worst part about March Madness is that anyone can win the pool, and can do it without really having to know anything about college basketball to bank big bucks. I bubbled a pool one year because a friend's six-year-old kid beat me because he had an obsession with dogs and picked teams with dog mascots to go deep.
At the same time, if you're playing in a high-stakes pool, then any edge you can get matters and every game counts. That means nailing your coinflips like those pesky #8 vs. #9 seed games, and predicting the correct #12 seed to make a run into the Sweet 16.
Here's our quickie guide on March Madness tips.
Chalk City
I always do multiple sheets and I'll refer to one as the "chalky" because it will be the one with all four #1 seeds going to the Final Four. The strategy only paid off once in 2008 when all four top seeds advanced to the Final Four. This season seems like a year that you'll see a lot of people taking that simple route.
In case you're wondering, 10 out of the last 14 March Madness champions were #1 seeds. A #1 seed won March Madness 22 times. A #2 seed won the championship five times, while a #3 seed won March Madness four times.
The #8 seed was the lowest seed to ever win March Madness, when Villanova pulled off a remarkable upset over #1 Georgetown in 1985.
Size Matters
The size of your pool matters. If you're playing in a large pool with 1,000+ runners, definitely considering adding additional entries. You might be out of pocket a few buy-ins, but at least you'll have more than one pony in this race.
In larger pools, you might correctly pick the champion, but so will a slew of other sheets. That means you must not only guess the champion and teams in the championship game, but you'll have to go a perfect 4-for-4 in your Final Four selections.
In smaller pools, you can stay conservative and not worry about making any crazy or non-conventional picks (e.g., hello Grand Canyon Antelopes). But in a super-sized pool, you have to take a couple of riskier picks.
Work Backwards, Backwards Work
I might sound like the protagonist from Christopher Nolan's Tenet, but work backwards. Figure out your champion first, and then the two teams in the championship, before figuring out your Final Four. Do the same thing with the Elite 8, Sweet 16, and Round of 32. You'd be surprised how much clearer you'll see a path to a championship when you begin backwards.
Know Thy Enemy
Who exactly is in your pool? Friends? Family? Co-workers? Strangers? If you work for a company based out of Detroit full of Michigan grads, or if all of your in-laws are Gonzaga alumni, then you'll know in advance who they're picking for the winner. Hop onto social media or check LinkedIn to familiarize yourself with where your friends went to school, or which team they root for during a bitter rivalry. Then, pick accordingly.
Even My Grandma Knows to Pick a #12 Seed
Here's an important March Madness bracket factoid and one of the best tips you'll see this year: #12 seeds win 35% of the time.
Make sure you pick at least one #12 seed to pull off an upset over a #5 seed. This year's #12 darlings include Winthrop, Oregon State, Georgetown, and UC-Santa Barbara.
Oh, and if you're picking a big upset from a #12 seed, also consider them advancing to the Sweet 16. Roughly 42% of the time, those bracket busters win two games.
Don't Overlook #11 and #13 Seeds
Everyone gets a little crazy with #12 beating a #5 team, but everyone forgets that #11 and #13 seeds can also pull off a bit of upset magic themselves. The #11 seed defeats a #6 seed 37.1% of the time. The #13 seed upsets a #4 seed only 20% of the time. The #13 seeds this year are Ohio, Liberty, North Texas, and UNC Greensboro.
Don't Sleep on #10
It's not weird to see #10 seeds knock off #7 seeds. It happens more than you think, with a 40% success rate. The #10 seeds this year include VCU, Maryland, Virginia Tech, and Rutgers.
Backing Coaches, Not Teams
Sometimes you can blindly bet a coach instead of the team. For example, Rick Pitino returned from coaching exile in Greece and led the Iona Gaels to a victory in the MAAC tournament. Iona became the fifth team he guided to March Madness. Pitino won two championships, so he knows a thing or two about what it takes to pull off a deep run in March Madness.
Shaka Smart made a name for himself with VCU when the Rams went to the 2011 Final Four. He's coaching Texas these days. It's been a decade since his Cinderella run in 2011, but he's never won a championship.
Current coaches who won a March Madness title include Roy Williams (3), Jay Wright (2), Bill Self, and Jim Boeheim.
Don't Fall in Love with Cinderella
The Cinderella narrative sounds amazing in theory. In something out of a Hollywood sports movie, a coach seeking redemption steers a team of misfits to the championship. But let's be honest; Cinderella can be a legit March Madness bracket buster, win a game or two and, occasionally, make a run to the Final Four. However, there hasn't been a Cinderella champion in 35 years.
3-Happy
We're in the analytics era of teams jacking up 3-pointers at an alarming rate. Keep an eye on the best 3-point teams in the country, but be wary as well. If you live by the trey, you'll die by the trey, and nothing can bust a March Madness bracket than a cold-shooting team.
Baylor led the nation in 3-point shooting with a 41.8% success rate. Colgate is ranked #3 in the NCAA with a 40% clip. Michigan (38.6%) is ranked #12, and Iowa (38.6%) is right behind at #13. Virginia, the 2019 champion, is ranked #17 at 38.1%.
It's Called Free for a Reason
Missed free throws are often the reason why good teams get knocked out of the tournament. Clutch free-throw shooting down the stretch is what makes or breaks teams. Colorado was chasing Harvard for the NCAA all-time free-throw shooting record. The Buffs are second in the country at 82.16% (behind Oral Roberts at an 82.35% clip). Virginia is currently ranked third at 81.65%.
Defense Wins Championships
The best defenses in March Madness this year include top-ranked Loyola Chicago (55.5 ppg), Houston (57.9 ppg), Liberty (59.6 ppg), St. Bonaventure (60.4 ppg), Virginia (60.5 ppg), and Abilene Christian (60.5 ppg).
Have Fun
One of the best tips we can give you before you fill out your March Madness bracket this year is to remember to have fun. It's easy to overthink the pool or get too stressed out worrying about trying to figure out those coin-flip games. Let's not forget that last year's March Madness was canceled due to the pandemic, so we're simply happy that the tournament is playing out this year.