World Chess Champion Magnus Carlsen swept a pair of tiebreaker blitz games on Thursday to beat American grandmaster Hikaru Nakamura and go through to the semifinals of the FTX Crypto Cup.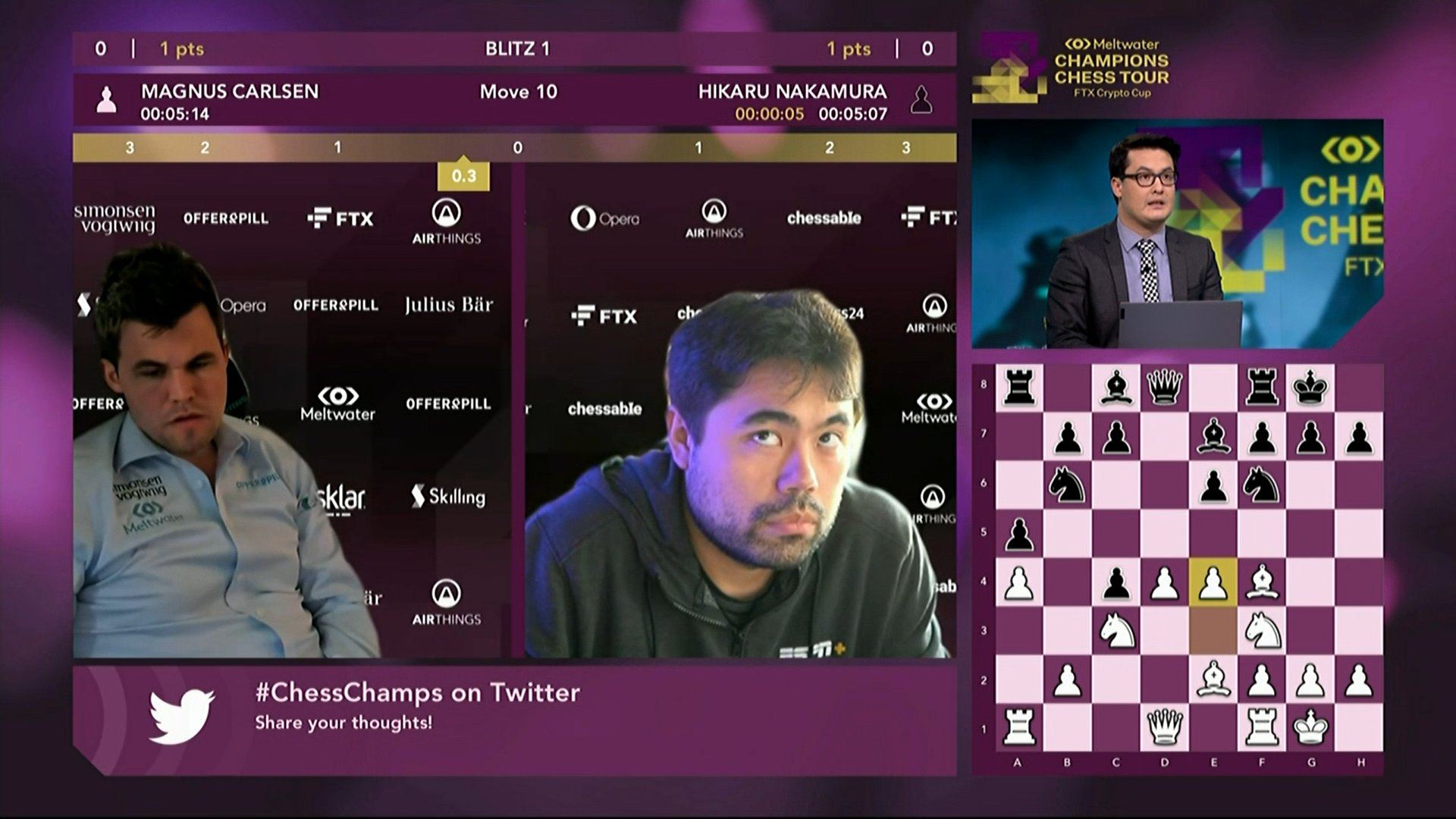 Carlsen and Nakamura drew both of their sets 2-2, necessitating the tiebreakers.
Carlsen dominates tiebreakers after tense match
Nakamura and Carlsen traded blows throughout Day 1, and in the first two games of the second set. After six consecutive decisive games, Carlsen tried to get the upper hand in Game 3 on Thursday by playing 1. b4 – a rare opening known as the Orangutan.
But Nakamura defended well and gained the upper hand. Carlsen only managed to hold onto a draw while down a pawn thanks to an opposite-color bishop endgame. When Game 4 ended in a perpetual check, the match moved to a two-game blitz showdown.
The tiebreakers didn't produce nearly as much drama as the rapid sets. Carlsen secured a big advantage straight out of the opening in the first game with White, and Nakamura resigned after dropping a piece on move 23. The second game didn't go much better: Carlsen was winning with Black within 20 moves, and Nakamura resigned after 37.
After the match, Carlsen thanked his opponent for helping create another epic showdown.
"Thanks to Hikaru as well for making it a great match," Carlsen said. "It's always a pleasure to play these matches against him and they are never boring!"
Carlsen will now move on to face Teimour Radjabov in the FTX Crypto Cup semifinals. Radjabov drew all four games with Anish Giri on Thursday after scoring the only win in Wednesday's match to go through. Online sportsbook Unibet rates Carlsen as a solid -500 favorite over Radjabov (+300) in their semifinal matchup.
So, Nepomniachtchi advance to FTX Crypto Cup semis
On the other side of the bracket, American Wesley So (-182) will take on Ian Nepomniachtchi (+130) in the semifinals. Fabiano Caruana reached the FTX Crypto Cup quarterfinals in his first Champions Chess Tour appearance, but fell to Nepomniachtchi in tiebreakers after drawing both sets. Nepomniachtchi won the first blitz game with White, then held on to a draw to clinch the match.
---
FTX Crypto Cup Odds – Semifinals (via Unibet)
Magnus Carlsen: -500
Teimour Radjabov: +300
Wesley So: -182
Ian Nepomniachtchi: +130
---
Afterward, Nepomniachtchi reflected on his performance.
"I think it was maybe the worst match from both sides of the entire tour," Nepomniachtchi said. "Of course, I'm feeling good that I made it through, but I mean, I think I was losing more or less in every game today, except for the first one."
Are you ready for the semifinals of the #FTXCryptoCup? We'll see some fantastic matches in Carlsen vs Radjabov and Nepomniachtchi vs So. Who do you want to see in the final? #ChessChamps https://t.co/eqhmr4g3Py pic.twitter.com/q4nMBZ8CZ0

— Champions Chess Tour (@ChampChessTour) May 27, 2021
Meanwhile, Wesley So had little trouble getting past French grandmaster Maxime Vachier-Lagrave. So won the first set 3-1, then clinched the match after securing a 2-1 lead in the second set to end any hope of an MVL comeback. So now enters the semifinals as a -182 pick over Nepomniachtchi (+130).
After getting past Nakamura, Carlsen is now a -182 favorite to win the FTX Crypto Cup. So stands as the +225 second choice, ahead of Nepomniachtchi (+500) and Radjabov (+700).