Cameroonian powerhouse Francis Ngannou will take on former UFC heavyweight champion Junior dos Santos in the main event of UFC on ESPN 3 at the Target Center in Minneapolis on Saturday night.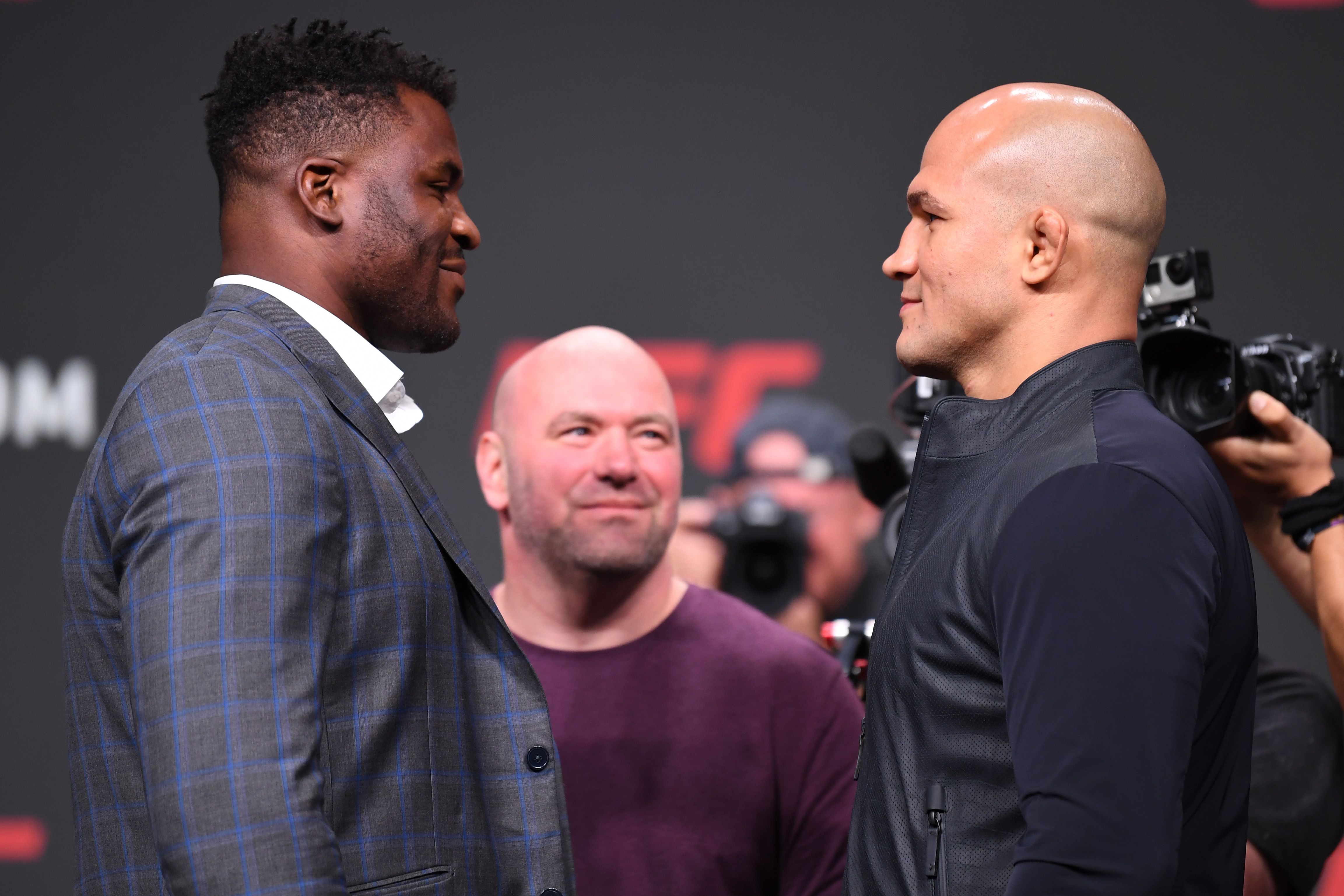 Originally, the UFC had planned to put Ngannou and dos Santos in the Octagon together for UFC 239 next week, but moved the bout to the main event of Saturday's card after a planned welterweight fight between Tyron Woodley and Robbie Lawler was canceled due to Woodley's hand injury.
Ngannou Displays Power in Recent Knockouts
The result is a high profile main event that could have serious heavyweight title implications. Ngannou (13-3) is the No. 2 contender in the division behind only champion Daniel Cormier and Stipe Miocic, and is riding a two-fight winning streak after finishing both Curtis Blaydes and Cain Velasquez in under a minute.
That has put Ngannou back among the top names in the weight class, after decision losses to Stipe Miocic and Derrick Lewis had threatened to derail what looked to be a championship-caliber career. Instead, he says that those losses have only improved him as a fighter going forward.
"You always learn more about the loss than a win," Ngannou told Business Insider. "I haven't been in this sport for a very long time, so I had to learn before those two losses, and then after the defeats I saw a different aspect of this sport. I keep learning and adding technical and combative experience."
Despite that lack of experience, Ngannou has established himself as one of the scariest opponents to face on the UFC roster. He has a history of putting together violent finishes, giving him the kind of reputation that can overcome any shortcomings in his game.
Former Champion Predicts Quick Fight
That's something that dos Santos (21-5) is well aware of. The former champion and current No. 3 contender has said that between Ngannou's power and his own attacking style, it's unlikely that this fight will go anywhere near the distance.
"Honestly, it doesn't make much difference adding more rounds, especially because I expect this to be a really quick fight," dos Santos told MMA Fighting. "Ngannou moves forward a lot, goes full speed in the first round. My goal is to make him pay in his first mistake, so I don't think this fight will go much longer."
While dos Santos doesn't have the raw striking power of Ngannou, he has shown a propensity for taking advantage of mistakes from his opponents, particularly when they get overly aggressive against him, something that could certainly happen on Saturday. That likely won't happen right out of the gate – if there's an early stoppage, it will probably go Ngannou's way – but dos Santos' odds of winning should go up the longer the fight keeps going.
As the younger and more athletic fighter, Ngannou has the edge in the fight, though nobody is counting out the former champ. FanDuel Sportsbook lists Ngannou as the -220 favorite, with dos Santos coming in at +176.
But the most telling betting line may be the over/under on how long the fight will last. The total has been set at just 1.5 rounds, with the under (-122) seen as the more likely outcome, meaning it could well be a short main event no matter which way the bout goes.