Get ready for an old-fashioned Texas showdown at high noon. In the Final Four, #2 Houston meets #1 Baylor in a battle of two fierce Texas teams to determine if the Bears or the Cougars will advance to the 2021 March Madness championship game.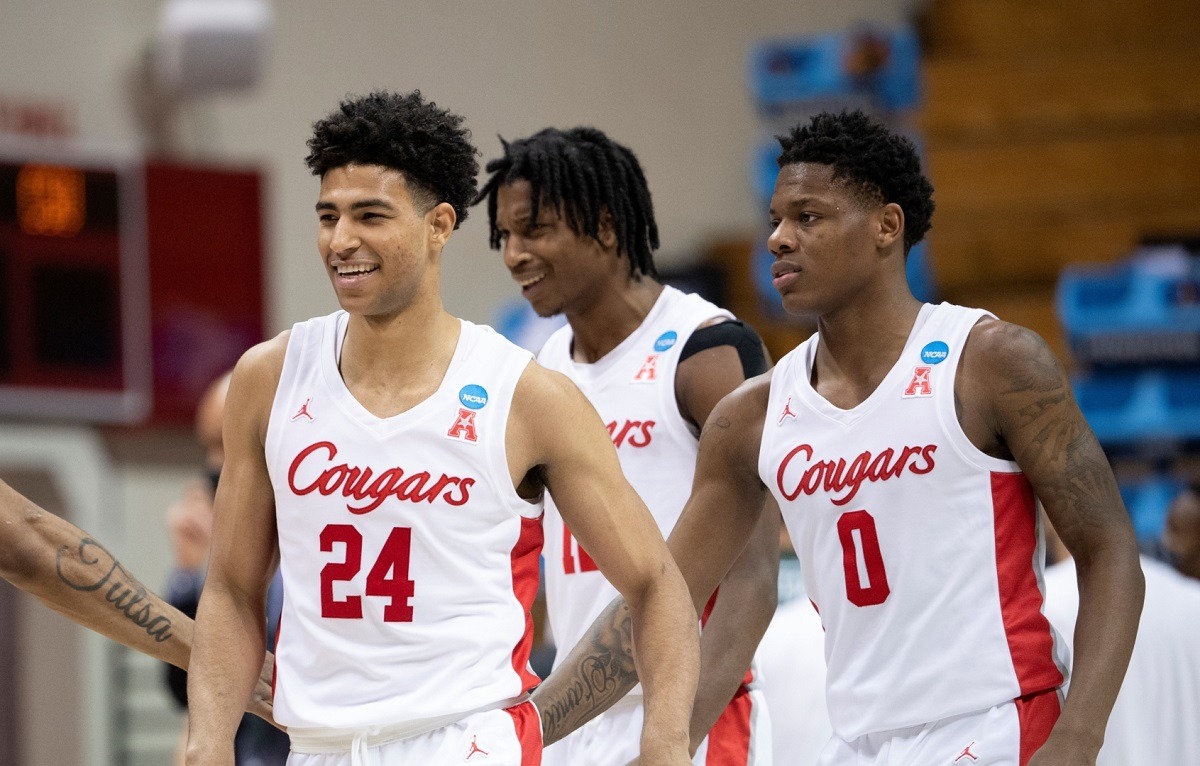 In the early 1980s, Hakeem "The Dream" Olajuwon led the Houston Cougars to three trips to the Final Four, including back-to-back appearances in the championship game. Houston lost in the title game both times. Almost 40 years later, Cougars' fans are jacked-up because Houston returned to the Final Four with a chance to finally break through to the winner's circle.
---
#2 Houston Cougars (28-3) vs #1 Baylor Bears (26-2)
Tip-off: 5:14 pm ET
Point Spread: BAY -5
Over/Under: 134.5 o/u
Money Line: BAY -220 / HOU +180
---
Baylor is the second favorite on the futures board at +250 odds to win 2021 March Madness, whereas Houston is currently +700 odds to win March Madness outright. Mattress Mack fired away at a $1 million bet on Houston to win it all. He got 9/1 odds at the time he made the wager last week, so he'll snag $9 million if Houston wins the next two games.
KenPom ranked Houston #3 overall behind Gonzaga and Baylor.
Sampson Redemption
Kelvin Sampson coached exactly 1,000 games over his career. He won 667 and lost 333 for a .667 win percentage. Sampson guided four teams to berths in March Madness, including Oklahoma, Indiana, Houston, and Washington State. It's been nearly 20 years since he took Oklahoma to the 2002 Final Four.
After a rough first season in Houston, Sampson posted six consecutive winning seasons. In 2018-19, Houston went 33-4, but their remarkable season ended when they lost in the Sweet 16. Two seasons later, he has a chance to take Houston back to the championship game.
During the Olajuwon years, the Cougars were a perennial contender and went to the Final Four in three straight years between 1982 and 1984. Houston reached the title game twice, but a championship eluded them both times.
The Cougs: Path to Final Four
Houston's defense has been the key to their success this season. During the regular season, Houston held opponents to 57.6 ppg. In March Madness, Houston's defense allowed 55.8 ppg in four games. They held Syracuse to just 46 points and held all opponents to under 61 points.
In the opening round, Houston obliterated #15 Cleveland State in a 31-point blowout. In the second round, #10 Rutgers gave Houston some trouble. Houston won by three points, but that was a tough sweat and an ugly win.
"We have some of these occasionally," said Sampson. "We have a lot of pretty ones, too. On nights we shoot well, we look good, but there's not a lot of teams that can play as poorly as we did and still win, and we've done that a lot."
Houston bounced back with a much better shooting effort in the Sweet 16. They didn't back down against #11 Syracuse and Jim Boeheim's zone defense didn't intimidate the Cougars. Houston put the clampdown on Buddy Boeheim and cruised to a 16-point victory.
In the Elite 8, Houston faced the hottest team in the tournament against #12 Oregon State. Houston held them off in a 67-61 victory to advance to the Final Four. Houston backers suffered a bad beat when Oregon State backdoored them on a last-second 3-pointer.
Triple-Guard Offense: Grimes, Sasser, Jarreau
Quentin Grimes, a 6-foot-5 junior guard, grew up in Houston and chose to stay close to home instead of playing for a power conference school. Grimes leads Houston with 18 ppg, and he's their most deadly shooter, knocking down 41.2% of his 3-pointers. Sometimes, Grimes gets hot and when he does, it's fun to watch. He lit up Western Kentucky for 33 points, including eight 3-pointers. He's already knocked down 17 treys in March Madness for a 43.5% clip.
Marcus Sasser, a 6-foot-1 sophomore guard, averaged 13.5 ppg this season. He scored 20 points and connected on five 3-pointers to help knock out Oregon State in the Elite 8.
DeJon Jarreau, a 6-foot-5 senior guard, averages 10.8 ppg. He knocks down 35% of his 3-point shots. He got hot a couple of times this season and led Houston in scoring. Jarreau injured his hip in the first round and played just one minute against Cleveland State. The tough-as-nails Jarreau bounced back with 17 points in the second round against Rutgers. The sore hip hasn't been a factor since then.
All three guards are excellent defenders, particularly on the perimeter. Houston's guards will have their hands full against Baylor's trio of guards — MaCio Teague, Jared Butler, Davion Mitchell — who love to jack up 3-pointers.
Check out more Final Four betting previews.