UFC flyweight champion Deiveson Figueiredo will return to the Octagon after just 21 days off when he defends his title against No. 1 contender Brandon Moreno in the main event of UFC 256 on Saturday from the Apex facility in Las Vegas.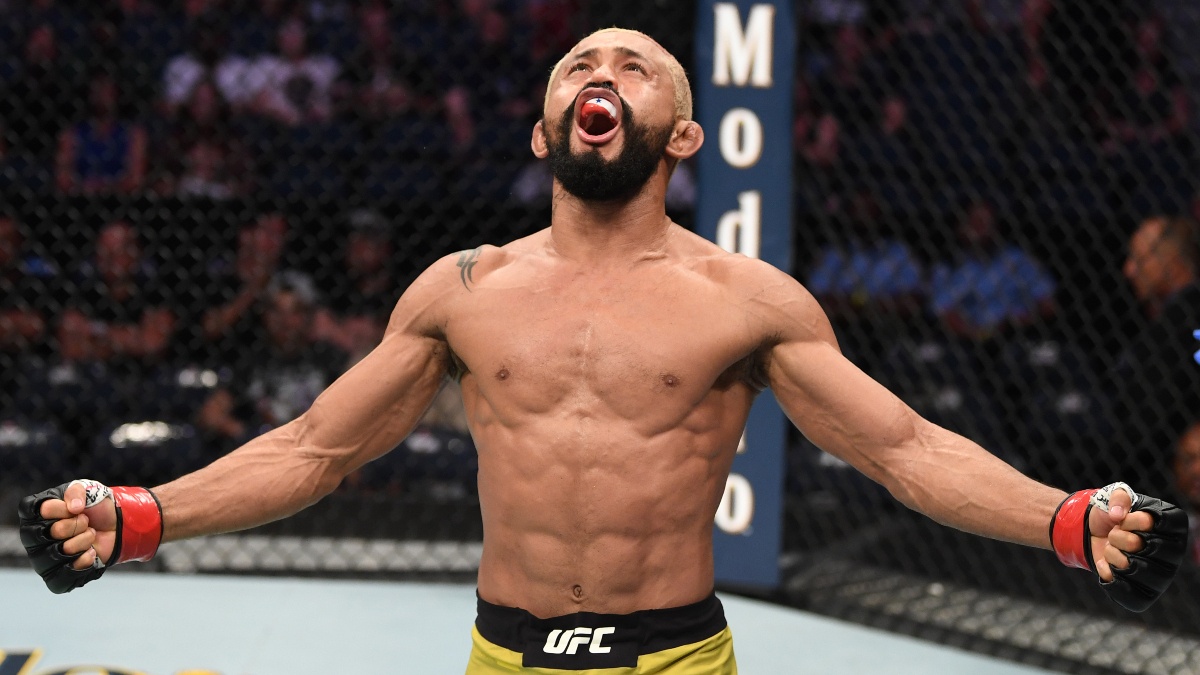 Figueiredo last fought on Nov. 21, when he submitted Alex Perez in just under two minutes to retain his flyweight championship.
Figueiredo, Moreno Waste No Time Booking Title Fight
No UFC champion has ever taken two fights so close together before. But Figueiredo (20-1), who has already effectively saved the flyweight division, is now aiming to become one of the company's biggest stars.
"I feel like what I have done, I can be [Fighter of the Year] when I knock out [Moreno]," Figueiredo told Yahoo. "My birthday is on the 18th and so, I can go home as the champion, maybe the Fighter of the Year, and give my family and friends an incredible party."
Figueiredo isn't the only fighter coming back on short notice for this title fight. Moreno (18-5-1) fought on the undercard at UFC 255, where he stopped Brandon Royval in the closing seconds of Round 1 to secure his position as the next title challenger.
Moreno said he's glad to take his next fight on just three weeks rest if it means a shot at the flyweight title.
"I think in a perfect world, I'd have the opportunity to prepare with a complete camp, maybe two months, and to really make sure that everything is the best it could be," Moreno told Yahoo. "But this is the opportunity of a lifetime, fighting for a UFC title. It's very important. I had no injuries in my last fight and it was very short. I am healthy, my cardio is still there, and I'm in shape and I feel very strong. There's wasn't really much to decide."
Weight Cuts Add Uncertainty for Both Fighters
Figueiredo comes into the fight at a -355 favorite over Moreno (+270), according to FanDuel Sportsbook. Moreno and Figueiredo both offer plenty of action for fans, and the quick turnaround could add a random element into the fights that might tempt bettors to take a flyer on Moreno. Figueiredo has also struggled with weight cuts in the past, but he says he's right where he needs to be despite the short time between fights.
---
UFC 256 Odds (via FanDuel Sportsbook)
Deiveson Figueiredo: -355
Brandon Moreno: +270
Tony Ferguson: -176
Charles Oliveira: +142
Mackenzie Dern: -200
Virna Jandiroba: +160
Kevin Holland: -105
Ronaldo Souza: -115
Junior dos Santos: +330
Ciryl Gane: -450
---
In the end, it's likely that Figueiredo's unparalleled finishing ability at 125 pounds will win the day, potentially early in the fight. But, if Moreno survives into the late rounds, this one could be anyone's game, as the toll of two weight cuts in less than a month could impact the champion.
In the UFC 256 co-main event, No. 3 lightweight Tony Ferguson (25-4) will take on No. 7 Charles Oliveira (29-8), with the winner planting themselves firmly in the title picture. Ferguson comes in as a -176 favorite over Oliveira (+142).