The first thing that stands out about Saturday's Grade 2 Jim Dandy Stakes at Saratoga is the "Grade 2" class prefix that comes along for the ride.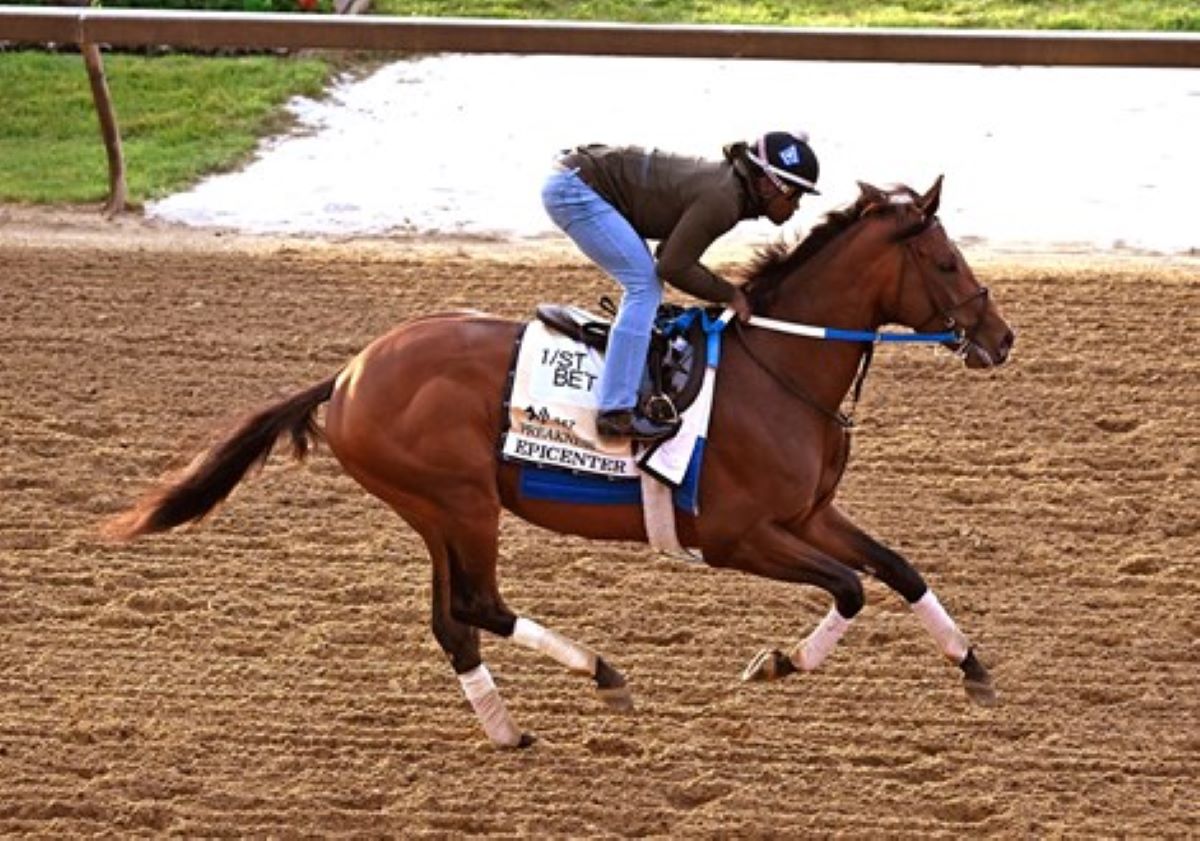 There is no truth-in-advertising here. Not with this year's 1 1/8-mile Jim Dandy, which figures to answer more questions than who's hot going into next month's Grade 1 Travers Stakes. The winner of this race gets more than momentum. He leaps to the forefront of a constantly shifting 3-year-old class.
The truth-in-advertising about this being a Grade 2 doesn't apply when you have one Triple Crown race winner: Preakness Stakes champion Early Voting. Not when you have the Kentucky Derby's third-place horse: Zandon. And not when you have the runner-up and post-time favorite in both those races: Epicenter.
Again, another race that makes up for a lack of quantity — there are only five horses here — with A-list quality. Early Voting, Epicenter and Zandon combined for more than $3.2 million in earnings and a 9-5-2 record in 17 races. That means these three finished in the money a combined 16 times in 17 races.
Epicenter closing in on $2 million
Epicenter, the leading money winner in the field with more than $1.94 million, spoiled the perfecto when he finished sixth in his September debut at Churchill Downs. He hasn't finished outside the exacta since (4-3-0).
This isn't surprising, considering Epicenter's last three races produced triple-digit Beyer Speed Figures. He clocked a 102 in his Preakness runner-up, a 100 in his Derby runner-up and a 102 for his Louisiana Derby victory. The son of Not This Time hasn't run since Early Voting beat him in the Preakness 2 ½ months ago.
For the Jim Dandy, expect Epicenter – the 3/2 favorite — to stalk the pace, then pounce at the turn. Expect a race similar to his Derby outing. There, he was in eighth early, although the incendiary early pace likely hampered his victory chances. By the far turn, he was in the lead and was holding Zandon off until Rich Strike went by both 50 yards from the wire.
How does a $2 million horse not have a Grade 1 win?
Amazingly, none of Epicenter's four victories came in a Grade 1. Jockey Joel Rosario, who already owns five graded stakes victories at Saratoga this summer, tries to rectify that oversight.
"Those short fields are almost like four-dimensional match races," said Winchell Thoroughbreds Racing Manager David Fiske, Epicenter's owner. "It gets to be a rider's race. Especially after watching Joel ride last weekend, I don't think he'll be too far off the pace.
"I find it interesting that he's the only (top) 3-year-old without a Grade 1 on his resume. Everyone at the top of the list has one and he's been close a couple of times. The margin in the Derby and the Preakness was probably a little more than two-fifths of a second, so that's disappointing. But we're pretty confident that at some point in the future, there's a Grade 1 with his name on it."
Early Voting can wire this Jim Dandy
Early Voting (8/5) checked that box with his Preakness win. He too, hasn't run since holding off Epicenter and Creative Minister (who finished third) at Pimlico. That, however, doesn't mean he hasn't been busy. Trainer Chad Brown has him on a consistent work tab, one producing three bullet works in six workouts since June 19.
En route to that 3-for-4 record, Early Voting's only loss came when he lost by a neck to eventual Belmont Stakes winner Mo Donegal in the Wood Memorial. That exacta produced two-thirds of this year's Triple Crown winners.
Where Early Voting should thrive here is with his tactical speed. He will be out in front, likely with Epicenter not far back, letting him do all the heavy lifting. The trick will be not to let Early Voting roll out unhurried and catch that rhythm that carried him to that Preakness title.
Brown wanted Zandon here from Derby Day forward
This is where Zandon (2/1) comes in. He punched his Grade 1 ticket by winning the Blue Grass at Keeneland in April. Since that Derby show finish, Zandon hasn't entered a starting gate for keeps. Brown, who trains him as well, gave him the rest of the spring and early summer off to prep for the Travers.
That's where the Jim Dandy comes in. And where Zandon comes in here is as a closer who will be there to pick up any pieces should a speed duel break out between his Triple Crown rivals.
Grade 2 Jim Dandy Stakes/Saratoga
Morning Line (Jockey/Trainer)
Western River, 20/1 (Ricardo Santana Jr./Rodolphe Brisset)
Epicenter, 3/2 (Joel Rosario/Steve Asmussen)
Tawny Port, 8/1 (Irad Ortiz Jr./Brad Cox)
Early Voting, 8/5 (Jose Ortiz/Chad Brown)
Zandon, 2/1 (Flavien Prat/Chad Brown)
This is what he did in the Blue Grass, complete with scintillating Flavien Prat piloting in the irons. It's what he did to hit the Derby board. And it's what he did finishing second to Mo Donegal in a contentious Grade 2 Remsen Stakes. With Mo Donegal sidelined, Zandon is the best closer in the 3-year-old division.
"I really believe that they both have established themselves for quite some time now to be two of the top-five 3-year-old dirt colts in the country pretty consistently throughout most of the year," Brown said about Early Voting and Zandon. "The order might change around those top five and the fifth horse that's in that group might change a little bit, but they're consistently in that group. We're at the midway marker, so there's a lot more racing to take place and these horses are going to have to continue to maintain strong campaigns to stay in that group."
Outside of those three, scratching for attention, is another closer: Tawny Port (8/1). After finishing 16th in the Derby, White Abarrio downshifted into the Grade 3 Ohio Derby. A good call by Brad Cox, who watched the Pioneerof The Nile colt win the Ohio Derby. That explains why Cox wheeled him back into the A-list races.