And then there were eight. The March Madness men's college basketball tournament field is now eight teams deep after the Sweet 16 round completed its games over the weekend. Three #1 seeds — Michigan, Baylor, and Gonzaga — survived their Sweet 16 opponents and advanced to the Elite 8, with Gonzaga leading everyone at +135 odds to win March Madness.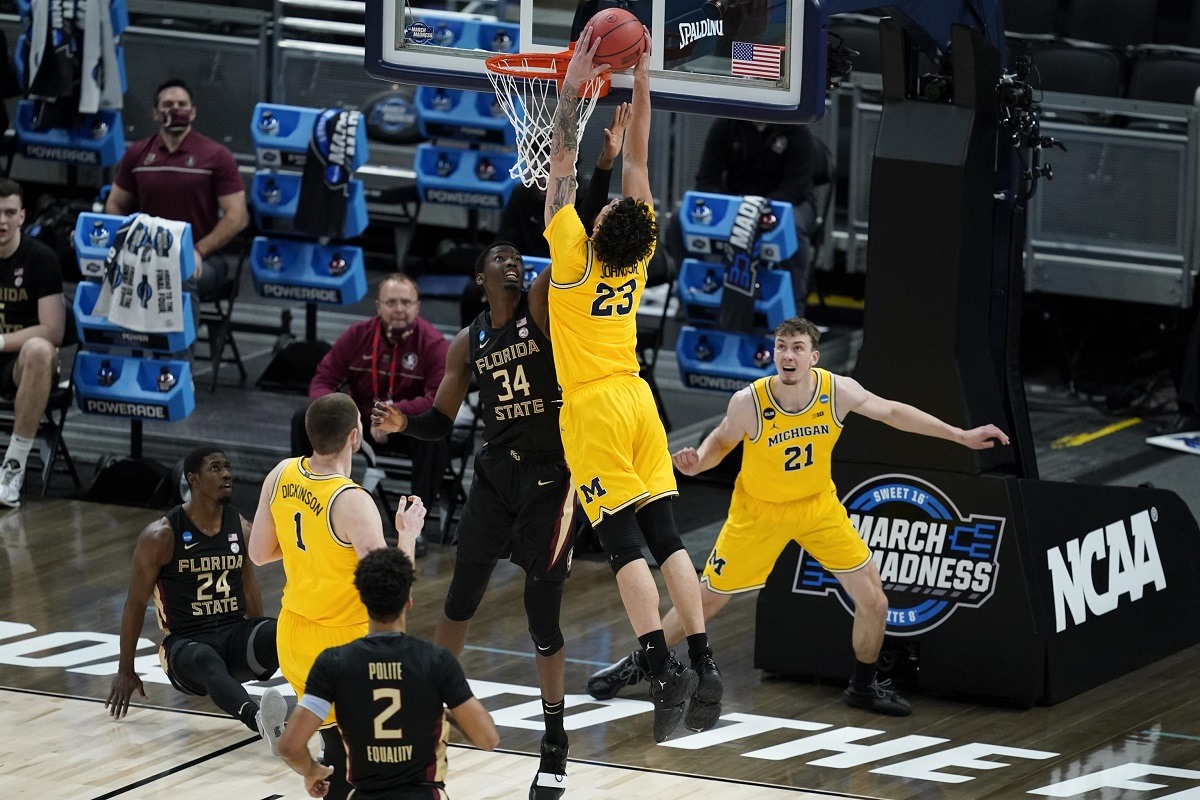 The Houston Cougars, at +600 odds to win March Madness, are the only #2 seed remaining in the field after #2 Alabama lost in overtime against UCLA, despite a buzzer-beater to send the game into overtime.
A couple of double-digit seeds from the Pac-12 continued their Cinderella march to the Final Four, including #11 UCLA and #12 Oregon State. UCLA leveraged a trip to the Elite 8 as a play-in team.
---
March Madness Elite 8 Odds
Gonzaga +135
Baylor +250
Michigan +550
Houston +600
USC +1200
Oregon State +1600
Arkansas +2000
UCLA +2800
---
The Big Ten entered March Madness as the toughest conference this season, with three teams in the AP Top 5 Poll and nine teams securing bids to the tournament. Heading into the Sweet 16, Michigan was the lone Big Ten team remaining.
With only eight teams remaining in the hunt for a championship, three teams from the underrated Pac-12 advanced to the Elite 8.
#11 UCLA Bruins
Championship Odds: +2800
Record: 21-9 ATS, 16-14 ATS
Head Coach: Mick Cronin
Leading Scorer: Johnny Juzang 15.1 ppg
Victories: #11 Michigan State, #6 BYU, #14 Abilene Christian, #2 Alabama
UCLA beat the spread in every game in the tournament, including the play-in game. The Bruins are 4-0 ATS since March Madness began, and 5-1 ATS in their last six, which included a 1-point loss against USC in the final game of the regular season.
UCLA blew a late lead against #2 Alabama, and let Bama tie the game with a buzzer-beater at the end of regulation. UCLA dominated in the OT session, winning 88-78 thanks to 17 clutch points from both Jaime Jaquez and Jules Bernard. The Bruins became only the second play-in team to win a Sweet 16 game.
UCLA opened as a +4 underdog against #1 Michigan in the Elite 8, which they play on Tuesday.
#3 Arkansas Razorbacks
Championship Odds: +2000
Record: 25-6 SU, 20-10 ATS
Head Coach: Eric Musselman
Leading Scorer: Moses Moody 17.1 ppg
Victories: #14 Colgate, #6 Texas Tech, #15 Oral Roberts
In his second season as Arkansas' head coach, Eric Musselman rejuvenated the Razorbacks. It's been over 25 years since Arkansas reached the pinnacle of their basketball prowess under legendary head coach Nolan Richardson, who won March Madness in 1994. Arkansas is just one win away from returning to the Final Four for the first time since 1995.
Remember two weeks ago when so-called experts (points finger at self) thought Arkansas would make an early exit in the opening round against #14 Colgate? Arkansas brushed off Colgate, and won two squeakers since then. Arkansas nearly met their fate in the second round with a two-point victory over #6 Texas Tech. Tech missed a wide-open layup to possibly send the game into overtime. In the Sweet 16, Arkansas faded another Cinderella hopeful when they knocked out #15 Oral Roberts 72-70. The NCAA's leading scorer, Max Abmas, got a good look on the final shot, but his potential game-winning 3-pointer rimmed out and Arkansas advanced to the Elite 8.
Arkansas faces #1 Baylor in the Elite 8. The Razorbacks opened as a +6.5 underdog, but early money poured in on Baylor and the line moved to +8.
#12 Oregon State Beavers
Championship Odds: +1600
Record: 20-12 SU, 22-8 ATS
Head Coach: Wayne Tinkle
Leading Scorer: Ethan Thompson 15.8 ppg
Victories: #5 Tennessee, #4 Oklahoma State, #8 Loyola Chicago
The red-hot Oregon State Beavers continue their epic march to the Final Four, but more importantly, Oregon State improved to a blistering 22-8 ATS record, including a 13-1 ATS clip dating back to early February. The eager Beavers are 3-0 ATS in March Madness with outright victories over #5 Tennessee, #4 Oklahoma State, and #8 Loyola Chicago.
Oregon State was the lone #12 seed to upend a #5 seed this year. In the second round, Oregon State held Cade Cunningham in check, which is impressive considering Cunningham is the consensus #1 pick in the upcoming NBA Draft. In the Sweet 16, Oregon State thwarted Loyola Chicago and their good luck charm, Sister Jean.
Oregon State opened as a +8.5 dog, which attracted a slew of money from the public and pro bettors. The line moved to +7.5 in some offshore books, but it's currently +8 in Las Vegas.
The over is 7-1 in the last eight games for Oregon State. The total in the Houston game is 129 o/u.
#6 USC Trojans
Championship Odds: +1200
Record: 25-7 SU, 18-14 ATS
Head Coach: Andy Enfield
Leading Scorer: Eric Mobley 16.3 ppg
Victories: #11 Drake, #3 Kansas, #7 Oregon
The Trojans obliterated their March Madness opponents this year, including a 34-point drubbing against #3 Kansas in the second round. In three March Madness games, USC won by an average margin of victory of 21.3. That's not unusual in March Madness, but consider the fact that USC is only a #6 seed.
The Mobley brothers, Evan and Isiah, make up a quick and dangerous frontline for the Trojans. Evan leads USC in scoring and the 7-foot super-frosh will most likely be picked #2 in the upcoming NBA Draft. He's clearly the most coveted big man on the draft board. Before he goes pro, he'd like to add a Final Four to his resume.
USC opened as a +9.5 underdog against #1 Gonzaga, which attracted enough money from bettors to move the line to +9.
#2 Houston Cougars
Championship Odds: +600
Record: 27-3 SU, 18-10 ATS
Head Coach: Kelvin Sampson
Leading Scorer: Quentin Grimes 18.1 ppg
Victories:  #15 Cleveland State, #10 Rutgers, #11 Syracuse
The big knock against Houston this year is that they didn't play any single-digit seeds. Is it their fault that #11 Syracuse went on a heater? They survived a close sweat with a 63-60 win over #10 Rutgers in the second round. In the Sweet 16, Houston didn't flinch against Syracuse's zone. The Cougs' defense kept Buddy Boeheim in check and coasted to a 16-point victory, even though they were up by 20-plus for most of the game.
Houston now faces #12 Oregon State, the hottest team remaining in the tournament, which should be one of the most exciting games on the Elite 8 slate. You can back Houston at +600 odds to win the March Madness championship outright, as the highest non-#1 seed on the Elite 8 futures board.
#1 Michigan Wolverines
Championship Odds: +550
Record: 23-4 SU, 18-8 ATS
Head Coach: Juwan Howard
Leading Scorer: Hunter Dickinson 14.2 ppg
Victories: #16 Texas Southern, #8 LSU, #4 FSU
While the Big Ten might've been slightly overrated by so-called experts, Michigan continues their march to the Final Four and only #11 UCLA standings in their way.
Juwan Howard never won a title as a member of the Fab Five at Michigan, even though they came close. As a head coach, Howard put his alma mater in a position to win March Madness. Michigan is the third-highest Elite 8 team on the futures board at +550 odds.
Michigan lost Isiah Livers just before the tournament began when he injured his foot during the Big Ten conference tournament. The senior swingman was Michigan's second-highest scorer (13.1 ppg) and one of their most-deadly snipers, shooting 43.1% from 3-point range. Livers was the leader in the locker room. Without Livers, the team rallied in the tournament with Franz Wagner and Eli Brooks stepping up to fill the Livers void.
#1 Baylor Bears
Championship Odds: +250
Record: 25-2 SU, 16-11 ATS
Head Coach: Scott Drew
Leading Scorer: Jared Butler 16.6 ppg
Victories: #16 Hartford, #9 Wisconsin, #5 Villanova
Baylor boasts a triple guard lineup that's one of the best in the nation with Jared Butler (16.6 ppg), MaCio Teague (15.7 ppg), and Davion Mitchell (14.1 ppg). Matthew Mayer, the dude rocking a mullet, provided Baylor with an additional scorer off the bench, including 17 points in the Round of 32 against Wisconsin.
Baylor has posted three double-digit victories so far, with a margin of victory of 16 ppg. #5 Villanova was the Bears' biggest threat, yet Nova lost by 11 points.
Heading into the Elite 8, Baylor is a -8 favorite over Arkansas. Baylor averages 83 ppg, and their high-octane offense is ranked #9 overall. Arkansas averages 81.7 ppg and ranks #19 in the nation in scoring. The total is 148.5 o/u and continues to rise.
Baylor is the second-highest Elite 8 team on the futures board at +250 odds to win March Madness outright.
#1 Gonzaga Bulldogs
Championship Odds: +135
Record: 29-0 SU, 15-12 ATS
Head Coach: Mark Few
Leading Scorer: Corey Kispert 19 ppg
Victories: #16 Norfolk State, #8 Oklahoma, #5 Creighton
Gonzaga is attempting to become the first undefeated March Madness champion since Indiana in 1976.
Thanks to a 43-point shellacking against #16 Norfolk State in the opening round, Gonzaga has a 25.6 ppg margin of victory. They didn't break much of a sweat with an 18-point win over #5 Creighton in the Sweet 16. Gonzaga covered all of their March Madness games.
After starting the season struggling to cover with a 7-9 ATS clip, Gonzaga covered eight out of their last 11 games. Overall this season, the undefeated Zags are only 15-12 ATS.
The Zags are -9 favorites over USC. The total is 155 o/u, and the game is expected to be the highest-scoring matchup out of all four Elite 8 games. Gonzaga average 91.8 ppg as the second-highest scoring team in the NCAA.
Gonzaga came into March Madness as the consensus favorite to win the championship. The Zags are the highest Elite 8 team on the futures board at +135 odds, which continue to shrink as March Madness progresses.