Derrick Lewis wants to position himself for another shot at the UFC heavyweight title, but he'll have to get past the seemingly ageless Alexey Oleynik in Saturday's UFC Fight Night main event to stay in the mix.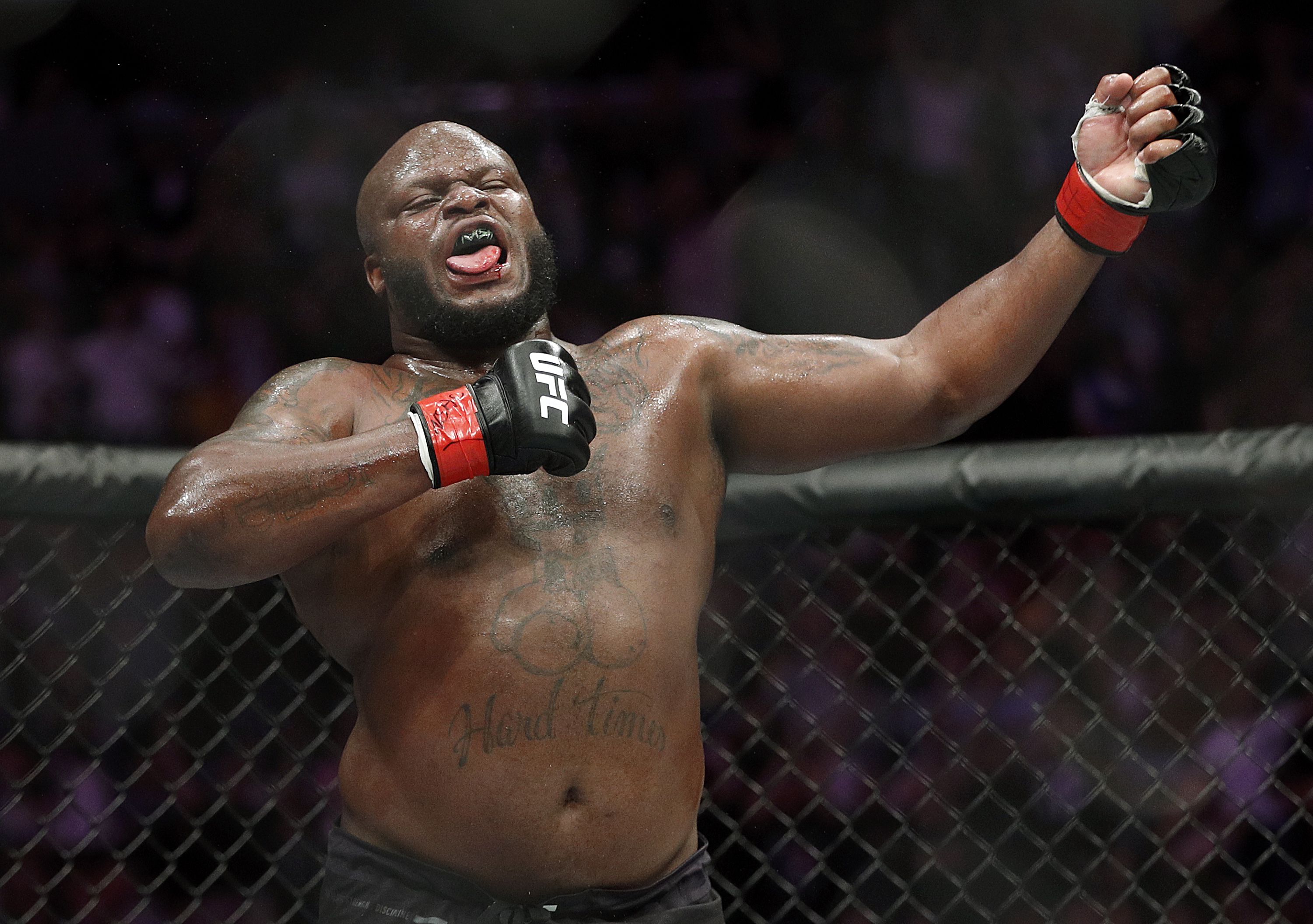 Lewis (23-7) challenged for the heavyweight championship in 2018, losing by submission to the legendary Daniel Cormier.
Lewis Recommits to Training After Title Fight
Cormier entered that bout as a heavy favorite. Lewis had just come off a stunning knockout win in the final seconds against Alexander Volkov, and turned around in just 28 days to face off against the champion.
A loss to Junior dos Santos further diminished Lewis' stock. He's rallied for two wins since then, and now gets the opportunity to beat a top-10 heavyweight and prove he deserves his No. 4 contender ranking.
According to Lewis, he's changed his habits in an effort to become a more legitimate threat for the heavyweight crown.
"I used to train only 30 minutes a day," Lewis told Yahoo Sports. Since I fought [Cormier], I have started training a lot more. You might start seeing a slimmer version of me."
Lewis has shown up for his recent fights in better shape, and his cardio seems to have improved – a factor he himself predicted would make it difficult to fight for five rounds before the Cormier bout.
"Before, I didn't have the cardio to go like I needed to," Lewis said. "I was just really relying on my power and not taking anything that seriously."
Oleynik: 'I Just Don't Give Up'
Meanwhile, Oleynik (59-13-1) continues to prove that he can't be taken lightly. The 43-year-old Russian has been in professional MMA for nearly 24 years now, despite the fact that he didn't make his UFC debut until 2014. He's seen his ups and downs in the promotion, but has compiled an 8-4 record in UFC, and is coming off two straight wins over Maurice Greene and Fabricio Werdum.
Those victories earned him a No. 10 ranking in the heavyweight division. A win against Lewis could, beyond all probability, make him an outside contender for a title shot.
"I just don't give up even when it gets very difficult," Oleynik told reporters when asked about his longevity. "I train always and I eat good food. I have a family, my family helps me in my preparations. I have many fans and I have my own will. I will always be better, and better, and better."
Oleynik will need to be at his best to beat Lewis, who looks like a different fighter since his loss to Cormier. While Lewis has improved his cardio, Oleynik's has diminished with age, meaning his window for winning this fight may be short. Lewis will likely get out of the first round alive, then wear down Oleynik to get the win. FanDuel Sportsbook makes Lewis a -188 favorite over Oleynik (+158) to get the job done.
---
UFC Fight Night Odds (Main Card)
Derrick Lewis (-188) vs. Alexey Oleynik (+158)
Chris Weidman (-136) vs. Omari Akhmedov (+116)
Darren Stewart (-162) vs. Maki Pitolo (+136)
Yana Kunitskaya (-235) vs. Julija Stoliarenko (+194)
Beneil Dariush (-178) vs. Scott Holtzman (+150)
Odds via FanDuel Sportsbook
---
In the co-main event, former champion Chris Weidman (-136) returns to middleweight to take on Omari Akhmedov (+116), with both men seeing the bout as a stepping stone to recognition as a contender.