No one is hotter in the NBA right now than De'Aaron Fox, who scored a career-high 44 points for the Sacramento Kings last night in a 141-119 blowout against the Golden State Warriors. Fox has been on fire throughout March, averaging 30 points per game.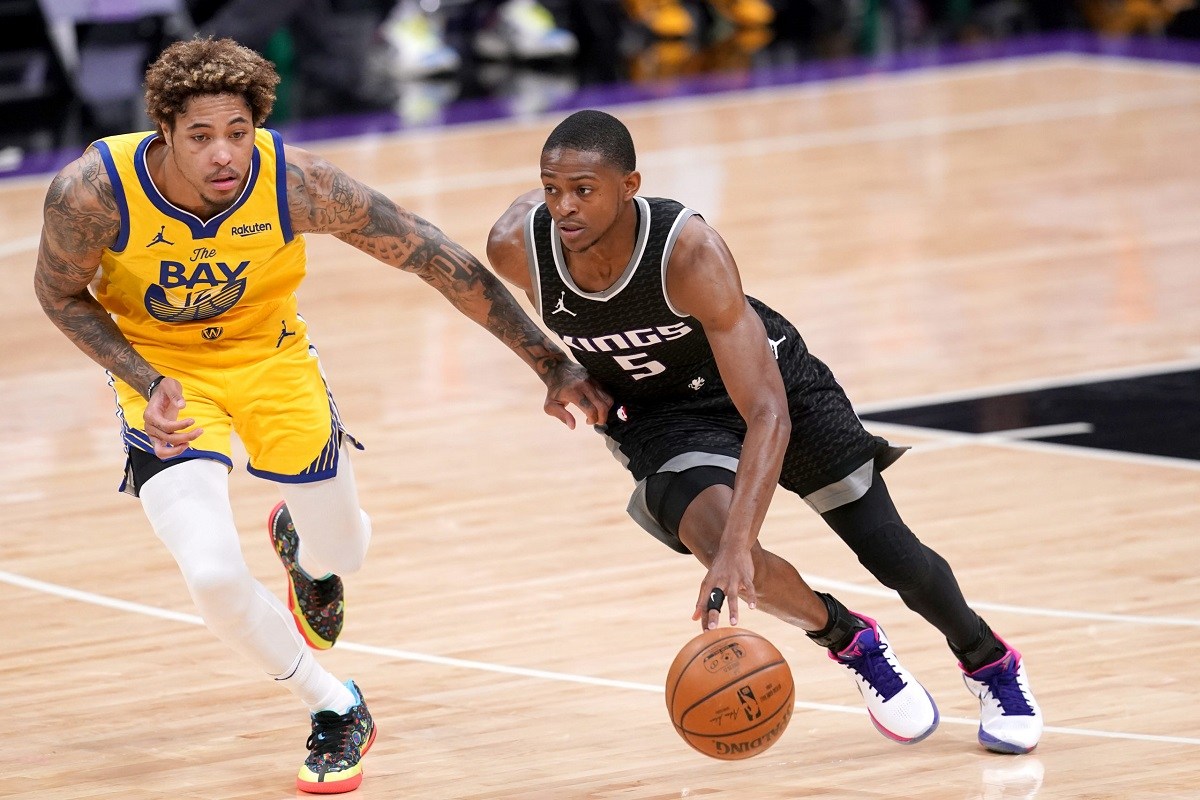 During back-to-back games on Wednesday and Thursday nights, Fox tallied 81 points, including 37 points in a 110-108 squeaker victory against the Atlanta Hawks.
"It's been fun to watch," said head coach Luke Walton.
The Kings won five out of their last six games, including a three-game winning streak. The streak coincided with a scoring binge from Fox, who averaged 37 ppg over their last three games.
Fox scored 30-plus points 11 times since mid-January. He scored 30 points or more six times in the last 10 games.
Fox Heater: Simmer to Boil
Overall, Fox averages 24.6 points per game this season with 7.3 assists per game. He's shooting over 48% from the floor. He increased his scoring output by 3.5 points per game compared to last season when he averaged a career-high 21.1 ppg.
You could see Fox heating up as the season progressed. He averaged 20.6 ppg in December, then 21.5 ppg in January.
Something happened after he scored 43 points against the New Orleans Pelicans in January. At the time, he set a career-high. It's like Fox unlocked an achievement and added an entirely new scoring level.
"I feel like no matter who it is I can pretty much get to the basket," said Fox. "Once you see the ball go through the basket a couple of times, it definitely helps to shoot jumpers after that."
In February, his scoring increased to 24.8 ppg and Fox won the NBA Player of the Week. Fox's confidence continued and his scoring average exploded to 30 ppg in March.
On Wednesday night against the Hawks, Fox shot 13-for-20 from the floor, including an efficient 3-for-4 from 3-point range.
Fox Career-Night with 44 Points
Fox continued his heater on Thursday night. He shot 16-for-22 from the field for 72.7% from the floor.
"He's the fastest point guard in the league," said Kelly Oubre from the Golden State Warriors. "It's hard to stop that when we're on our heels the whole game."
"I wasn't looking for a career-high, but if the shots were there, take them," said Fox.
Fox's teammates were egging him on to score 50 points, but he was happy to get the win and extend their streak.
"To see him continue to figure things out, to see him continue to grow as a leader both vocally and leading by example with his play, is a lot of fun," said Walton. "He's in a good place right now. When De'Aaron is playing like this, we're a pretty good team."
Counting his last two games, Fox shot 29-for-42 from the field for a blistering 69% clip. He also shot 6-for-11 from 3-point range for a 54.5% success rate from downtown.
Fox and the Kings seek to extend their winning streak against the Cleveland Cavs this weekend.
Check out more installments of NBA High Guys.