Fred "Curly" Neal brought a tremendous amount of joy and entertainment to millions of fans around the world as a member of the traveling basketball troupe, the Harlem Globetrotters, between 1963 and 1985. Neal passed away Thursday at the age of 77.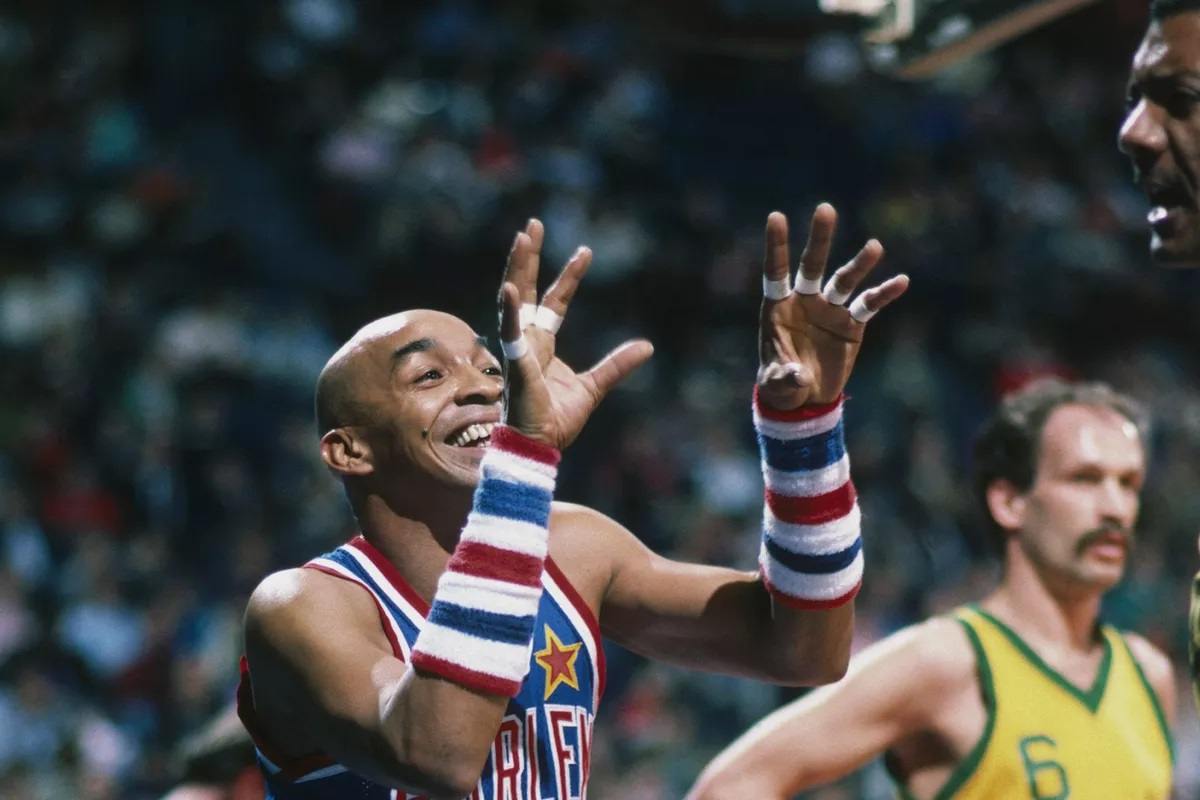 Neal was a true globe trotter playing in nearly 100 countries over his 22-year career with the Globetrotters. Neal and Meadowlark Lemon were easily the two most famous members of the Globetrotters during their peak years in the 1970s and 1980s.
Neal, easy to spot with a shaved head, was the best ballhandler and passer on a team full of flashy dribblers. He'd slide all over the court in his white knee pads, yet always maintained ball control.
"He revolutionized ball handling," said Nancy Lieberman, who played against Neal as a member of the Washington Generals. "Everything you see Kyrie Irving doing and Steph Curry doing now, all of it started with the Trotters. The Trotters made dribbling a show."
Neal rocked a bald head years before Michael Jordan made it look cool. "Curly" is one of those obvious opposite nicknames (like calling a big guy "Tiny"), which he first earned while playing for the Globetrotters. He first shaved his head in high school as a prank, but decided to stick with it. In the end, the bald head became an integral piece of Neal's personal branding.
Curly Neal: CIAA Standout to Global Star
Neal, a 6-foot-1 shooting guard, played his collegiate ball at Johnson C. Smith (JCSU), a historically black college in Charlotte, North Carolina. JCSU was a member of the CIAA at the time. Neal finished his college hoops career in 1963 and averaged 23 points per game for the Golden Bulls. He'd later go back to earn his degree, which JCSU awarded him in 1973.
"Curly Neal is an important part of Johnson C. Smith University's basketball history and the history of black college basketball," Steve Joyner, JCSU's AD and basketball coach, told the Charlotte Post. "His work as a global superstar and ambassador, even after his retirement from the Harlem Globetrotters, is proof that sports unite people and demonstrate the power of teamwork. Curly was one of the greatest ambassadors for Johnson C. Smith University, holding high the Gold and Blue around the world."
When he couldn't find a job in the NBA, Neal began his career with the Harlem Globetrotters in 1963. He logged nearly 6,000 games in 97 different countries.
Neal appeared in several entertainment spinoffs. He appeared as himself along with other members of the Harlem Globetrotters in the popular "Scooby-Doo" cartoon. The Globetrotters' episode became an instant hit. Hanna-Barbera spun off the Globetrotters into its own animated series, which also featured Neal.
The Harlem Globetrotters also appeared in classic TV shows such as "Love Boat" and "The White Shadow" basketball-themed series.
Neal hung up his uniform for good in 1985. In 2008, the Globetrotters retired Neal's #22. He also wore #22 in college at JCSU.
Sweet Georgia Brown
As a kid, I thought "Sweet Georgia Brown" was the Harlem Globetrotters theme song. I had no idea that the song had an existence before it became a part of their act. The Globetrotters first used "Sweet Georgia Brown" during appearances on the Ed Sullivan Show in the early 1960s. The catchy song stuck. These days, so many people might not know the title or origins of "Sweet Georgia Brown," but they can definitely whistle the Harlem Globetrotters' theme song.
The Globetrotters played the fictitious Washington Generals in every game as their tour crisscrossed North America and the globe. So many kids were introduced to basketball through the Globetrotters. Their games were performances that blended vaudeville shtick during a basketball game. But no matter what happened, the Globetrotters always won.
Many current and former NBA players loved the Globetrotters when they were children. Isiah Thomas, former NBA star with the "bad boy" Detroit Pistons, said he first learned how to dribble from watching Neal.
"Hard to express how much joy Curly Neal brought to my life growing up," tweeted Steve Kerr, the head coach of the Golden State Warriors.