For the first time in the College Football Playoff era, two non-Power 5 conference teams with 9-0 or better records will meet when BYU faces Coastal Carolina on Saturday. The Cougars, who are 9-0 and ranked No. 8 in the AP Top-25 poll, managed to fill a vacancy in their schedule with No. 14 Coastal Carolina, who is also 9-0.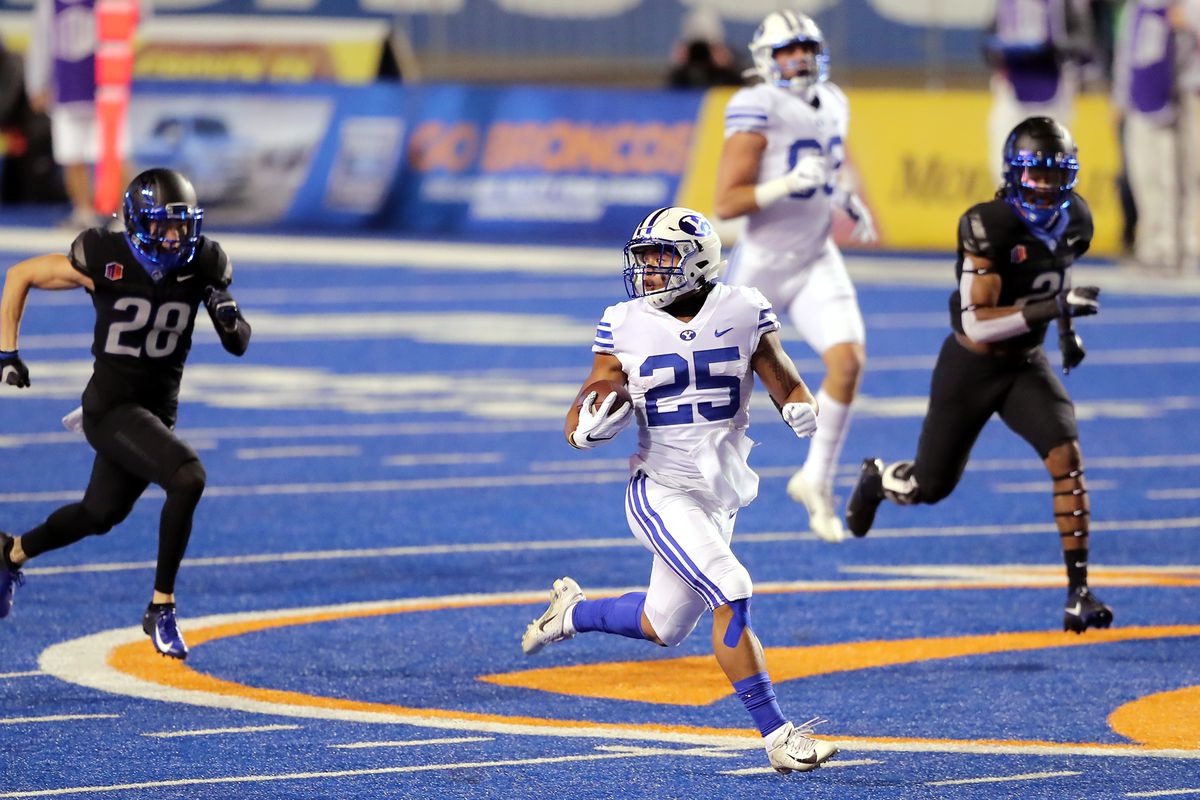 It wasn't easy, however. The opportunity only came when the Chanticleers' scheduled opponent, Liberty, was forced to cancel because of several positive COVID-19 tests.
Several Liberty players and staff members, including star quarterback Malik Willis, tested positive or were quarantined this week because of COVID-19. The team tried to get medical clearance to play Coastal Carolina, but school officials wouldn't allow it.
That opened a date on the schedule, but Coastal Carolina and BYU, who last played on Nov. 24, had to act fast. The two teams were able to put together the contest in a couple of days. ESPN had planned on doing its "College Game Day" program from Coastal Carolina, and suggested to BYU athletic director Tom Holmoe to reach out to the university.
"ESPN called and said, 'Hey, can you do this? Do you want to do this?'" Holmoe said. "I knew these guys were ready."
'Do the Opposite'
BYU enters the game as a 10-point favorite despite having to travel across the country to play the Chanticleers. The line is based, at least in part, on the Cougars' success against two fellow Sun Belt Conference teams earlier in the season.
BYU faced Troy in Week2 and won 48-7 as 14.5-point favorites. They were 30-point picks against Texas State on Oct. 24, and covered that spread as well, 52-14. The Cougars are 7-1-1 against the spread this season.
When Coastal Carolina head coach Jamey Chadwell called his counterparts at Troy and Texas State for some advice on how to play BYU, he didn't expect the answers he got. According to Sports Illustrated, Chadwell said one of the coaches asked if knew what he's getting into with BYU, while the other simply said, "Do the opposite of everything we did."
BYU's the Rodney Dangerfield of College Football
It's hard to fathom a 9-0 team needing a quality win to salvage their season, but BYU finds itself in exactly that spot. After the first College Football Playoff Rankings were revealed two weeks ago, the Cougars found themselves at No. 14. Despite not playing last week, BYU moved up to No. 13.
That ranking would exclude the Cougars from playing in any of the New Year's Eve Six bowl games. The ranking outraged BYU fans, who believe the team deserves better. Holmoe, however, said he understands the rankings.
"I've been on the NCAA men's basketball committee, so I get it," Holmoe said, "I know how it works. I understand the intricacies of that. I've just tried to stay calm and know that we still have time. Everybody watches the rankings, whatever sport it is. When you watch it, you want to climb. It wasn't where we expected [to be ranked in the latest CFP rankings], based on the other polls, but the key in our building was stay calm."
The Cougars did beat a No. 21-ranked Boise State team earlier in the year on the road, 51-17, but it wasn't enough to convince voters BYU should be ranked higher. Holmoe said Coastal Carolina should be an entertaining contest.
"Coastal is in the same situation we are," Holmoe said. "They weren't preparing for us; they were preparing for Liberty."