The 2019-2020 NBA season will be the first in league history to include a coach's challenge during games, allowing teams to try and overturn calls made by officials on the court. On Thursday, Houston Rockets coach Mike D'Antoni became the first to take advantage of the new rule, ushering in a new era for the NBA.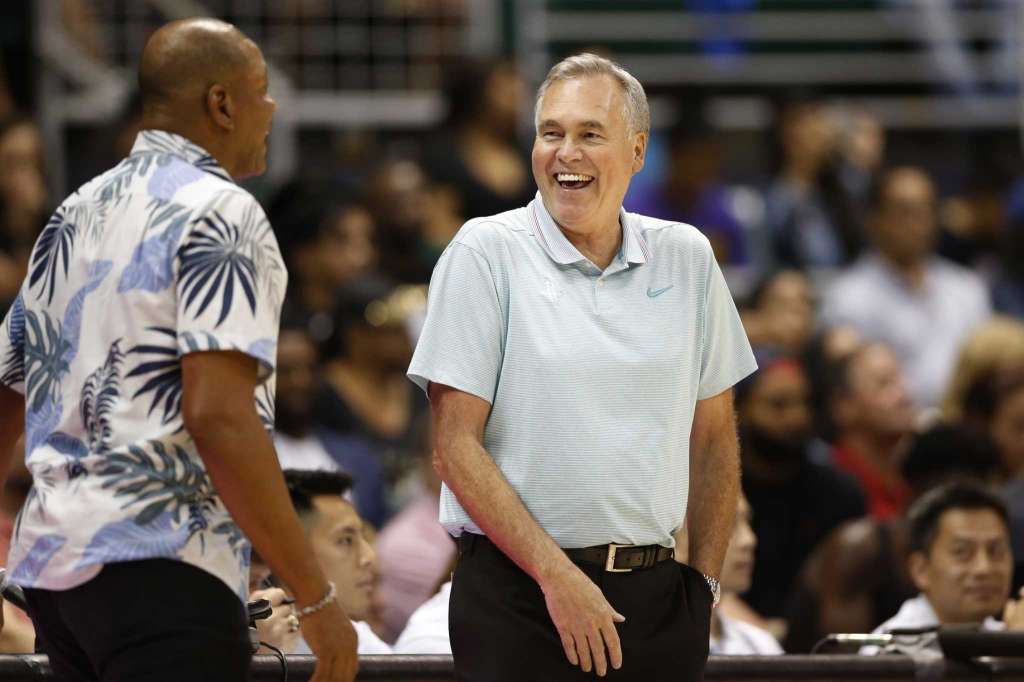 D'Antoni motioned for a challenge to the referees with 2:02 left in the second quarter of the Rockets' preseason game against the Los Angeles Clippers, hoping to get an offensive foul against James Harden overturned.
Coaches Adjusting to Challenge System
Ultimately, the challenge was unsuccessful, with referees sticking with the initial call. Still, it allowed D'Antoni to make a little bit of history in an otherwise unremarkable 109-96 preseason win.
"Mike was saying he wanted to be the first one," Clippers coach Doc Rivers told reporters. "We were going to have a contest. Mike won. I forgot about it, to be honest."
In terms of the flow of the game, the challenge made sense, so D'Antoni wasn't just randomly deciding to give the coach's challenge system a whirl. With the Rockets in the bonus, the hope was that if the call was reversed and turned into a defensive foul, the Rockets would get to go to the free-throw line.
After the game, both coaches were happy to talk about the new rule and how they planned to use it. Both noted that the teams' analytics departments have said the challenge should be used to overturn any call that seems clearly wrong, rather than being saved for late-game situations.
"My guess is we are going to use it first half, if it's one of your better players that you think didn't commit a foul, you may use it to make sure he gets the foul back," Rivers told reporters. "Analytically, they said we should use it anytime, which I don't agree with that."
D'Antoni said that he wasn't sure the call was wrong when he challenged on Thursday, but that he might be able to make better decisions in the regular season.
"It takes a while to get used to," D'Antoni told reporters. "We don't have the regular flow of information that we'll have in a regular game. They'll tell me before that I should go out there and challenge."
How the Coach's Challenge Works
Under the new coach's challenge rule, each team will have exactly one opportunity to challenge a call per game. Even if the challenge is successful, no further challenges will be allowed, minimizing the disruption to the flow of a typical NBA game.
Coaches will be able to challenge personal fouls that were called on their own players, goal-tending, basket interference, and out-of-bounds decisions. In the final two minutes of the game, the coach's challenge can only be used to question a personal foul, with other reviews coming from the referees themselves.
In order to signal a challenge, a coach must call a timeout, then twirl their index finger in a circle. If a team attempts to use a challenge without having any timeouts available, they will be charged with a technical foul.