Carlos Alcaraz continued his meteoric rise up the ranks of men's tennis on Sunday, beating Pablo Carreno Busta 6-3, 6-2 in the final of the Barcelona Open.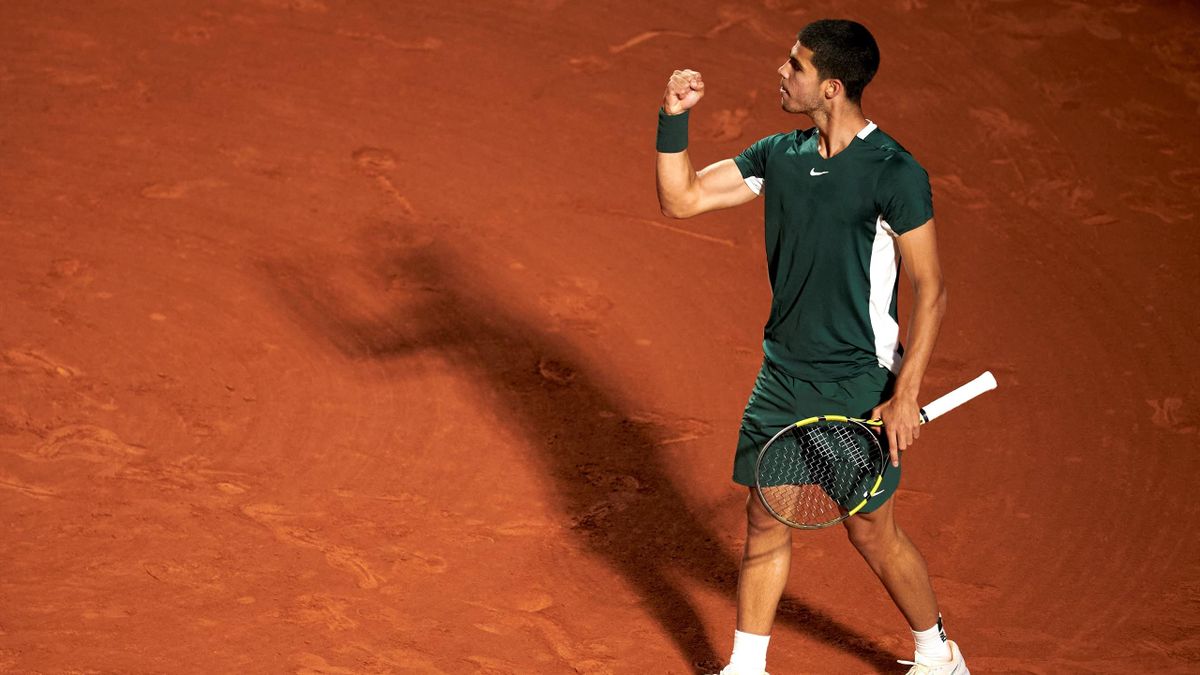 Alcaraz picked up the fourth title of his career and his third of the season.
Alcaraz among youngest ever to reach top 10
The victory pushed the 18-year-old to No. 9 in the world rankings. He's now become the ninth-youngest player to ever reach the ATP top 10, and the youngest since Rafael Nadal did so in 2005.
Alcaraz won the final just hours after winning his semifinal over Alex de Minaur. Rain delayed that match to Sunday as well, and Alcaraz saved two match points before triumphing 6-7 (7-4), 7-6 (7-4), 6-4.
"It means a lot," Alcaraz said of winning the Barcelona Open. "I've watched this tournament since I was a kid. I always wished to play in this tournament and of course be able to win this tournament. I'm really happy to be part of the [historic] Spanish list."
While casual tennis fans might not regard Alcaraz as a household name just yet, he began making his mark in the 2021 season. He reached the quarterfinals of the US Open last summer as an unseeded player, ultimately retiring in the second set of his match against Felix Auger-Aliassime.
That won't be Alcaraz's last deep run at a Grand Slam tournament. The Spaniard says his goals are still in front of him.
"I don't have any limits," Alcaraz told reporters. "I want to keep playing at the level I'm at and I think that if I keep going like this I have a lot of options to keep going up. I want to keep enjoying myself on the court, I don't want to touch the ceiling yet."
French Open offers best chance for first Grand Slam title
Oddsmakers also see a bright future for Alcaraz, especially on clay courts. While Rafael Nadal remains the +120 favorite for the 2022 French Open at DraftKings Sportsbook, Alcaraz is now the +275 second choice, ahead of perennial contenders like Novak Djokovic (+330) and Stefanos Tsitsipas (+500).
While DraftKings doesn't rate Alcaraz as quite as big a threat on the other surfaces, it's clear he's already a contender every time he enters a tournament. Alcaraz ranks as the +1000 fourth choice at Wimbledon, behind Djokovic (+100), Nadal (+650), and Matteo Berrettini (+800). At the US Open, DraftKings sees Alcaraz as a +700 pick, behind only Djokovic (+140) and Daniil Medvedev (+250).
Tennis history is littered with prodigies who never fulfilled their potential. Alcaraz is well aware of this, but says he's on target to reach the summit.
"I have [coach Juan Carlos Ferrero], who is able to tell me how difficult it is and how much of a sacrifice it takes to reach No. 1," Alcaraz said. "I think I'm on the right path. If I stay on it and continue to do things well, I will have chances, but that doesn't guarantee anything."