Novak Djokovic stands just two wins away from the first men's calendar-year Grand Slam in 52 years, not to mention taking the all-time lead in major championships. To keep that dream alive, he'll first have to beat a game Alexander Zverev in the US Open semifinals on Friday.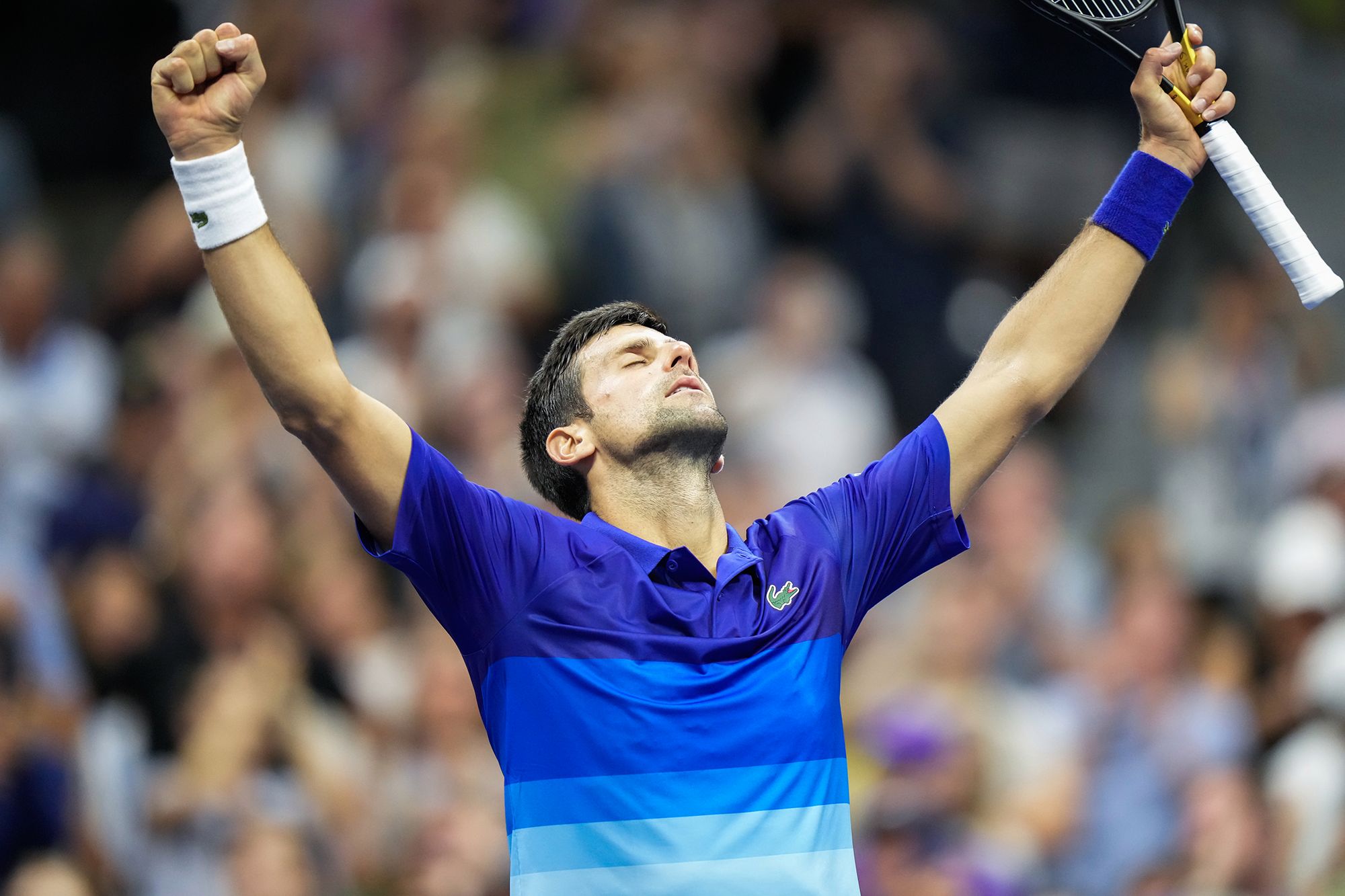 Djokovic once again struggled in the first set on Wednesday before rallying to beat No. 6 seeded Matteo Berrettini 5-7, 6-2, 6-2, 6-3.
Djokovic looking forward to Zverev challenge
That marked the third straight time Djokovic dropped the first set, and the fourth time in five matches at the US Open that Djokovic has failed to win in straight sets. Despite that fact, the world No. 1 has never been in real danger of elimination so far at the tournament.
After the win, Djokovic made it clear that he doesn't want to talk about the potential history lying in front of him. "Do not ask me anything about history," Djokovic said during his post-win interview, cutting off a question. "I know it's there."
Next up for Djokovic is a date with No. 4 seed Alexander Zverev. The 24-year-old German is making his fourth appearance in a Grand Slam semifinal in the past two years. He reached the final of last year's US Open, only to lose to Dominic Thiem in a fifth-set tiebreak.
Zverev has won 16 straight matches after knocking off Lloyd Harris 7-6 (8-6), 6-3, 6-4 in the US Open quarterfinals on Wednesday. That streak includes a win over Djokovic at the Tokyo Olympics, where Zverev won a gold medal.
In other words, Zverev represents perhaps the biggest threat to Djokovic's pursuit of history. DraftKings Sportsbook gives him a legitimate chance of winning on Friday, making Djokovic only a -260 favorite over Zverev (+195).
"I'm pumped," Djokovic said of the matchup with Zverev. "The bigger the challenge, the more glory in overcoming it."
Medvedev reaches third straight US Open men's semifinal
The other US Open men's semifinal features No. 2 seed Daniil Medvedev (-650) taking on No. 12 Felix Auger-Aliassime (+425). Medvedev defeated qualifier Botic van de Zandschulp 6-3, 6-0, 4-6, 7-5 to reach the semifinal round in New York for the third straight year.
"Just want to do a little bit better than last two times and get this last step, which is the toughest one, actually," Medvedev said after the win.
Meanwhile, Auger-Aliassime has continued the best season of his young career, following up a quarterfinal appearance at Wimbledon with an even bigger run at the US Open. The Canadian faced Spanish teenager Carlos Alcaraz in the quarterfinals, and led 6-3, 3-1 when Alcaraz retired due to a thigh issue.
---
US Open Men's Semifinals Odds (via DraftKings Sportsbook)
No. 12 Felix Auger-Aliassime: +425
No. 2 Daniil Medvedev: -650
No. 1 Novak Djokovic: -260
No. 4 Alexander Zverev: +195
---
Auger-Aliassime joins Leylah Annie Fernandez to put two Canadians in the US Open semifinals, one each in the men's and women's draws.
"It's great for Canada. It's great for Quebec. We're both born in Montreal," Auger-Aliassime said afterward. "I hope the people back home appreciate the moment also. We do a lot. It's great. But it would be amazing if we were both in a final, right?"
Djokovic stands as the -135 favorite to win the men's US Open title, ahead of Medvedev (+210), Zverev (+450), and Auger-Aliassime (+2500).