The buzz about a potential summer clash between Brock Lesnar and UFC heavyweight champion Daniel Cormier has come to a halt, as UFC president Dana White told ESPN that Lesnar has informed him that he is retiring from MMA.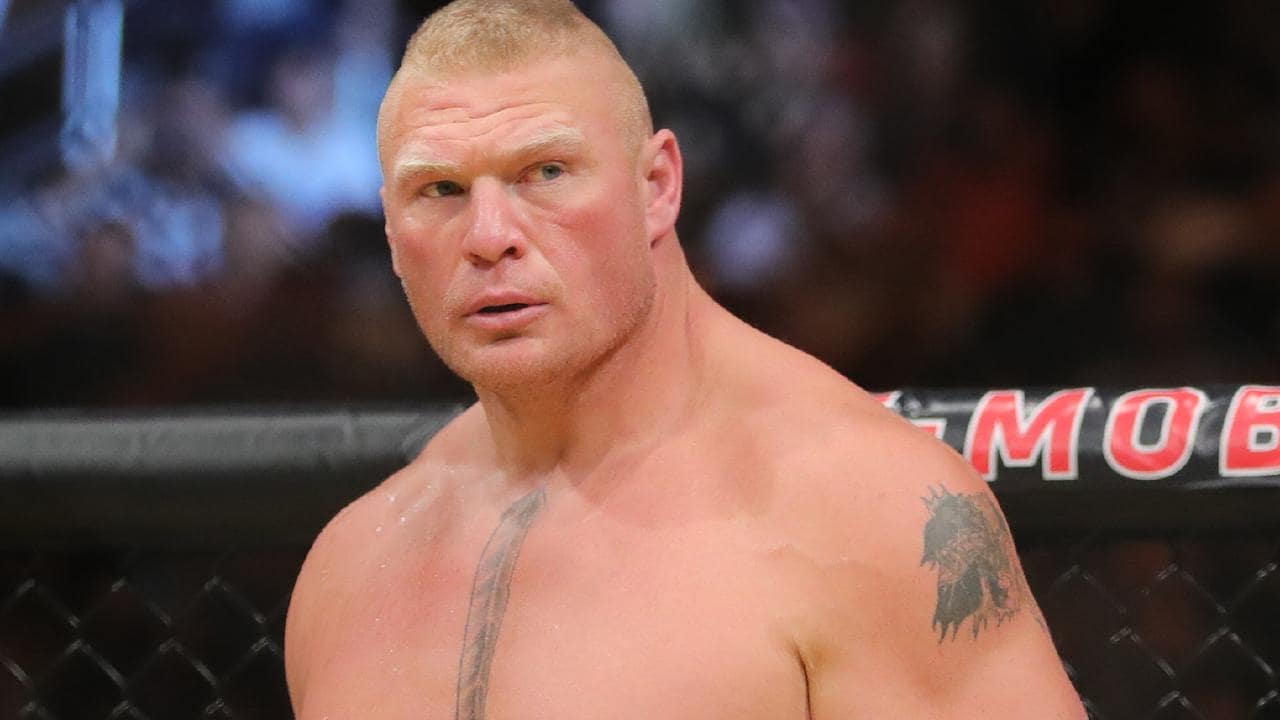 The 41-year-old Lesnar confronted Cormier after his win over Stipe Miocic at UFC 226, sparking talk of a potential matchup between the two.
Once One Fight Since 2011 for Lesnar
Lesnar (5-3) has been more successful in his run as a special attraction for the WWE than in his efforts in the Octagon. But that doesn't mean he's been a novelty act for the UFC: Lesnar had wins over Randy Couture, Frink Mir, and Shane Carwin in the promotion before suffering losses to Cain Velasquez and Alistair Overeem by first-round stoppage.
Those two losses temporarily put an end to Lesnar's MMA career in 2011. He did reappear at UFC 200 to fight Mike Hunt, a bout that Lesnar won by unanimous decision. However, that result was later changed to a no contest after Lesnar failed tested positive for the banned substance clomiphene.
Lesnar had apparently been preparing for a potential comeback. According to ESPN's reporting, he had recently reentered the UFC's mandatory anti-doping program, a requirement for him to fight for the promotion in the future. TMZ reported that an US Anti-Doping Agency representative said Lesnar had submitted nine samples to them in the past year.
But in a conversation last week, Lesnar apparently told White that the long anticipated comeback wouldn't be happening.
"He told me he's done," White told ESPN. "He's retired."
Retirement Opens Door for Heavyweight Title Rematch
That could be bad news, at least in the short term, for the UFC. While Lesnar couldn't reasonably be considered a contender for the heavyweight title at this point, he likely remains the largest draw in the division, as his combination of legitimate MMA skills and mainstream appeal as a pro wrestler is hard to match.
On the other hand, it does open the door for a more legitimate title fight to take place, and that's exactly what the UFC now appears to be planning. Cormier (22-1) now looks to be slated to take on Miocic (18-3) in a rematch on Aug. 17, a fight that would likely headline the event taking place in Anaheim, California that night.
That fight probably won't make Cormier or the UFC as much money as a clash with Lesnar. But it will give MMA fans a more competitive title bout, one in which Miocic can try to avenge his late first-round knockout loss last July that cost him the heavyweight crown.
According to ESPN, both sides have verbally agreed to the fight, though nothing has been made official just yet.
"I'm ready," Miocic told ESPN of the potential rematch. "I've been ready. And I'm going to take back what's mine."
Most sportsbooks haven't yet put a line on the proposed fight. However, BetOnline.ag has opened Cormier as the -150 favorite, with Miocic receiving +130 odds as the underdog.