Being a Kentucky Derby prep is uncharted waters for Ellis Park. And training a Kentucky Derby hopeful is definitely uncharted waters for Tom Drury. Those two storylines will collide Sunday at the Ellis Park Derby with all eyes on Drury's odds-on favorite, Art Collector.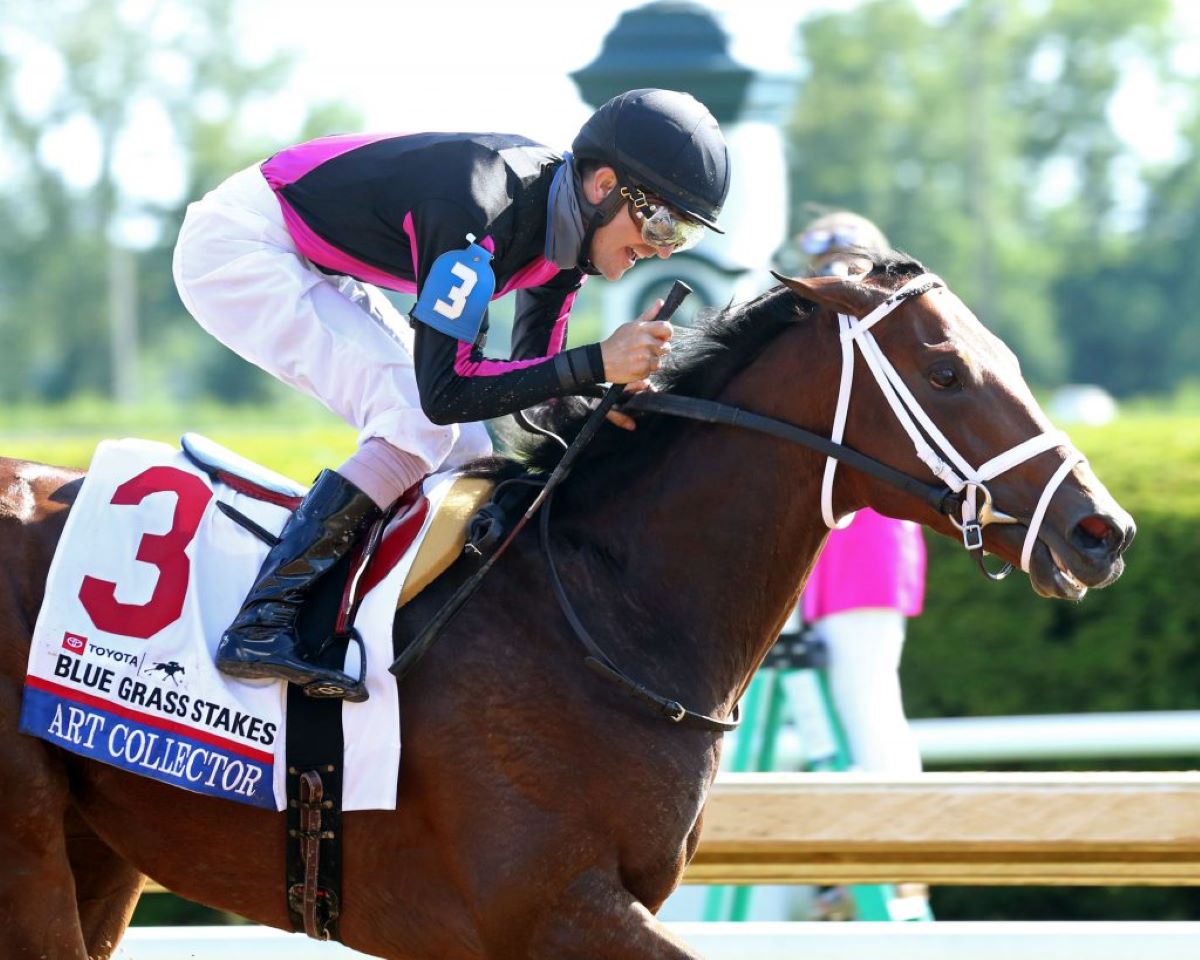 In a normal year, the ungraded stakes Ellis Park Derby would send its fairly anonymous contestants out over a mile, celebrate the winner accordingly, and send everyone on their merry way. In a normal year, a front-rank Derby contender like Art Collector wouldn't come near the Ellis Park starting gate. He'd likely be further north – at the Grade 1 Travers, which normally runs in late August.
But in the COVID-19 era, the Ellis Park Derby earned a "promotion" to Derby prep. Bumped up to 1 1/8 miles, the Ellis Park Derby offers 50-20-10-5 Derby qualifying points to its top four finishers. The first Derby prep in Ellis Park's 98-year history, the derby headlines a decent, five-stakes card that includes the Audubon Oaks, a prep for the Kentucky Oaks.
The Ellis Park Derby includes a scrappy, 13-horse field of C-level Derby contenders – several of whom put their connections in that twilight zone of Derby prospects. You've got both Ohio Derby winner Dean Martini and Indiana Derby winner Shared Sense, along with nomadic Derby hopeful Anneau d'Or. Neither Shared Sense nor Dean Martini are Derby-nominated. That means their connections would face a $45,000 supplemental fee, along with entry fees, if they get enough points.
Art Collector Stays Above Point-Scrambling Fray
Art Collector doesn't face such indignities. His 100 points – brought to him from his resounding 3 ½-length victory in the Blue Grass Stakes at Keeneland a month ago – has him comfortably in the Derby. It also has Art Collector comfortably on the minds of Derby future bettors, who knocked him down to +575 on Circa Sports' Derby Futures Board. Only favorite Tiz the Law (+215) offers shorter odds.
Speaking of short odds, there's Art Collector's 4/5 morning line number for the Ellis Park Derby. That illustrates not only how good Art Collector is, but how patchwork his competitors are in terms of giving the Bernardini colt a race. That comfort zone has trainer Tom Drury, who is on the ride of his long and heretofore undistinguished training life, looking at the race as a tune-up.
Drury approaches everything with Art Collector as a trip with house money. Ellis Park is his typical digs, when its not Indiana Grand. Claimers are his usual company, not Triple Crown stakes contenders.
Revising Career Goals On the Fly
"When you're 28, you're thinking about winning Kentucky Derbys and Breeders' Cups every day. When you're 48, your expectations are a little more realistic as to what your situation is," he said on a National Thoroughbred Racing Association call earlier this week. "I didn't necessarily expect to be in this situation. I felt like one was going to have to fall through the cracks or something was going to have to happen for me to put myself in that situation."
This situation means Drury takes note of everything and anything. If you need a better example of what pitfalls away prohibitive favorites, well, Drury is ahead of you there. He brought up Tom's d'Etat's gate stumble in last week's Whitney Stakes as something he didn't want to see. Not even with Tom's d'Etat rallying to finish third.
"And if something like that were to happen, I wouldn't want to see my jock come whipping and driving to be third," he said. "We've got the points. We'd like to just get the race under our belt more than anything. If he wins it, that's fantastic. But if somewhere along the race, something doesn't go our way or we're not getting the trip, then I certainly wouldn't want to try to get to the bottom of him in this one."
Everyone Else Needs Help, Even Shared Sense
Drury has that luxury. Shared Sense (5/2), your second favorite, doesn't. The son of 2007 Kentucky Derby champion Street Sense captured the Indiana Derby in commanding fashion. The race before that, however, Art Collector rolled over him by 6 1/2 lengths in a four-horse allowance at Churchill Downs. That was one of Art Collector's four victories in as many races since owner Bruce Lunsford turned him over to Drury.
"I think a lot of people are taking their final shot there and trying to figure out where they want to go with their horse," Drury said. "I don't expect it to be a walk-over by any means. I don't. I don't think it's going to be an easy race."
The pick: Art Collector. Class and speed provide the measuring stick for everyone else here.