Alabama quarterback Mac Jones is the new betting favorite at -305 odds to become the #3 pick in the 2021 NFL Draft, while Trey Lance from North Dakota State is the second favorite at +225 odds via DraftKings. Meanwhile, Ohio State quarterback Justin Fields' draft stock continues to slip before our eyes as his odds dropped from +250 to +700 over the weekend.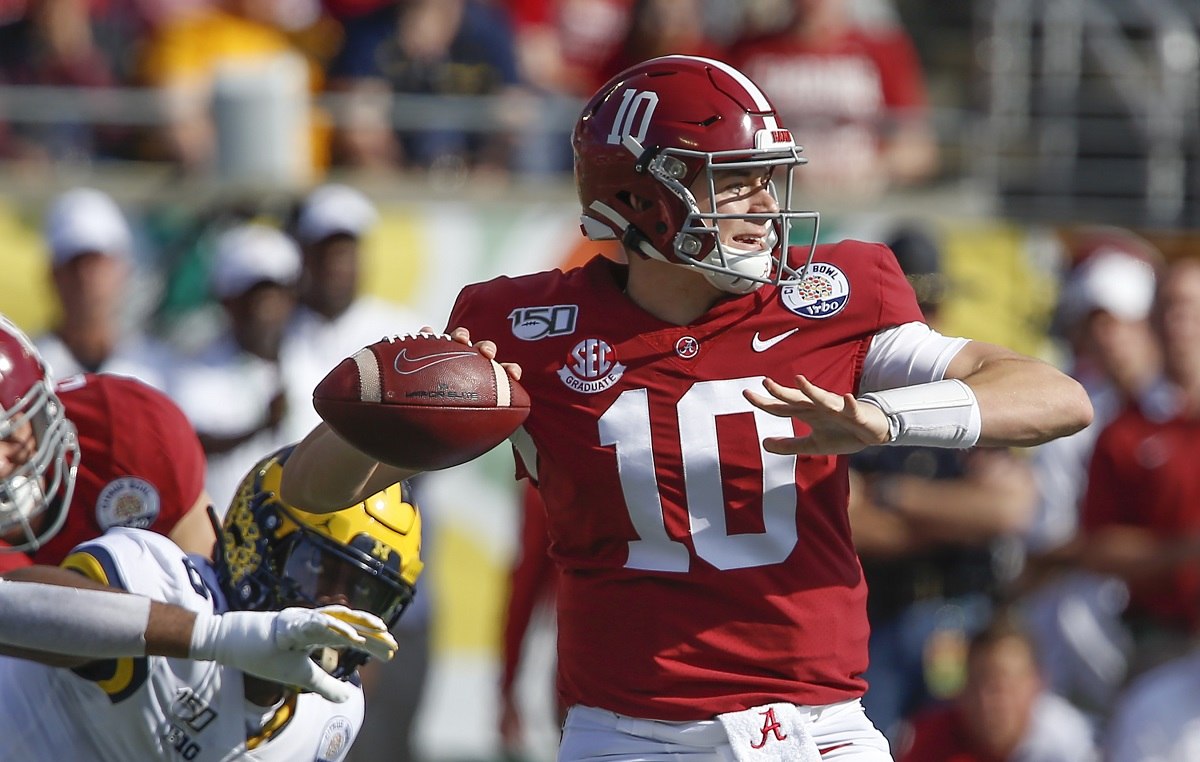 Ian Rapoport reported that the San Francisco 49ers narrowed down their quarterback search to either Jones or Lance, which instantly affected the prop betting market.
In March, the San Francisco 49ers pulled the trigger on a major trade to move up in this quarterback-heavy draft. The 49ers acquired the #3 overall pick from the Miami Dolphins, but paid a hefty price by giving up two future first-round picks and a third-rounder.
---
2021 NFL Draft #3 Pick Odds
| | | |
| --- | --- | --- |
| | 4/26/21 | 4/24/21 |
| Mac Jones | -305 | -167 |
| Trey Lance | +225 | +300 |
| Justin Fields | +700 | +250 |
---
The Jacksonville Jaguars were the worst team in the NFL last season and secured the #1 pick. The Jags will select Clemson's Trevor Lawrence with the first pick in the draft.
The Jets lost out in the Lawrence sweepstakes due to a couple of late-season wins. The Jets still secured the second overall pick in the draft and they're eyeing Zach Wilson (BYU). Gang Green recently traded Sam Darnold to the Carolina Panthers, so the Jets are committed to building a team around Wilson.
From last night: The #49ers appear to have narrowed their focus at No. 3 to two prospects — Mac Jones and Trey Lance.

Full story: https://t.co/Lsg60FJSlI

— Ian Rapoport (@RapSheet) April 26, 2021
Fields: Stock Crash
A couple of months ago, Fields was the front runner to become the Jets' next quarterback. However, his draft stock has steadily declined, while Mac Jones saw his stock rise over the last couple of weeks.
The Rapoport report confirmed the rumors that Fields could fall as far back as #9. The Denver Broncos, who also need a quarterback, make their first-round pick with the ninth overall pick. Obviously, if Fields slips that far, general manager John Elway will jump at the opportunity to add Fields to the Broncos.
Fields went from being the second-best prospect in the draft to potentially becoming the fifth quarterback selected behind Lawrence, Wilson, Jones, and Lance.
"I heard that he is a last-guy-in, first-guy-out type of quarterback," said ESPN analyst Dan Orlovsky during an appearance on the Pat McAfee Show. "He does not have maniacal work ethic. Where is his desire to be a great quarterback?"
Fields put up big numbers at Ohio State with 63 touchdowns and nine interceptions, plus 15 additional rushing scores. However, film geeks will tell you that Fields struggles if his first progression or route runner isn't open. As we know in the NFL, receivers are never wide open. Scouts think that could pose a problem when Fields transitions from college to the pros.
"He likes to see his receivers come open and gets stuck on that first read very frequently," said ESPN analyst Todd McShay.
McShay ranked Fields as his fourth-best quarterback on the board behind Lawrence, Wilson, and Jones. Fields saw his #3 pick odds decrease from +250 to +700 in the last 24 hours over at DraftKings.
Mac Jones Bump
Jones had a spectacular pro day and dazzled NFL scouts and executives, which is why his stock has been rising over the last month. McShay projected Jones as the third pick in the upcoming draft.
"Honestly, I'm fascinated to see where Jones goes," explained McShay. "If he winds up in San Francisco, it's a perfect spot for him since he has one of the best offensive minds in the game in Kyle Shanahan to help develop him quickly."
Bill Belichick is the one guy who is most bummed out with Jones' rising stock. Belichick, who is very close friends with Bama head coach Nick Saban, hoped he could swoop in and grab Jones with the #15 pick. The Patriots need a new franchise quarterback after Tom Brady left last season and won a Super Bowl with the Tampa Bay Bucs. For now, the Pats will have Cam Newton at QB for another season.
Jones also posted sensational numbers under pressure.
"He's got a 78.3 QBR when pressured, 97.3 QBR when blitzed, and he completed 61% of his throws 21-plus yards downfield," said McShay. "So, it matches up with what you see on tape."
Last season, Jones led the NCAA with 4,500 passing yards. He tossed 41 touchdowns, which ranked him second overall. Jones only threw four picks in 402 attempts.