Nick Kyrgios made it to the men's final at Wimbledon in a walkover, as Rafael Nadal couldn't physically play in their semifinal. If he wants to earn his first Grand Slam title, he'll have to beat another legend of the game in Novak Djokovic on Sunday.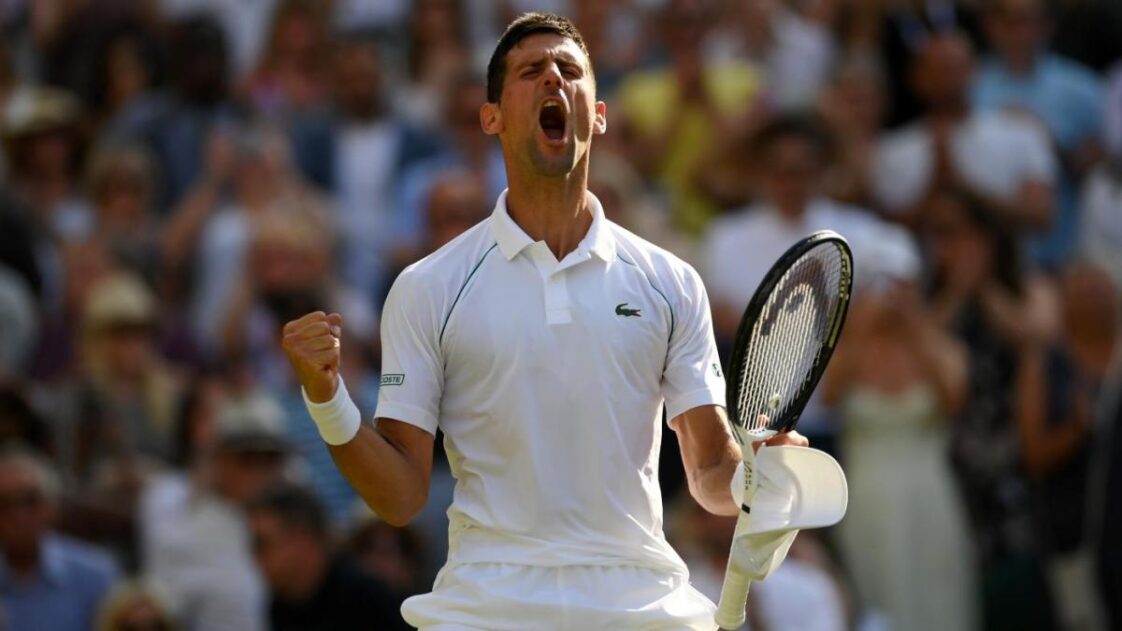 DraftKings Sportsbook rates Djokovic as the -390 favorite over Kyrgios (+300) in their match on Centre Court.
Comebacks becoming commonplace for Djokovic
Djokovic reached the Wimbledon final for the eighth time of his career by beating No. 9 seed Cam Norrie 2-6, 6-3, 6-2, 6-4 in their semifinal matchup on Friday. While Djokovic fell behind by a set early, he never really seemed to be in trouble, and he dominated the remainder of the match to make yet another comeback at the All England Club.
"The more you experience these kind of situations, not the better you feel, but just more prepared you feel," Djokovic said after the match. "It's always really about handling your own nerves better than maybe your opponent is his own. This internal battle is always the greatest."
When Djokovic mentioned the upcoming battle with Kyrgios, the crowd jeered at the Australian's name. The 27-year-old hasn't endeared himself to the tennis world over the years, with his on-court antics, combative personality, and struggles with staying mentally engaged in matches combining to make him one of the least popular players on tour. Those factors have also caused him to struggle to reach the later rounds of major event.
Yet that shouldn't lead anyone to overlook Kyrgios' immense talent. Almost everyone agrees that Kyrgios can beat anyone in the world. He was 1-1 against Nadal at Wimbledon, which would have made their semifinal something of a rubber match. He's also 2-0 against Djokovic, though both of those matches came on hard courts.
"There's going to be a lot of fireworks, emotionally, from both," Djokovic said of the final. "These are the occasions where he loves, where he thrives, in a big stage. So in a way it's also not a surprise for me that he's there. Honestly, as a tennis fan, I'm glad that he's in the finals because he's got so much talent."
Kyrgios finally fulfilling potential at Wimbledon
For his part, Kyrgios said he was disappointed not to get to play Nadal in the semifinal. Now, he says he's "super proud" of himself, as he didn't believe he would ever make a Grand Slam final based on his career trajectory.
"I had a shocking sleep last night," Kyrgios said on Friday. "I was just restless. So many thoughts in my head about a Wimbledon final. That's all I was thinking about…I feel like I'm just a reckless ball of energy right now."
Of course, no Kyrgios appearance comes without controversy. Not only is he facing domestic abuse allegations in Australia, he lashed out at fellow Australian tennis greats, who he says don't generally support him, with the exception of Lleyton Hewitt.
"It's pretty sad because I don't get any support from any of the other Australian tennis players, the male side. Not the players, but like the past greats," Kyrgios said. "It's weird they just have like a sick obsession with tearing me down for some reason. I just don't know whether they don't like me or they're afraid…but it sucks."