The #25 San Diego State Aztecs (10-0) began the season with a perfect record in their first 10 games thanks to a game-winning three-pointer by Malachi Flynn against San Jose State. The SDSU Aztecs finally received recognition as the only Mountain West team in the latest AP Poll, where they were awarded the #25 ranking. This is San Diego State's first inclusion in the Top 25 in four years.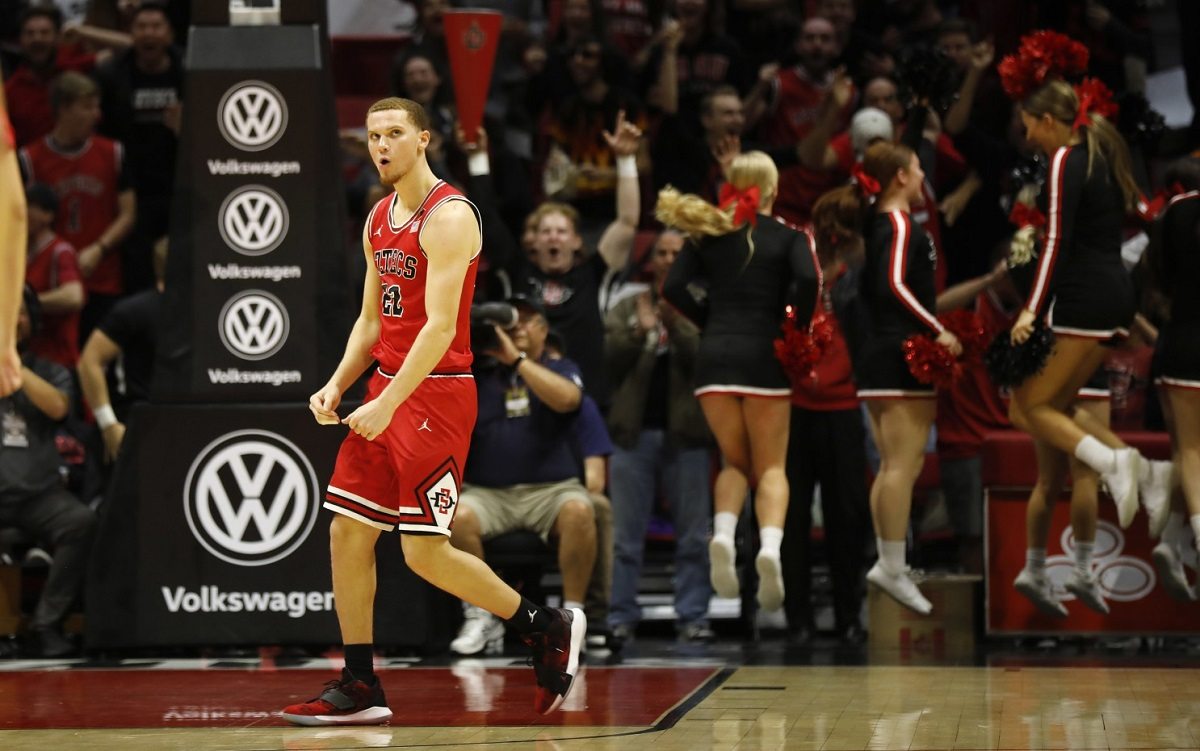 San Diego State went 21-13 last season, and won the Mountain West conference tournament last March to secure an automatic bid into the 2019 March Madness college basketball tournament. They held the #11 seed, and were knocked out by the Houston Cougars in their opening round game.
The Aztecs are on a mission to win the Mountain West outright, but as the Pac-12 continues to decline, San Diego State is also trying to lay claim to the title of best team in the West. While everyone automatically assumes Gonzaga is the big dog on the West Coast, the Aztecs are fighting for respect.
The last time San Diego State started the season 10-0 was during the 2010-2011 season, when the Aztecs were led by a skinny kid from Los Angeles named Kawhi Leonard.
SDSU 10-0
San Diego State began their season with 10 wins in a row, but were nearly upset by San Jose State (3-7) on Sunday. San Jose State came into the game as a +29 underdog, and only lost by two points. The Spartans blew a lead in the closing seconds of the game.
Malachi Flynn, a 6-foot-1 junior guard, knocked down a three-pointer as time expired to boost the Aztecs over SJSU.
"That's Flynn and what he does," said SDSU head coach Brian Dutcher. "That's why he's here, to take important shots. He makes hard shots and I can't say I'm surprised. You know he wants a shot and he stepped up and made a really timely one."
Before hitting the game-winner, Flynn had missed 10 shots on 2-for-12 shooting. Flynn, a transfer from Washington State, only scored nine points on the night, but the final three were the most crucial of the game.
"Malachi's a tough shot-maker," said teammate Matt Mitchell. "We've seen it in practice before. Still to see it in a game is just surreal. I'm glad we got a win. I'm glad he helped protect our undefeated record."
Flynn leads SDSU in scoring with 16.1 points per game. Before his off night, he rattled off three-straight games with at least 21 points. Flynn scored a season-high 28 points in a 10-point victory against Iowa in the championship game of the Las Vegas Invitational over Thanksgiving weekend.
Mitchell, a 6-foot-6 junior forward, averages 11.8 points per game, and is the Aztec's second leading scorer.
Yanni Wetzell, a 6-foot-10 senior from New Zealand, adds a bit of international flair to the team. Wetzell averages 10.2 points and 5.9 rebounds as the veteran voice in the locker room.
Dutcher and the Fisher Coaching Tree
Brian Dutcher is 41-24 in his three seasons with San Diego State. He guided them to at least 21 wins in each of his first two seasons. The Aztecs received bids to March Madness in both seasons under Dutcher's helm. SDSU earned an automatic bid last season by winning the Mountain West Tournament, and defeating Nevada in the championship game.
Dutcher paid his dues as an assistant coach for nearly 30 years before he finally found an opportunity to become a head coach. He started out at Michigan as an associate coach under Steve Fischer for nine seasons. He followed Fischer to San Diego State in 1999, where he held the top assistant job until Fisher retired at the end of the 2017 season.
At that point, San Diego State didn't look very far to find their new coach, tapping Dutcher to take over. Although it marked his first gig as a head coach, Dutcher spent almost two decades at SDSU as a coach and recruiter. Dutcher helped persuade Kawhi Leonard to attend SDSU before he went onto the NBA to become a superstar.
On Deck: Utah Looming
This week, San Diego State plays San Diego Christian, which is an NAIA school and regional rival.
Their next big game occurs on Saturday, Dec. 21 against Utah (7-2) at the Hall of Fame Classic at the Staples Center in Los Angeles.
SDSU's final game of the 2019 calendar year occurs on Dec. 28 against Cal Poly. San Diego State tips-off the new year with Mountain West conference action against Fresno State on Jan. 1. Early January opponents include Utah State, Wyoming, Boise State, and Nevada.