Ukraine has long been a boxing hotbed, producing far more champions and contenders than its population of 44 million would suggest. Now, some of the most famous boxers in the country are aiding in the defense of the nation against the ongoing Russian invasion, with a few taking on prominent roles during the onslaught.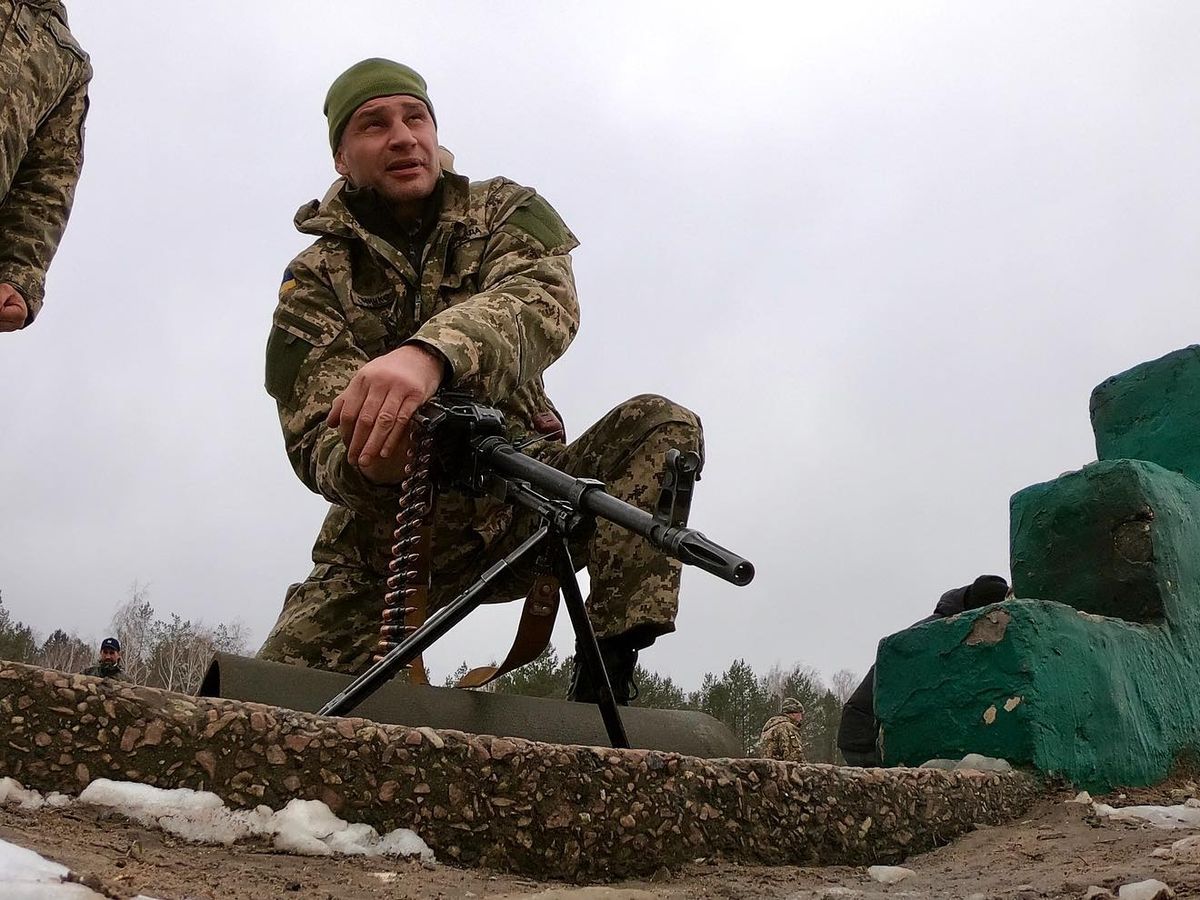 Perhaps the highest profile figure among the group is former heavyweight champion Vitali Klitschko, who now serves as the mayor of Kyiv.
Klitschko brothers appeal for peace, help
Klitschko won the WBO and WBC titles during his heavyweight boxing career. He retired in 2013 with a record of 45-2 with 41 wins by knockout. He began his political career in Ukraine as an adviser to then president Viktor Yushchenko in 2006, and became the mayor of Kyiv in 2014.
Kyiv, the capital city of Ukraine, has naturally taken on an outsized importance in coverage of the Russian invasion of the country. And as such, Klitschko stands as one of the leading political figures on the Ukrainian side of the war.
"Right now, the most important question is to defend our country," Klitschko told the Associated Press on Sunday. "That's why the message for everyone is support Ukraine together…we are strong. Every Ukrainian is proud to be independent, proud to be Ukrainian, and we are proud to have our own country."
Vitali's brother Wladimir (64-5, 53 KOs) once held the unified heavyweight title, and won a gold medal for Ukraine in the 1996 Summer Olympics. Wladimir has also taken to the defense of his country through joining the Kyiv Territorial Defense Brigade, essentially a military reserve unit. While he doesn't hold political office like his brother, his fame has given him a platform to appeal to other nations on Ukraine's behalf.
"Dear friends in Germany, Switzerland, Austria, Luxembourg, Liechtenstein, all othe countries in free Europe: The citizens of Kyiv have had another hellish night," Klitschko said on social media Monday, speaking in German. "There is no time to wait, because that's going to lead to a humanitarian catastrophe."
Ukrainian boxing champs Usyk, Lomachenko take up arms
Current Ukrainian boxers have also taken up arms during the invasion. Current heavyweight champion Oleksandr Usyk (19-0, 13 KOs) joined a territorial defense battalion as well following the outbreak of war. Usyk has appealed to Russia and Vladimir Putin to end the conflict.
"If we consider ourselves as brothers, Orthodox ones, do not send your children to our country, do not fight with us," Usyk wrote on Instagram. "Also, I'm addressing this to the President, Vladimir Putin. You can stop this war. Please just sit down and negotiate it with us without claims."
Former three-division champion Vasiliy Lomachenko (16-2, 11 KOs) also joined a defense battalion, interrupting his preparations for a June 5 fight against lightweight champion George Kambosos.
The world of boxing has largely come out against the Russian invasion, much as other sporting organizations across the globe have done. The WBC, WBA, IBF, and WBO issued a joint statement last week announcing they will not sanction any title fights in Russia in response to the war.