Tom Aspinall emphatically proved that he belongs among the heavyweight elite with a convincing victory over Alexander Volkov in the main event of UFC Fight Night 204 in London on Saturday.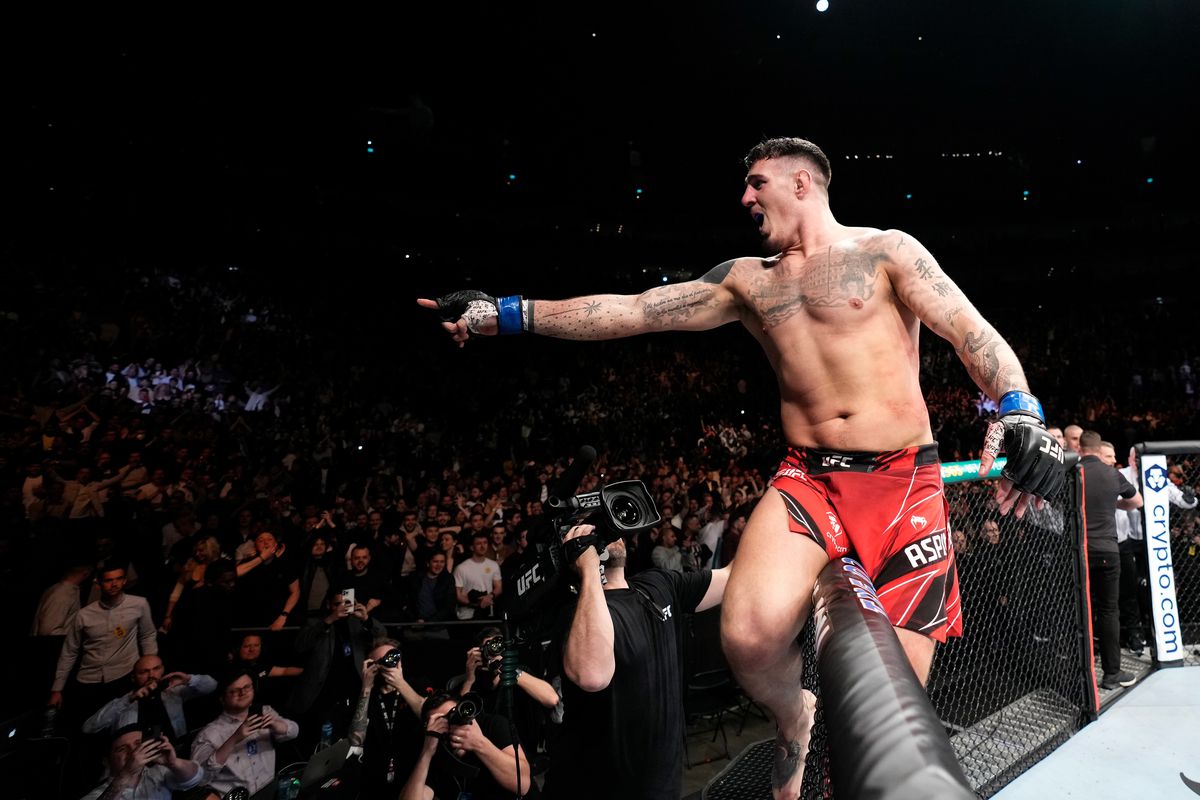 Aspinall scored a first-round submission victory via armbar, finishing the veteran Volkov in just three minutes and 45 seconds.
Aspinall wants Tuivasa next
From the start, Aspinall (12-2) outclassed his Russian opponent. He hit Volkov (34-10) with a variety of punches, then took him to the mat with a well-timed takedown. On the ground, Aspinall hit some big elbow strikes before moving in for the submission.
"It couldn't have gone any better," Aspinall said afterwards. "To get a guy like Volkov, who has been finished twice in 45 fights, out of there in the first round shows credit to my finishing ability."
Aspinall secured the win in front of a supportive English crowd as a -125 favorite heading into the bout. He will likely move up significantly from his No. 11 spot on the UFC heavyweight rankings. After the win, Aspinall called out Australian Tai Tuivasa for his next fight.
"The crowd goes wild when he fights. And apparently, the crowd goes wild when I fight," Aspinall said. "So me and him in the UK, come on bro."
PFL releases schedule, divisional assignments for new season
The Professional Fighters League will return to action on April 20 for the first of six regular-season events in 2022.
The PFL has announced its full slate of six regular-season shows, which will run through July 1. The Esports Arena in Arlington, Texas will host the first three cards. Atlanta will play host for the back half of the season, though the PFL has yet to announce a venue.
Men will compete in lightweight, light heavyweight, featherweight, heavyweight, and welterweight divisions. In addition, Kayla Harrison will once again highlight a women's lightweight division for the PFL.
Fighters will compete in an attempt to make the playoffs in each division. The champion of each weight class will win a $1 million grand prize. The PFL will announce the rosters and matchups for each division at a later date.
McGregor calls out Usman for summer return
Conor McGregor expects to make his return to the UFC Octagon sometime late in the summer, as he recovers from broken tibia and fibula bones in his left leg. The former two-division champion doesn't want to waste any time when he returns, calling out one of the biggest names in the promotion for his comeback fight.
"Myself vs. Usman for the 170-pound title in my comeback fight is the one I'm eyeballing at the minute," McGregor said on his YouTube channel. "I'm coming back from a gruesome injury. I don't want to be depleting myself [by cutting weight]."
Usman (20-1) will likely fight Leon Edwards for the welterweight title later this year. McGregor (22-6) has lost three of his last four fights.