Phil Mickelson will once again team up with Tampa Bay Buccaneers quarterback Tom Brady on the golf course when the two take on Bryson DeChambeau and Green Bay Packers quarterback Aaron Rodgers in the fourth iteration of The Match.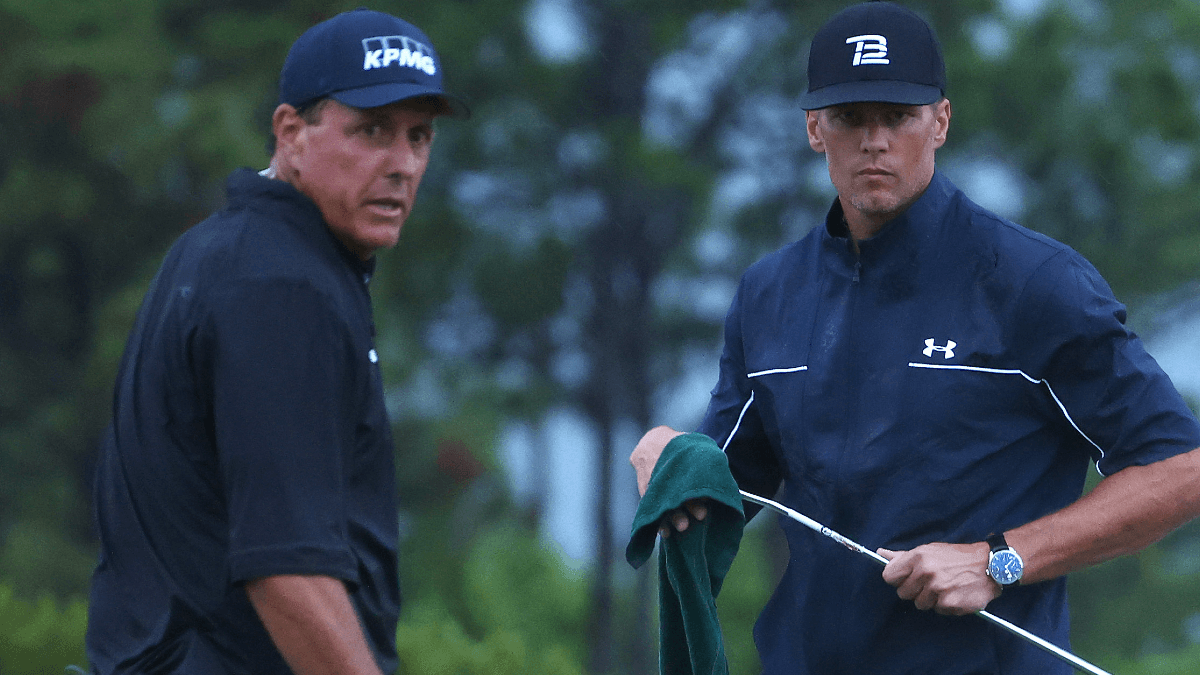 Mickelson is coming off one of the most significant achievements of his career after winning the PGA Championship at age 50 to become the oldest player ever to win one of golf's major championships.
Mickelson a constant as The Match evolves
The Match began in 2018 as a pay-per-view battle between Mickelson and Tiger Woods. Mickelson eventually won the match after four playoff holes at Shadow Creek Golf Course in Las Vegas.
Last May, The Match: Champions for Charity pitted Mickelson and Brady against Woods and Peyton Manning in the early days of the COVID-19 pandemic. Woods and Manning won 1-up in a contest that raised $20 million for COVID-19 relief.
In November 2020, The Match: Champions for Change saw Mickelson play with NBA Hall-of-Famer and analyst Charles Barkley against Manning and Golden State Warriors guard Stephen Curry. Mickelson and Barkley won the match 4 and 3.
The latest rendition of this concept will take place on July 6 at Moonlight Basin in Big Sky, Montana. Organizers have described the format as "modified alternate shot," which likely means that each player will hit a drive. After choosing the best shot, each team will then alternate shots for the rest of the hole.
Teams already squaring off on social media
The participants have taken to social media to taunt each other ahead of the matchup, with Mickelson motivating his partner with the promise of revenge.
We have some unfinished business. Let's get another match and find a pair to give a beat down. 😏

— Phil Mickelson (@PhilMickelson) May 24, 2021
"We have some unfinished business," Mickelson tweeted. "Let's get another match and find a pair to give a beat down."
Seemingly everyone got in the action, with Brady calling the matchup "two champions vs. a scientist and a jeopardy host" in an Instagram comment.
Tom Brady is ruthless…. pic.twitter.com/LsvSr8OItW

— Adam Schefter (@AdamSchefter) May 26, 2021
Even Brooks Koepka – a man who isn't exactly a fan of DeChambeau's – couldn't help making his opinion known.
Sorry bro @AaronRodgers12

— Brooks Koepka (@BKoepka) May 26, 2021
"Sorry bro @AaronRodgers12," Koepka tweeted.
As with previous versions of The Match, bookmakers have begun posting odds on the competition. This time around, the Station Casinos sportsbooks in Las Vegas opened Mickelson and Brady as -130 favorites over DeChambeau and Rodgers (+110).
Other oddsmakers disagree with that assessment, however. While DraftKings Sportsbook hadn't posted odds on their website as of Wednesday evening, DraftKings oddsmaker Johnny Avello said he was making DeChambeau and Rodgers a -160 favorite over the Mickelson/Brady team (+140).
If DeChambeau has an edge, it's probably due to his unparalleled distance. That length off the tees could make a huge difference on a course that measures 8,000 yards. The signature 17th hole at The Reserve measures 777 yards alone.
TNT will televise The Match on Tuesday, July 6, beginning at 5 pm Eastern.