A year ago this week, American skiing superstar Mikaela Shiffrin dropped her second slalom in a row to Slovakian Petra Vlhová in what would be one of her last races of the season.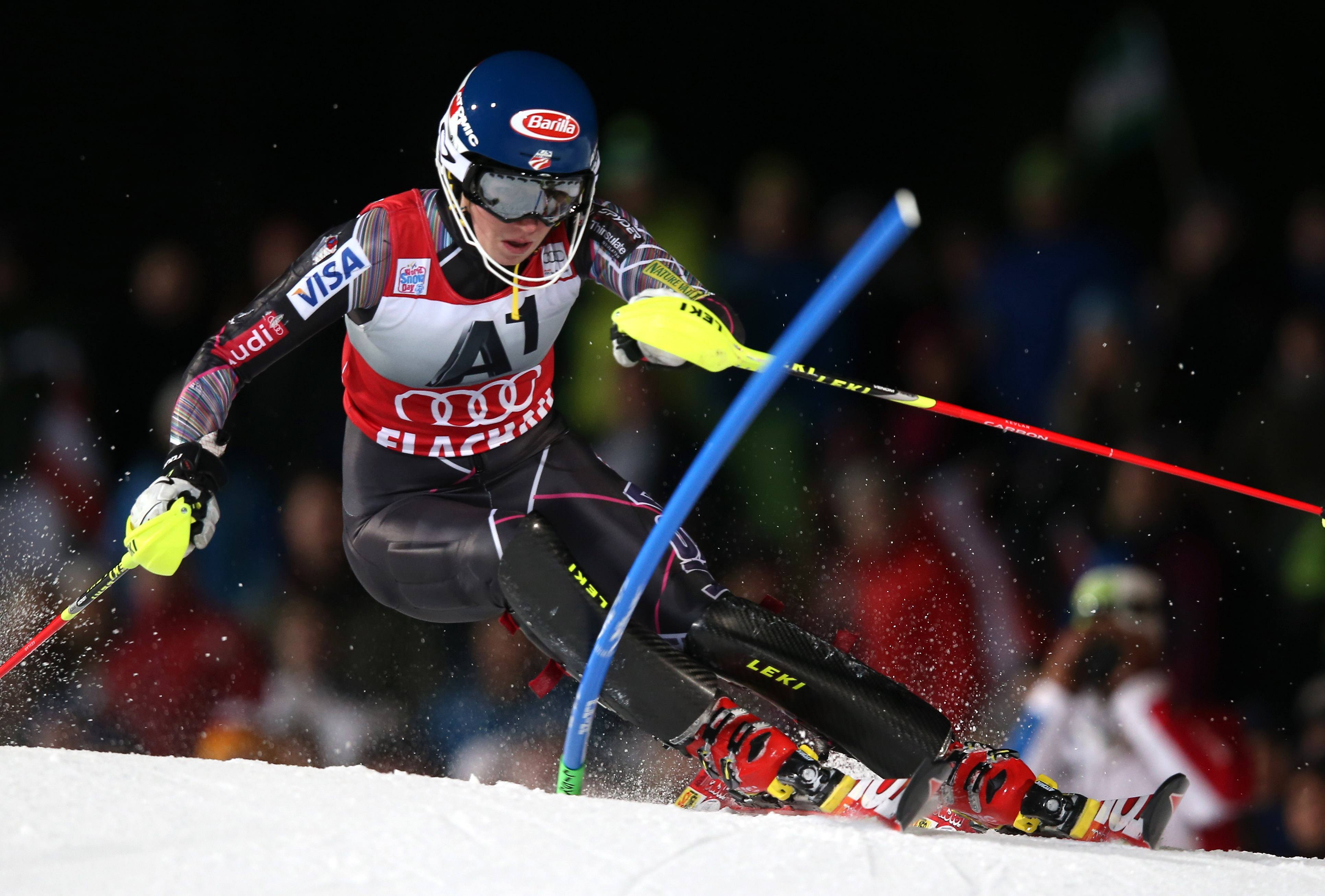 After a 10-month break from the snow, Shiffrin returned in mid-December to top the podium in Courchevel, France.
But, slow recovery from an injury and the stresses of skiing through a pandemic prompted the 25-year-old Colorado native to withdraw from pursuing this season's crystal globe, rewarded to the overall World Cup points winner.
Shiffrin announced on New Year's day her focus will be on getting mentally and physically healthy, presumably in the run-up to the 2022 Beijing Games. Though she hinted at focusing on technical events for the remainder of this season during a rangy interview to start 2021, her status is still race-to-race.
Vlhová's the Skier to Beat

It came as something of a surprise to see Shiffrin's name on the start list for Tuesday night's World Cup slalom event in Flachau, Austria. The race, which usually attracts thousands of revelers to the tiny Salzburg village, will happen under relatively subdued conditions due to COVID-19 protocols.
On Tuesday evening, all eyes will be on Petra Vlhová. Now the clear favorite in technical events on the circuit, Vlhová (+130 on Bwin) has won 11 World Cup slalom races, putting her in ninth place on the all-time list.
More importantly, the speedy Slovakian has won six of the last seven slalom events in the World Cup, with the only exception being a fourth place in Semmering on Dec. 29. She's finished on the podium in 16 of her last 19 World Cup slaloms.
Shiffrin Attempting to Cross Podium Century Mark 
Vlhová will aim for her fourth slalom victory in a single World Cup season on Tuesday night, which would be a first for the decorated skier. Shiffrin has achieved the feat in seven of the last eight seasons.
Meanwhile, at 99, Shiffrin (+200) is only one podium shy of becoming the eighth alpine skier ever to claim 100 World Cup podiums across all disciplines.
She will join the ranks of the all-time greats Ingemar Stenmark (155), Marcel Hirscher (138), Lindsey Vonn (137), Annemarie Moser-Pröll (114), Renate Götschl (110), Vreni Schneider (101), and Marc Girardelli (100) should she break triple digits.
At 67, Shiffrin only trails Stenmark (86) and Vonn (82) in all-time World Cup wins. She's also won 43 World Cup slalom events, which is the all-time record in the sport.
Shiffrin Looking for a Little Flachau Mojo
So, what's the real reason she's coming back? Shiffrin skis well in Flachau, finishing on the podium in each of the last seven World Cup slalom events. On Tuesday night, she could become the first woman in World Cup history to collect eight podiums at a single venue.
Swiss technical specialist Michelle Gisin won the slalom in Semmering last month, her first World Cup win in any discipline. Gisin joined the elite company of Shiffrin (43), Vlhová (11), and Erin Mielzynski (1) as the only active skiers to have won a women's slalom event in the World Cup.
With a win Tuesday, Gisin (+400) can become the first Swiss woman to win multiple slalom events in a World Cup season since Vreni Schneider in 1994-'95.
Holdener and Liensberger Ready to Break Through
Those looking for a long shot might check in on Gisin's Swiss teammate Wendy Holdener (+2500), who has 24 World Cup podium finishes in the slalom, but has yet to top the podium. She currently holds the record for the most podiums in a discipline without winning.
Austrian Katharina Liensberger (+300) is quietly putting together a great season. The 23-year-old, five-season World Cup veteran finished in the top seven in each of the last 11 women's World Cup slalom events, including a third place in both events in Levi this season, and second places in the two most recent slaloms in Semmering and Zagreb. She's the only skier to finish on the podium in all four women's slalom events this World Cup season and is primed to step up to the top.
---
Women's World Cup Slalom Flachau, Austria Jan. 12, 2021 Odds
| | |
| --- | --- |
| | Odds |
| P. Vlhová | +130 |
| M. Shiffrin | +200 |
| K. Liensberger | +300 |
| M. Gisin | +400 |
| W. Holdener | +2500 |
| E. Mielzynski | +5000 |
| K. Thruppe | +6600 |
| K. Lysdahl | +6600 |
| C. Mair | +8000 |