The first major Sunday of the NFL season is only two weeks away, but the public is already heavily backing the Kansas City Chiefs at +500 odds and the Tampa Bay Bucs at +600 to win Super Bowl 56.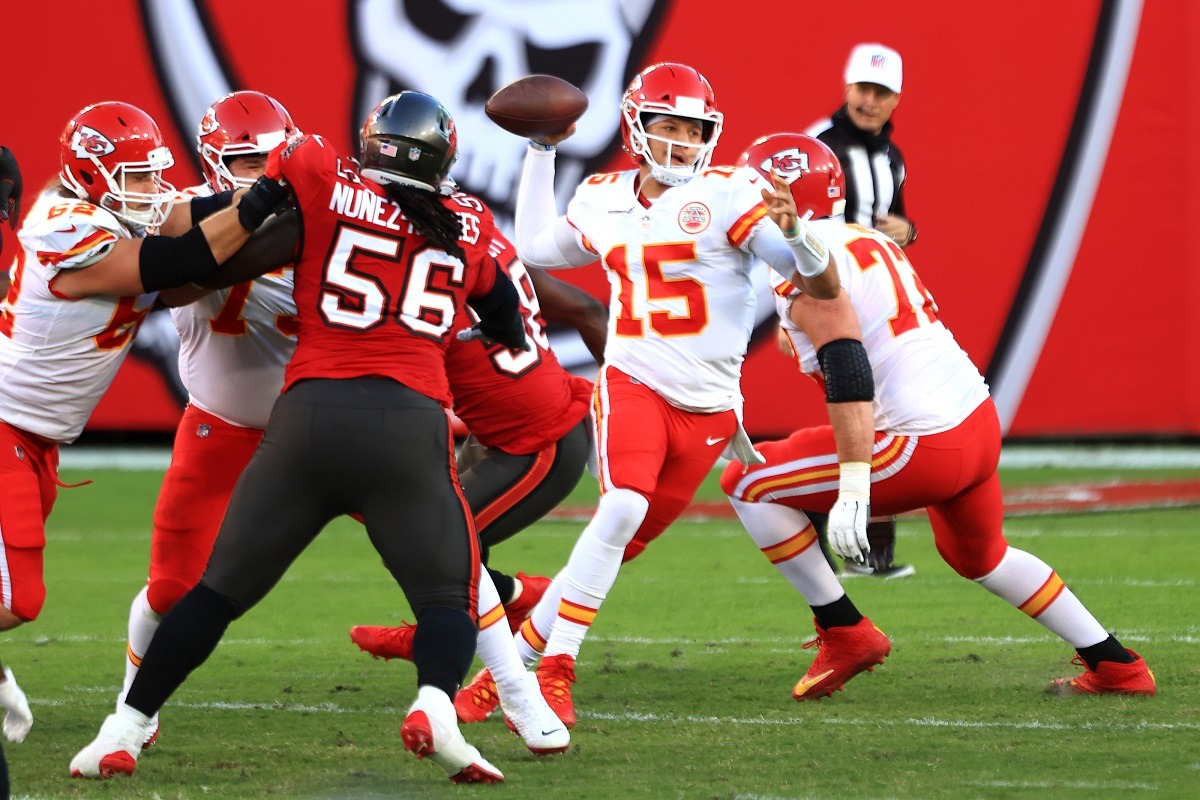 Tom Brady and the Bucs defeated Patrick Mahomes in the Chiefs in Super Bowl 55, but if you follow the money, the public expects both teams will meet again in Super Bowl 56.
---
Super Bowl 56 Odds Update
Kansas City Chiefs +500
Tampa Bay Bucs +600
Buffalo Bills +1000
Green Bay Packers +1300
Baltimore Ravens +1400
San Francisco 49ers +1400
LA Rams +1400
Cleveland Browns +1600
Seattle Seahawks +2000
New Orleans Saints +3000
LA Chargers +3000
Tennessee Titans +3000
Dallas Cowboys +3500
Indianapolis Colts +3500
New England Patriots +3500
Miami Dolphins +3500
Denver Broncos +4500
Arizona Cardinals +4500
Pittsburgh Steelers +4500
Washington Football Team +5000
Minnesota Vikings +5000
Chicago Bears +6500
Atlanta Falcons +8000
NY Giants +8000
Carolina Panthers +9000
Las Vegas Raiders +10000
Philadelphia Eagles +10000
Jacksonville Jaguars +13000
Cincinnati Bengals +150000
NY Jets +15000
Detroit Lions +20000
Houston Texans +30000
---
Brady and the Bucs were able to fly under the radar for most of the 2020 season before getting hot at the right time in the playoffs to run the table and win Super Bowl 55. As defending champions, Brady and the Bucs have a target on their backs. With everyone gunning for them, there's never going to be an easy game on their schedule.
Super Bowl 56: Second-tier odds
Favorites aside, can anyone in the second tier of NFL teams win Super Bowl 56? If these second-tier teams stay healthy, they can put themselves in a good position to win the championship if the Bucs and Chiefs falter or struggle with injuries to key starters.
Oddsmakers set the win totals for these teams between 10 and 11 games in a newly-minted 17-game season. The Buffalo Bills have a win total of 11 games. If you listen to the Bills Mafia, then the Bills will win 14 games in 2021. Will the league catch up to Josh Allen, who had a phenomenal season last year?
The Baltimore Ravens boast a win total of 11 victories, but they might be without starting running back JK Dobbins, who went down in the opening drive of last night's preseason game.
The NFC West has three good teams, but the LA Rams and San Francisco 49ers both have a win total of 10.5, while the Seattle Seahawks are 10 o/u. The Rams added Sony Michel in a trade with the New England Patriots to bolster their backfield.
Aaron Rodgers will play his final season in Green Bay, so will it be a Last Dance situation where everyone rallies together for a championship run? Or will it be a free-for-all with every man for himself?
Of the second-tier teams, the Bills have the best odds at +1000 to win Super Bowl 56. The Packers are right behind at +1300 odds for Rodgers' swan song. The Ravens, 49ers, and Rams are all clustered together at +1400 odds to win Super Bowl 56.
Theme from the bottom
Avoid the bottom feeders like the New York Jets, Jacksonville Jaguars, Cincinnati Bengals, Detroit Lions, and Houston Texans.
Oddsmakers set the Texans' win total at four. The inept front office is finally warming up to a Deshaun Watson trade, but their asking price is ridiculous with three first-round picks and a pair of second-rounders in exchange for a disgruntled quarterback with legal problems.
The LOL Jets like what they see from rookie quarterback Zach Wilson, but their defense is shredded due to injuries to starters such as Ted Lawson, Vinny Curry, and Jarrad Davis.
Trevor Lawrence, the #1 pick in the 2021 NFL Draft from the Jacksonville Jaguars, finally got the starting nod for Week 1, but he's got a shoddy offensive line. The Jags also lost Lawrence's buddy and former Clemson teammate Travis Etienne to a Lisfranc foot injury. The Jags also traded Gardner Minshew to the Philadelphia Eagles, so it's Lawrence or bust in Jacksonville.