The broken pipe that will lead to a $1,000-plus water bill might not even be my greatest frustration in my efforts to open my sports card store.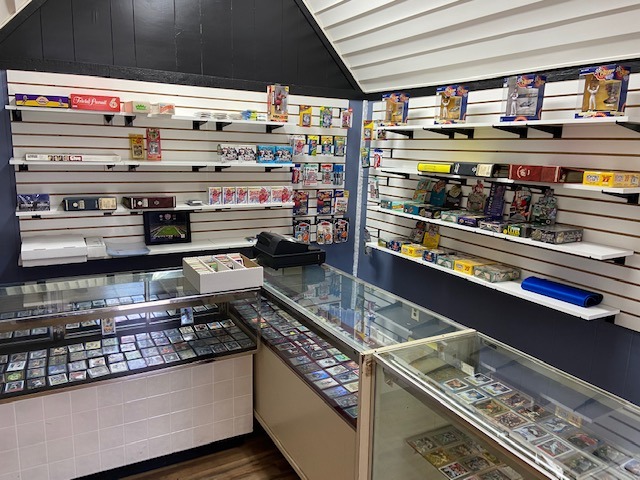 Instead, it's the Catch-22 of trying to open accounts with distributors before I get up and running. Essentially, I must look like an operational card store before the store is actually operational.
In February, I bought a former salon in Cullman, Alabama, with designs on converting it into the first sports card store in the city since the last card boom in the 1990s. I bought it with the contents intact, and sold the salon equipment to pay for the cases and shelves I need for my store.
An unknown flood under the building
But I encountered a big issue recently when selling the shampoo station. While attempting to lift the station off of some pipes that rose out of the floor and provided the water needed to wash a customer's hair, the buyer and I snagged one of the pipes. Unbeknownst to me until five days later, this caused the pipe to break off underneath the building, pouring water into the crawl space and out through the back of the building.
About 79,000 gallons managed to gush out of that broken pipe until I realized the issue and turned off my water. Fortunately, no water got into the building, but the expected bill will reach just over four figures. A customer service representative for the utility told me they will adjust the bill downward (to some degree) after a plumber fixes the pipe.
A bigger challenge: Getting distributor accounts
My bigger immediate issue is getting new sealed wax for my store. Although manufacturers switched from wax to primarily plastic to encase their cards in sealed packs years ago, those in the hobby still prefer the nostalgic term wax to describe sealed product.
No matter what one calls it, such product is tough to get at a decent price in today's market. With demand at an all-time high, and manufacturers still keeping supply relatively low for fear overproduction could lead to a second "junk wax" era and send prices plummeting, new customers find wax hard to obtain.
I'll be able to buy plenty at secondary market pricing, however. The distributors allocate products at close to manufacturer-suggested retail price to their best customers (e.g., those who spend the most money). Other customers must buy products that the distributors themselves get off the secondary market if they want new product. It's not quite eBay prices, but I hear it's pretty close.
While plenty of my customers will, undoubtedly, prefer to scan the display cases and dig through the 3,200-count boxes to find single cards of their favorite players, sealed wax generally drives traffic. It's the gambler's mentality: buy a pack or box of cards and hope to pull a rare rookie or insert card that's worth significantly more than the initial purchase.
Wax buying strategies
My plan, when I open in April, is to offer plenty of vintage sealed wax that I've been buying up, some retail products I've managed to find at Target and Walmart, and new wax at those secondary market prices. My thought is that if I only make a few dollars off of each new box, at least I can build volume with a distributor and, eventually, receive allocations at MSRP. That's where I can make my money – as long as the market stays hot, and shows no sign of tapering off anytime soon.
The trick is actually getting the distributor accounts with an unopened store. Providers like Southern Hobby and GTS Distribution request inside and outside photos for new brick and mortar store applicants. Since I don't have a security system in place just yet, I staged a photo. I brought in some of the packs and boxes I planned to display on the shelves, as well as single cards for the display cases, and took some photos. Then I boxed all of that back up and carried it to my house.
Sure, it was a hassle, but at least it provided me a cover photo for my store's Facebook page and, hopefully soon, some distributor accounts, as well.