Seeking to keep their top Western horses home – while luring Eastern horses west – Santa Anita Park and Del Mar created the $1 Million Wild West Bonus. That bonus goes to the connections of any horse who sweeps the three Southern California elite races for older horses, the Santa Anita Handicap, the Hollywood Gold Cup, and the Pacific Classic.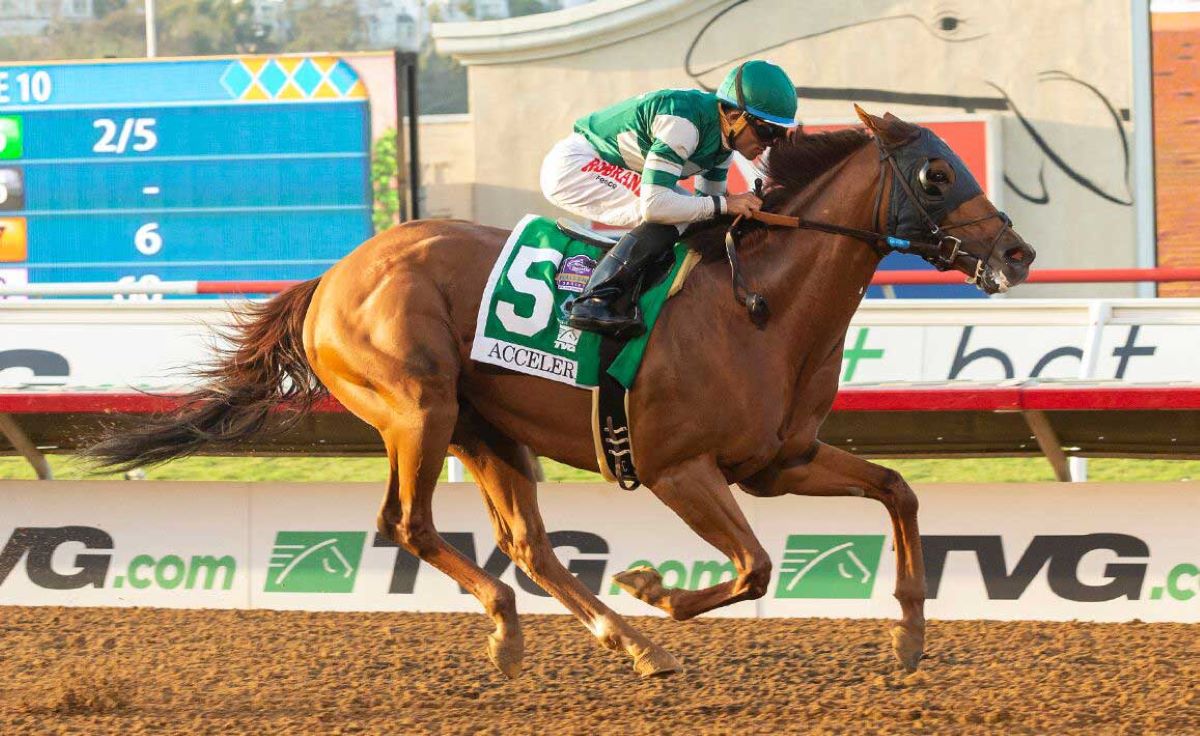 With that bonus, a winning horse would bank $1.87 million, along with three of the West Coast's highest-profile and most-prestigious Grade 1 races.
A horse has to be at least 4-years-old to bank the Wild West Bonus. While all three races run at 1-¼ miles, the classic North American distance, the Santa Anita Handicap is limited to horses 4 and up. The Hollywood Gold Cup and Pacific Classic are open to horses 3-years-old and up.
Three horses this century pulled off this trifecta, the last being Accelerate in 2018. Five years before that, Game On Dude pulled it off. Lava Man in 2006 was the first this century, winning his trifecta while the Gold Cup was still at the now-defunct Hollywood Park.
Win These, Join Seabiscuit in the History Books
Known as the Big 'Cap, the Santa Anita Handicap dates to 1935, when it was known as the "Hundred Grander" for its rich, Depression-era purse. This is the race that the iconic Seabiscuit put on the map, and a statue of the legendary horse sits in the Santa Anita paddock area.
The $400,000 race leads off the Wild West Bonus series starting on March 6. Combatant is the defending champion.
Seabiscuit also plays a starring role in the $300,000 Hollywood Gold Cup. This race dates to 1938, when Seabiscuit became its first champion. Until Hollywood Park closed in 2013, the Hollywood Gold Cup was one of the track's signature races. It was named the Gold Cup at Santa Anita from 2014-2019.
Pacific Classic Provides Worthy — and Lucrative — Finish
The Hollywood Gold Cup will take place on May 31. Last year's Male Older Horse of the Year, Improbable, captured this for the first of his three Grade 1 victories. Lava Man won this race three times.
Dating to 1991, the Aug. 21 Pacific Classic at Del Mar doesn't have the history of its two Grade 1 cousins. But, Del Mar's flagship race caps the trifecta with the biggest purse of the three at $750,000. When Accelerate won in 2018, his triumph came with a 115 Beyer Speed Figure and the event's biggest margin of victory at 12-1/2 lengths.
Maximum Security won last year's race, which marked the final victory of his career.
Along with this bonus, Santa Anita announced a $15,000 purse boost to all overnight races run on the Santa Anita Handicap undercard. It also raised the purse on the China Doll Stakes that day by $25,000 to $100,000.