When women's MMA legend Ronda Rousey joined WWE earlier this year, she made it clear that the move was done out of a lifelong love for professional wrestling. Apparently, her first few months in the business have only confirmed those feelings.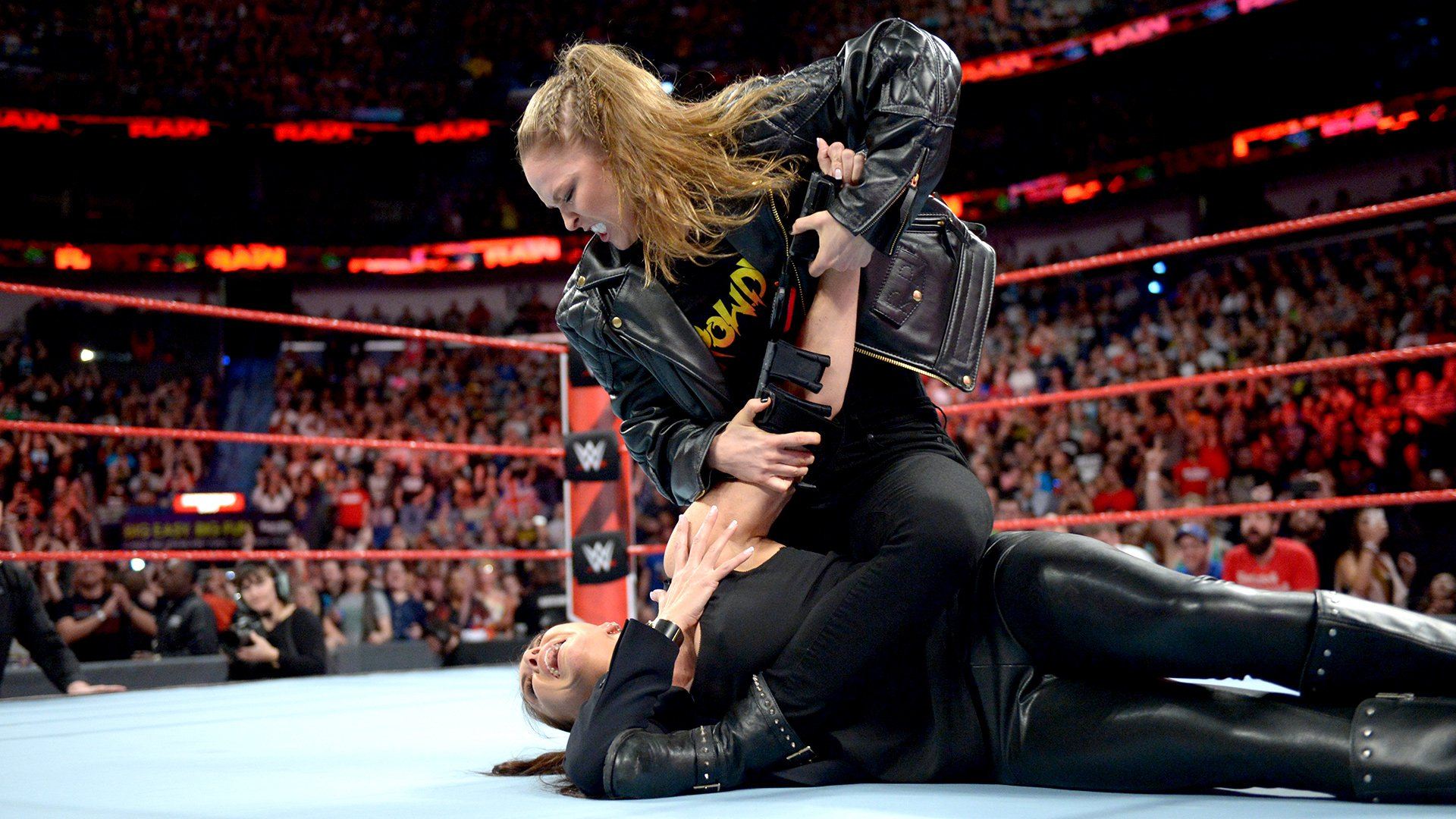 In an exclusive interview with ESPN's Ramona Shelburne, Rousey said that while there was initially a set timeline for her WWE career, she is now rethinking that based on how much she has been enjoying her time with the company
Family Plans Could Be Pushed Back
Rousey had initially expected to get out of the wrestling business at a set time in order to start a family. But the 31-year-old says that those plans might be pushed back a bit because of her experiences in WWE.
"We had a set timeline set, and now we aren't so sure about it because I love it so much," Rousey told ESPN. "I guess that's the best thing that could've happened, that I would love it so much it would be so hard to stop. I can see why people have a hard time leaving this industry because it's such a joy to be a part of every day."
Rousey has been a hit with fans since announcing her move to WWE at January's Royal Rumble. She debuted in the ring by teaming up with Kurt Angle to defeat Triple H and Stephanie McMahon in a tag team match at WrestleMania, and has been appearing more regularly in televised matches and spots as she has become more experienced in the ring.
WWE, Film Career Keeping Rousey Busy
Rousey's availability was also limited for a time because of her role in the action film "Mile 22." The Peter Berg film, which stars Rousey and Mark Wahlberg, debuted in theaters on Friday.
In an interview with AMNY.com in which she promoted both the film and the upcoming WWE SummerSlam pay-per-view event, she compared filming scenes for a movie with preparing for a wrestling match.
"WWE is live and you only get one shot," Rousey told AMNY. "So a huge fight scene in Mile 22, which is a couple of minutes long took six weeks of rehearsals to get that one shot. So, imagine that you have a fight scene that long with that many moving parts and people but you have to choreograph it that day, memorize dialogue for before and after. WWE almost seems like Broadway with stunts."
Given her appeal with traditional sports fans and how well her transition to wrestling has gone over with WWE audiences, it seems likely that Rousey will accomplish plenty before her in-ring career comes to a close.
She could accomplish one of her first major milestones on Sunday, when she takes on Alexa Bliss for the RAW Women's Championship at SummerSlam. According to online sportsbook 5Dimes, Rousey is a -320 favorite to wrestle the belt away from Bliss (+240), the current champion.
Win or lose, WWE will likely want to keep Rousey in the ring for as long as she wants to continue wrestling. In her interview with Shelburne, Rousey joked that she might even find a way to get her family involved in her new career.
"You never know, maybe I'll make my baby my manager," she told ESPN.