UFC middleweight champion Robert Whittaker was forced to drop out of the UFC 234 main event this past weekend after an injury required him to undergo emergency surgery.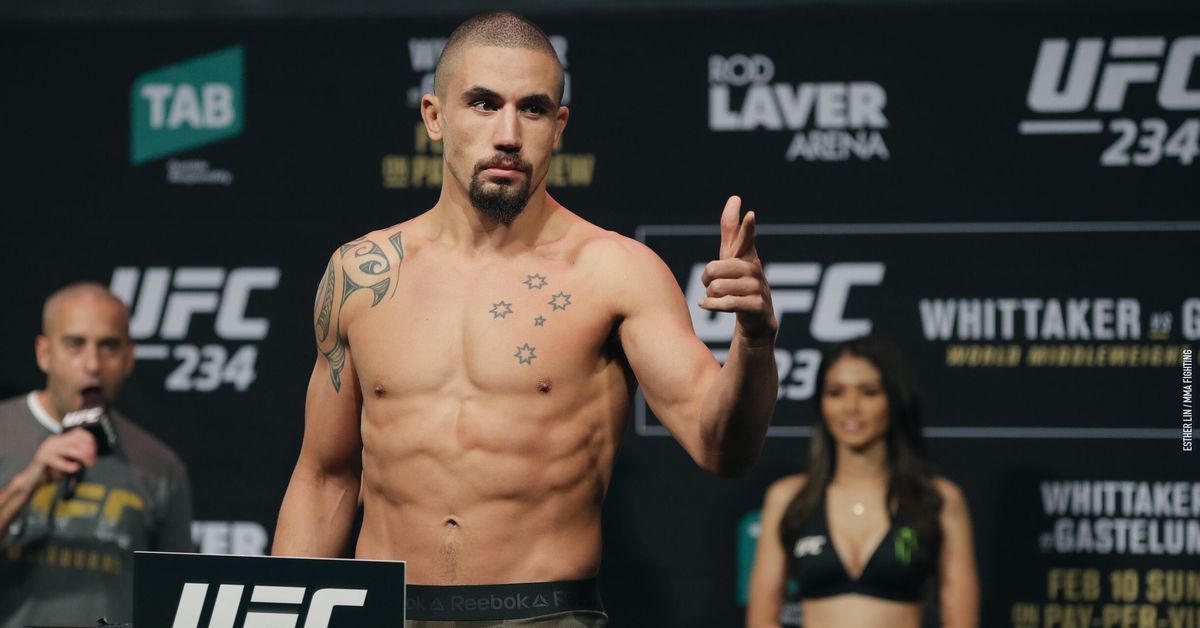 Whittaker was scheduled to defend his title in front of his home crowd at Rod Laver Arena in Melbourne, Australia against Kelvin Gastelum.
Whittaker Told Avoiding Surgery Could Be Fatal
Instead, fans learned just hours before the fight that Whittaker had withdrawn from the fight. Late on Sunday, the champion released a statement to explain what had happened.
"I'm still in the hospital," Whittaker said in a video posted to Instagram. "I had to get emergency surgery on Sunday because I had a collapsed bowel and an internal hernia that was causing me all sorts of problems. Let me say that I'm sorry to all my friends and family and fans that came out to watch me perform. But unfortunately I couldn't be there."
According to Whittaker, he pleaded with doctors to allow him to fight, until they explained that postponing surgery could cause him to lose part of his bowel, and that a blow to the stomach could even potentially be fatal.
Alex Prates, who coaches Whittaker in jiu-jitsu, reiterated the fighter's desire to stay in the bout until it was clearly impossible to do so.
"He had abdominal pain and was finally taken to the hospital by the UFC at 1 am and was trying everything to remain in the fight, refusing any treatment that would force him out of the fight," Prates told MMA Fighting. "But there was no negotiation with the medical team. The problem was very serious, and right now all the team is focused on Robert's health and his recovery."
Gastelum Wants Title After 'Forfeit'
With Whittaker forced out of the fight, Gastelum has taken to declaring himself the middleweight champion, even if that's not how the UFC is likely to handle the situation.
"In my world, the wrestling world, if the guy shows up and makes the weight, for some reason cancels the bout, the guy forfeits the match – I win. I am the champion," Gastelum told reporters at UFC 234. "Hopefully Rob heals up great. I wish him a speedy recovery and when he heals up maybe he can get a crack at my title."
Whittaker May Get Third Shot at Fighting in Australia
With the main event called off on short notice, the co-main event between No. 6 middleweight contender Israel Adesanya and legendary Brazillian fighter Anderson Silva became the top draw for UFC 234 instead. Adesanya (16-0) won a clear unanimous decision victory over Silva (34-9), a result that could earn him a title shot in the near future.
First, however, Whittaker's recovery and a potential rescheduled bout against Gastelum will need to be taken into account. And even though Whittaker has now twice missed out on chances to fight in front of a home crowd, UFC president Dana White says he wouldn't count out the possibility of a third opportunity coming up for the Australian.
"We have most of this year laid out already and I don't think one of those is to come back to Australia with a title fight," White told ESPN. "But who knows? Maybe we add Australian again and try Rob again for a third time here."