The first Grand Slam event of the professional tennis calendar has been besieged by injuries. On Monday, it was top-seeded Rafael Nadal who fell, forced to retire early in his Australian Open quarterfinal match against Marin Cilic with what would later be diagnosed as a torn interior hip muscle.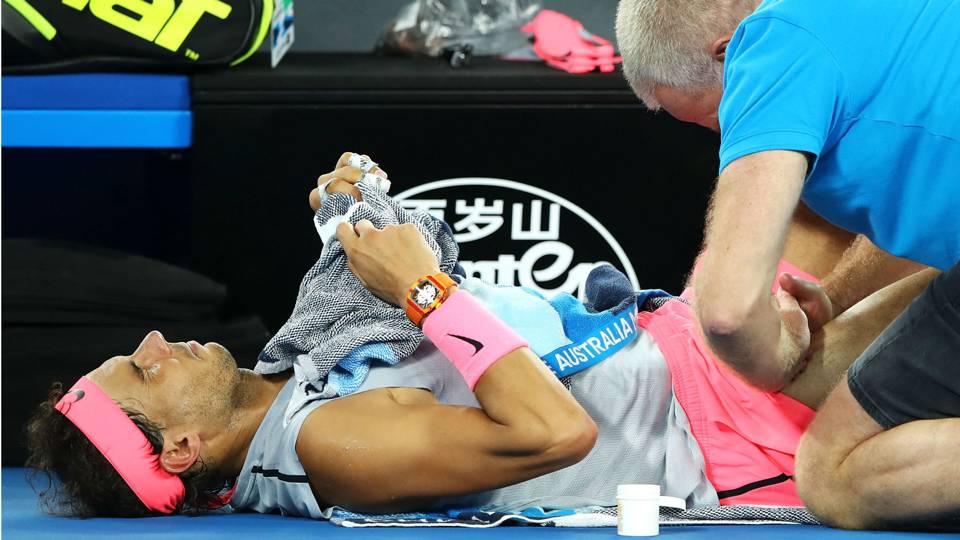 Nadal and Cilic were in the fifth and final set, with Cilic up two games when Nadal informed the chair umpire that he could no longer continue. He had been noticeably limping throughout and took a medical time out to try and assess his injury.
Nadal was a heavy favorite to defeat the No. 6 ranked player at anywhere from a -360 to a -450 on various internet betting sites. Cilic was a +315 to a +350 to pull off the upset.
"Tough moments, not the first time here," he said after the match. "I'm a positive person, but today is an opportunity lost to be in a semifinal for a Grand Slam and fight for an important title for me. It's really tough to accept."
Upsets and Injuries in Men's Bracket
Before the tournament even began, Andy Murray made the decision to pull out of the event. He wasn't expected to play because of a lingering hip injury and wasn't on the betting board, but his fans held out hope that the British tennis star could try and win the one Grand Slam event that has eluded him in his career.
With his absence the event still had Nadal, Roger Federer, and Novak Djokovic in the bracket. Federer was the favorite at 15-8 and Djokovic was listed at 5-1.
Djokovic, who was also battling an injury, was knocked out by Hyeon Chung, who became the first South Korean to reach the quarterfinals of the tournament. He dispatched American Tennys Sandgren, and now will face Federer. He defeated Tomas Berdych in the quarterfinals. Berdych was a 5-1 pick for the upset, while Federer was listed as a 3-16 pick to win.
Women's Bracket Sees Top Seeds Advance
The tournament lost both the Williams sisters early, with Serena pulling out before the event even started, saying she wasn't ready to compete yet after the birth of her daughter in September.
Venus Williams was an upset victim in the first round. Belinda Bencic, who was ranked No. 78, defeated the No. 5 player in straight sets. It was the most shocking result with last year's finals runner up bounced on the opening day.
The women's division does have the No. 1 and No. 2 players still in the competition. Top-ranked Simona Halep was an even money favorite to defeat 28-1 pick Karolina Pliskova, which she did. She will now face Angelique Kerber in one of the semi finals. Halep is a 7-6 pick to win that match and a 11-2 selection to raise the trophy.
No. 2 Caroline Wozniacki is taking on Elise Mertens in the other semi and is a 1-2 favorite to win. She is also the top choice of odds makers to capture the event at 13-5.