So far, Venus Williams has been able to concentrate on her tennis and not the fatal auto accident she was found at fault in that resulted in the death of Florida man. Williams has won her first two Wimbledon matches and other than a brief breakdown at a post match press conference has been her usually stoic self.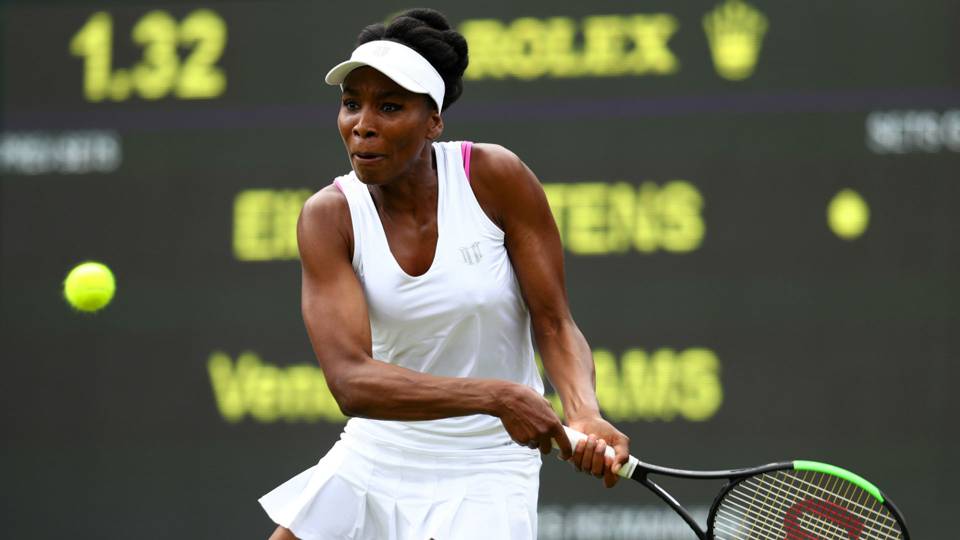 The sportsbooks haven't thought the car collision that occurred on June 9th and was made public, three weeks later, would be that big of a factor in her performance at the All England Club.
Before the tournament, the 37-year-old was a 12-1 favorite to win her sixth Wimbledon title. After the accident was discovered she went anywhere from 14-1 to 17-1. She is seeded 10th in the tournament and is a 4-1 selection to make the quarterfinals and semifinals. She is an 11-2 pick to reach the finals.
Rolling Along
In the first round, Williams was barely tested. She faced Elise Mertens of Belgium, a player she defeated last month in straight sets at another marquee event, the French Open. Odds makers set the line at 5-9 and she won in straight sets, 7-6 (7), 6-4, Monday.
It was at that post match press conference that she faced the media for the first time and answered questions about the accident that resulted in the death of 78-year-old, Jerome Barson, June 22.
"There are really no words to describe, like, how devastating and — yeah, I'm completely speechless," she said. "It's just — yeah, I mean, I'm just.…"
With her head lowered and fighting back tears she left the room to compose herself, returning minutes later to finish the interview. She then answered only questions about her match.
The second round went much easier off the court then on the grass surface. Williams went against Qiang Wang of China, Wednesday, and was favored at 2-7. She lost the first set, however, 6-4, but came back to win 6-4, 6-1.
What's Next On, Off Court
The next opponent for Williams is Naomi Osaka on Friday. She is a 1-3 favorite to win that match.
When she completes her competition, she will have legal proceedings waiting for her at home to attend to. The family of Barson has filed a wrongful death lawsuit. She may also have to pay a fine or appear in court if the Palm Beach Gardens Police cite her for the accident. They are presently conducting an investigation.
Friday, the tennis player's lawyers will be in a courtroom to argue an emergency protective order regarding inspection of her car. The daughter of Barson wants to extract data from the vehicle, while Williams legal team wants to be present for the procedure.