Bianca Andreescu and Rafael Nadal each recorded historic wins at the US Open over the weekend, with Andreescu launching herself into tennis stardom while Nadal continues to build his legacy as one of the greatest players of all time.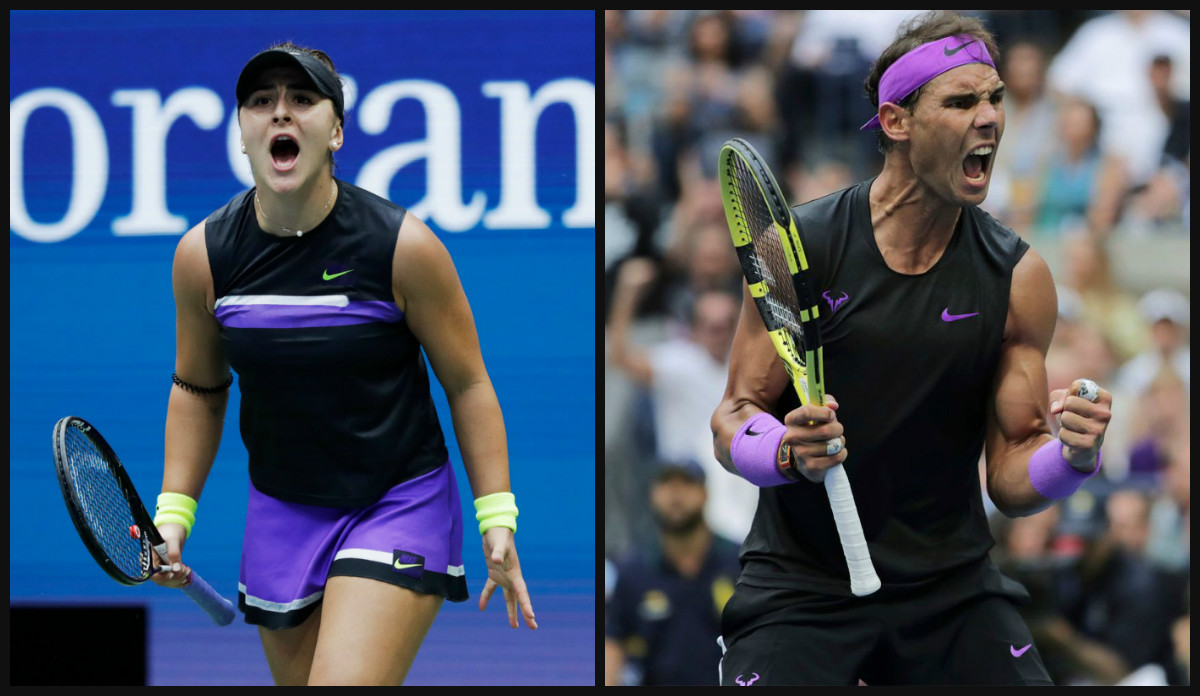 On Saturday, the 19-year-old Andreescu because the first Canadian ever to win a Grand Slam title, defeating Serena Williams 6-3, 7-5 to win in her first-ever US Open appearance.
Andreescu Shows Fortitude After Serena Comeback
Andreescu appeared to be in control of the match after winning the first set and jumping out to a 5-1 lead in the second. But facing match point, Williams rallied to break the Canadian twice, bringing the score back to 5-5.
Andreescu held firm, however, taking a 6-5 advantage before getting a break to close out the final.
"Being able to play on this stage against Serena, a true legend in this sport, is amazing," Andreescu said after the match. "Oh man, it wasn't easy at all."
For Williams, the loss extends her struggle to get a 24th major title, which would tie Margaret Court for the most all-time. Williams has reached the finals in four of the past six Grand Slam tournaments, but has gone 0-4 in those matches.
"I feel like, in 20 years, I definitely will be like, 'Wow, that wasn't so bad,'" Williams said afterwards. "It's very hard right now in the moment to, like, take this and say, 'It didn't work out for you today.' It's really hard right now to take that moment in and to say, 'You did OK,' because I don't believe I did."
Nadal Holds On in Five-Set Thriller
On Sunday, Nadal outlasted Daniil Medvedev in a classic five-set contest, finally winning after 4 hours and 50 minutes of action. Medvedev nearly managed to come back from two sets down before Nadal was able to put the match away 7-5, 6-3, 5-7, 4-6, 6-4, earning his 19th career Grand Slam title.
Nadal has now won the US Open four times in his career. But, after the match, he admitted that Medvedev showed remarkable resiliency after going down by two sets.
"An amazing final. Seems that I had, more or less, the match under control," Nadal said after the win. "The way that he was able to fight, to change the rhythm of the match, was just incredible."
New Stars Get Respect, But Not Favorite Status for 2020
The US Open proved to be a breakthrough performance for both Andreescu – who looks capable of winning many more Grand Slam titles in her career – and Medvedev, who might be able to help break the stranglehold that Nadal, Roger Federer, and Novak Djokovic have had on men's tennis for well over a decade. But despite their performances, they won't be favored heading into next year's major tournaments.
For the Australian Open in January, Djokovic remains a +150 favorite on the men's side according to FanDuel Sportsbook, ahead of Nadal (+300), Federer (+950), and Medvedev (+1200). Serena (+440) is favored on the women's side, with Naomi Osaka (+480), Ashleigh Barty (+750), and Andreescu (+750) also listed as top contenders.
Nadal (-125) is favored at the 2020 French Open, as is 2018 women's champion Simona Halep (+600). Wimbledon 2020 sees Djokovic (+150) favored over Federer (+350) and Nadal (+500), while Williams (+650) is the narrow choice over Barty (+700), Andreescu (+750), and Halep (+750) on the women's side.