After 37 matches and a midseason COVID-19 suspension, the English Premier League will wrap up on Sunday as all 20 clubs play simultaneously to end the season.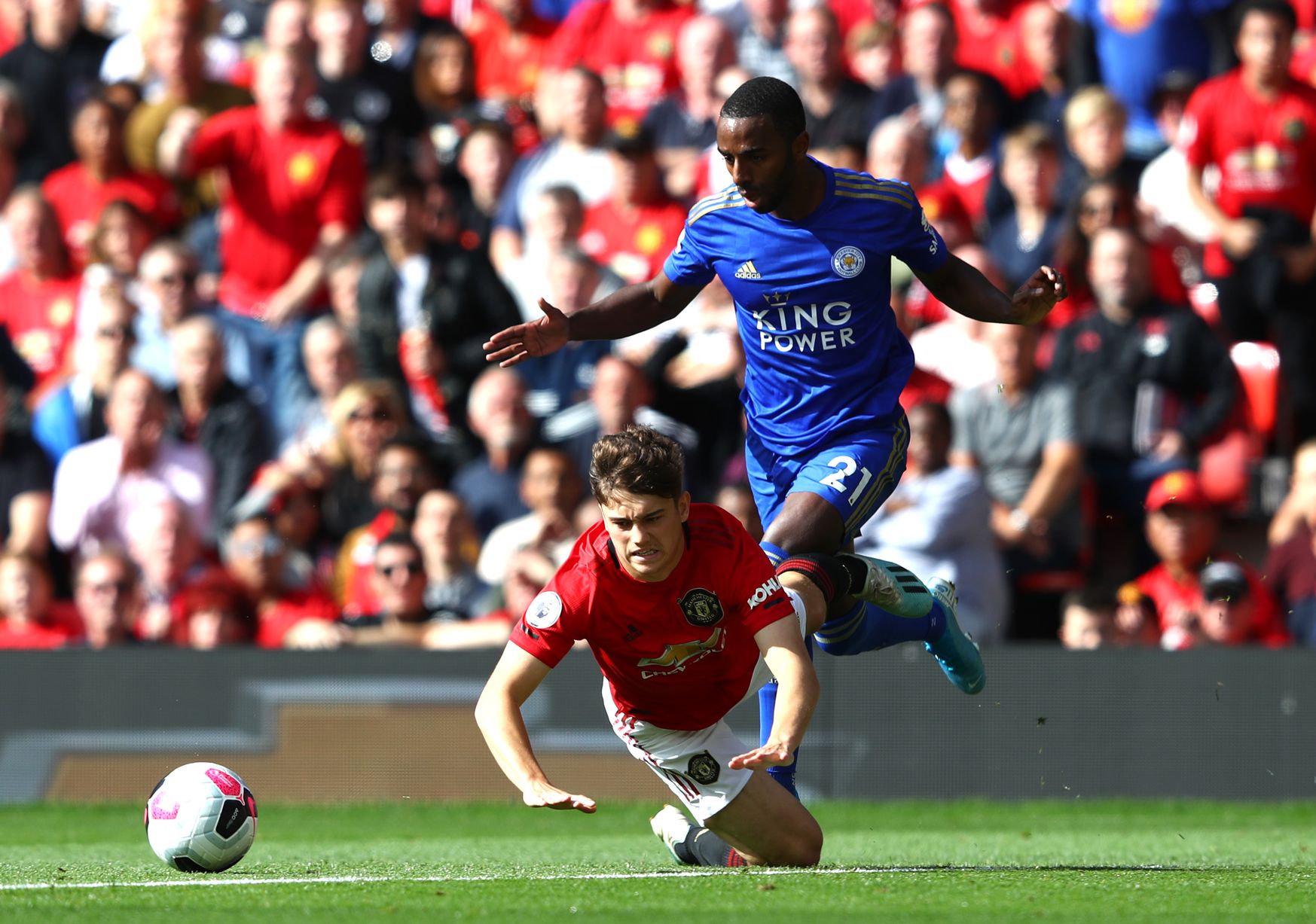 The synchronized finish to the season ensures that no club can gain an edge by seeing what they need out of their last match before they begin play.
Three Teams Fight for Two Champions League Spots
That won't matter at the top of the table, where Liverpool far outpaced Manchester City to win the Premier League title this year. But there are at least two critical races that will be decided on Sunday, and both are three-team races.
First, there's the ongoing battle for the final two Champions League positions. Only the top four teams qualify for the elite European competition. Manchester United and Chelsea hold the final two spots at the moment, but Leicester City is just one point behind.
Critically, Leicester hosts United in one of Sunday's matches. DraftKings sees Man United (+123) as a slight favorite over the hosts (+220), with a draw fetching +245 odds. Either team would clinch a Champions League berth with a win, while United would also lock in a spot with a draw.
---
Top Four Finish Odds
Chelsea (-835)
Manchester United (-400)
Leicester City (+160)
Odds via DraftKings Sportsbook
---
A draw could also be enough for Leicester, depending on what happens to Chelsea. Leicester holds the goal differential edge over the Blues, meaning they'd get fourth place in the case of a tie between the two clubs.
Chelsea (-122) doesn't exactly have a walkover in their final match, as they will host the Wolverhampton Wanderers (+330). A draw will be enough for Chelsea to clinch a Champions League spot, but Wolves can hold on to sixth place and a Europa League position with a win.
Given that only a loss and a Leicester/United draw would keep them out, United sits as a -835 favorite to finish in the top four. United (-400) also maintains a strong position, while Leicester (+160) knows it most likely needs a win to play in the Champions League next season.
Aston Villa Favored to Stay in Premier League
Two relegation positions also remain unclaimed, though one club is on life support. Bournemouth sits three points back of both Watford and Aston Villa heading into Sunday, and would need a win combined with losses from both clubs to stay up.
Bournemouth (+200) visits Everton (+125) on Sunday, and the Cherries maintain some hope of staying up. The clubs ahead of them face challenging matchups as well: Aston Villa (+130) visits West Ham (+205), while Watford (+265) is at Arsenal (-108). But even a draw in either of those matches would send Bournemouth down to the Championship next season regardless of their result.
---
Premier League Relegation Odds
Bournemouth (-3335)
Watford (-335)
Aston Villa (+225)
Odds via FanDuel Sportsbook
---
The Cherries can hold onto one ray of hope. In the case of a three-way tie, Bournemouth would certainly go through, as they would wind up with the best goal differential after it wins and the other two clubs lose. Still, DraftKings sees Bournemouth as an overwhelming -3335 favorite to go down. Watford (-335) also comes into the final matchday in bad shape, as they trail Aston Villa (+225) by one goal in the critical goal differential tiebreaker, and are six back in goals scored, which serves as the second tiebreaker.